Liliana Mann is a believer in "everything happens for a reason." You could say that karma is in her favour. Her instinct has done her well in the Toronto lingerie business. As a local retailer, she's must be doing something right. Her store Linea Intima has five locations that cater to all women as well as specialty markets including maternity, bridal and mastectomy. She, and her expert fitters, are still considered go-tos despite big brand retailers coming into the landscape. You would think this kind of competition would gobble up an independent!
However, instead of running the other direction, Mann decided to expand recently and open up another shop but only this time, she's  focusing on the millennial market. She looks at this notoriously challenging demographic with a fresh perspective and a willingness to invest in what she believes.  Reve Rouge is brings something different to the table but also brings in Mann's expertise and  over 25 years of experience.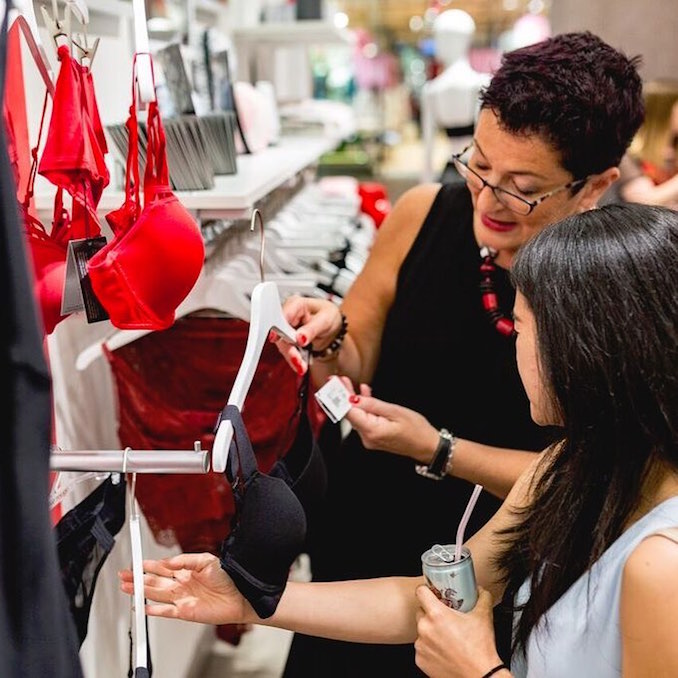 We had a chance to visit the new Reve Rouge store in Bayview Village Mall recently to chat with Liliana Mann…
So, isn't this market highly competitive? What will make this new store stand out?
LM: There's a lot of garbage out there. A client came here recently  and said it was the first time she'd gone in to a store and doesn't recognize 80 per cent of the labels. She had been in the industry forever and her mother was actually my agent in 1990. This was before I had my other store and, in fact, I was in the sleepwear manufacturing industry before opening the stores. This woman has also been in the industry and she goes to all the shows and knows all the brands.
You're bringing in some unfamiliar brands and how did you find them?
LM: Yes, we've done extensive research and the lines we carry are not found in your usual stores in Canada. I've travelled the world and because of my experience in the lingerie industry as a designer, manufacturer and retailer that has helped me look for not only what is well made but also the styles out there. I understand what customers need and want. We carry Canadian designer lines as well like Mary Young.
I went to at least 20 stores in LA to see what was there all in one day. It was so exciting what I saw. I wrote to the brands I loved and they contacted me immediately.
I really believe in giving new designers a chance in the market place. I really believe in giving back in this world. Business is about money but not all about money. The brands we carry have interesting stories.
Reve Rouge is carrying the Juana de Arco line here? It's all one-of-a-kind pieces by designer Marina Cortes. Can you tell us more?
Yes, Juana de Arco is a line from Argentina that uses every inch of fabric. She is a designer of ready-to-wear. They tell me her dresses are upwards of $1000 US. But she doesn't like to waste so she takes all the fabric scraps to a small village in Argentina. She's sent a crew into the village to train the women to sew and create a great one-of-a-kind undergarment line. It's amazing. It helps the village and the women now have a skill to help them support their community. Plus the pieces are beautiful.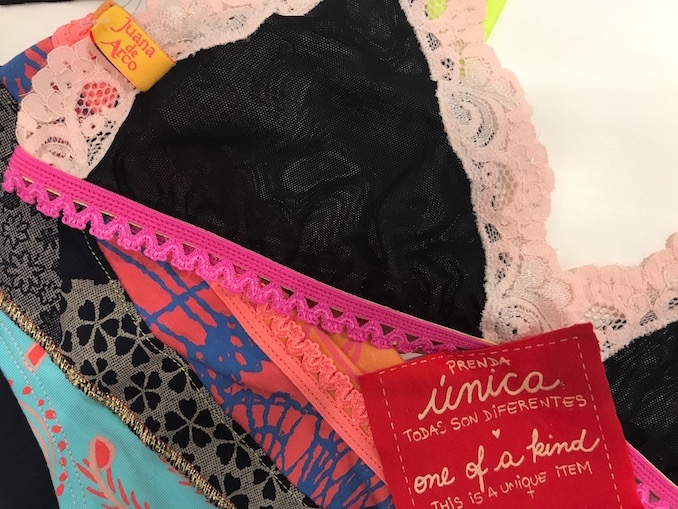 Why open an entire store dedicated to a younger clientele who we often see go after less expensive brands?
LM: Well,  we've found that they are very much interested in learning about where they are spending their money. In fact, we've learned that millenials have a different approach when shopping. They want to know everything and they are willing to spend on quality. They are asking the right questions wanting to know how and where a garment is made. There are many factors that are important to them and I think it's a good thing. While we are educating them on the importance of good fit and quality, I think it's important for retailers to adjust and learn along with them too. For them, it's not always about getting 5 bras for a cheap price. When they learn what goes into one bra, and it may be more expensive than what they are use to spending, they see the long term value.
Oh, what retailers refer to as investment pieces?
LM: Right! When you get a really good piece, whether that be in a bra or a pair of shoes or a good coat, and you understand how it's made, it will last you a long time. We remind our clients that the bra is probably the most worn piece of clothing so it's wise to get a really good one or two. Think cost per wear.
But I often have women come in telling me they want to buy something for a special occasion. Why? If it's a good bra why not wear it everyday? I tell them to save the cheap ones for the special occasion because you'll only wear them once. Again like shoes, why do we buy cheap shoes for everyday and expensive ones for special occasions? It will cost you a fortune over the long run if you have that buying mentality. But again like good shoes, once you've worn a really good fitting bra you can't turn back. You can tell the difference right away.
I think this younger generation is so different. In my generation we talked about buying investment pieces. The younger generation cares about freedom, comfort, and how something makes them feel. They like themselves first and they care about how they look first. I cared more about what my husband thought first and then what my peers thought before I cared about how I looked. I didn't think much about myself. That's a big generation difference. I'm so proud of the younger generation. They have self-confidence.
Millenials want to make themselves happy first. They want to succeed at work and travel the world. True they don't shop the way other generations have.
Not as impulsive?
LM: Generally no. But they also don't really look at the price of something if the product and the company cares about the environment – that is ecofriendly. They care about how and where something is made. They are much more engaged with the world than we were.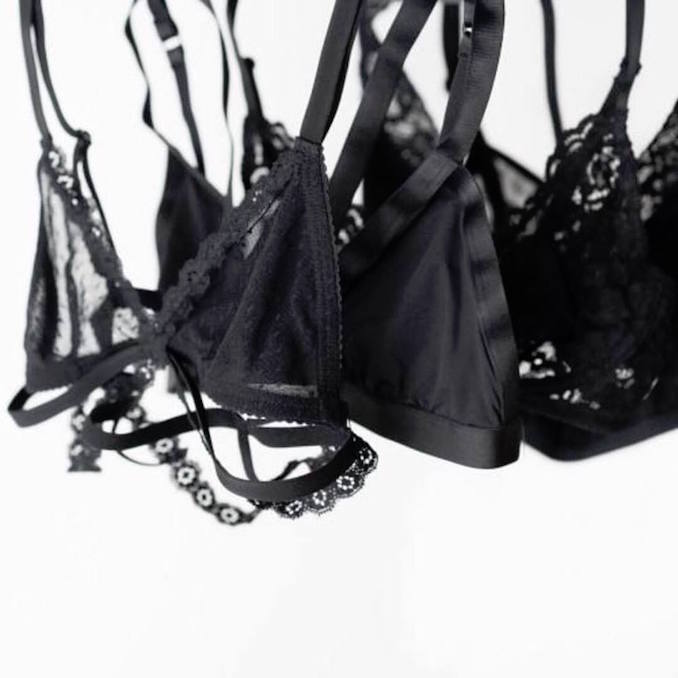 Has online shopping taken over?
LM: When we talked about misconceptions, older generation thinks that millenials buy only online and they don't care to go to the store. That's not true. What we've learned is the younger generation likes to get their information online but in our business then they will come into the store to touch and feel the fabrics. They also like to receive good customer service and they want an experience. It's hard to get that in the department stores.
The store design is around that concept as well. The change rooms are fun and bright. There are elements from a previous store that we brought back so instead of tossing good items away, why not upcycle and do something different with it? Of course there are many elements here that are Instagram and snapchat worthy. Everyone really likes that.
Reve Rouge is located at Bayview Village Mall in Toronto and online.