Flor de Sal's Chef Roberto Fracchioni did a holiday recipe for Longo's this year and we thought we would share it with our readers. Roberto grew up on a farm in Beamsville, Ontario and understands the importance of fresh and local foods. He has been buying Ontario-farmed rabbit and duck from Longo's for many years, hence the partnership.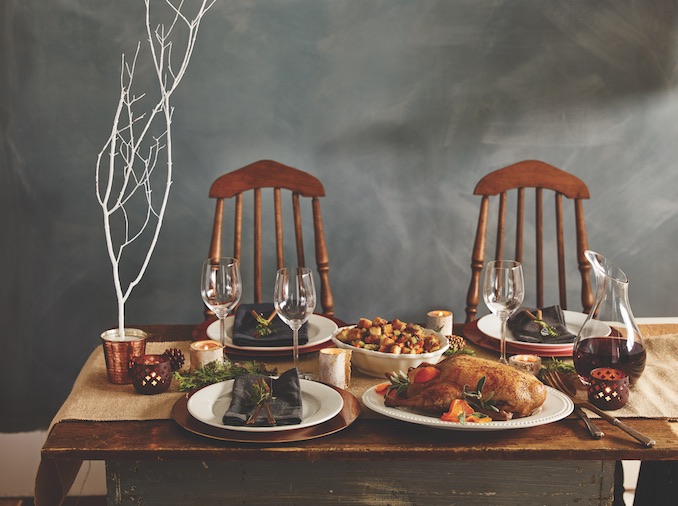 Chef Fraccioni's preferred holiday main course is a Bourbon Roasted Duck that features lemons and clementines which infuse the meat with citrus. It can be prepared in just 15 minutes.
Bourbon Roasted Duck
PREP 15 min – COOK 1 hr 45 min – SERVES 6
Ingredients
-1 fresh whole duck (about 5 lb)
-1/4 tsp salt
-1/4 fresh ground pepper
-3 small lemons
-2 clementines
-6 cloves of garlic
-1 cup – Unsalted Butter, at room temperature
3/4 cup – Bourbon
Directions
-SPRINKLE inside of duck cavity with salt and pepper.
-ROLL lemons and clementines firmly on cutting board and pierce skins about 10 times with a fork. Stuff duck cavity with lemons, clementines and garlic.
-PLACE duck, breast side up, in roasting pan and spread with butter. Pour bourbon into the pan.
-ROAST in preheated 300°F oven, basting often, for about 1 hour and 45 minutes or until thermometer reaches 160°F when tested. Roasting the duck at a lower temperature helps render the fat to baste the duck while roasting. Increasing the heat while roasting will cause flare ups.
-REMOVE from oven and cover loosely with foil. Let stand 20 minutes before carving.
-TIP: Drain off and discard the large volume of accumulated fat if preparing any pan gravy.
-PER SERVING: (1/6th duck meat only): 574 calories; 27 g protein; 48 g fat;
0 g carbohydrate; 0 g fibre; 0 g sugars; 182 mg sodium.
***
For more info on Flor de Sal, visit their website – http://flordesalrestaurant.ca