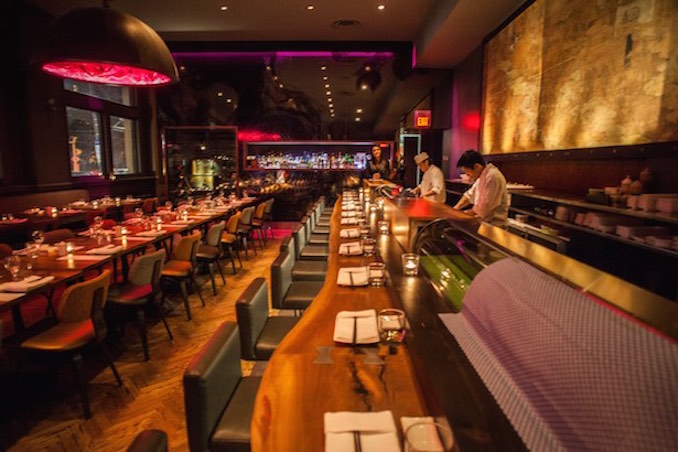 BarFish cocktail lounge officially opened this week in Toronto as a part of King West's Blowfish Japanese restaurant. The Bar is open on weekends with possibilities of expanding into the weekdays in the near future.
I recently got to attend an event to meet their Mixologist Nishan Nepulangoda, try his drinks, as well as taste their dinner menu created by head Chef G Q Pan.
BarFish's drink menu is comprised of a long list of Sake drinks as well as cocktails like the Cucumber Dream ($12/2oz) pictured below. A selection of red, white and sparkling wines are also on the menu.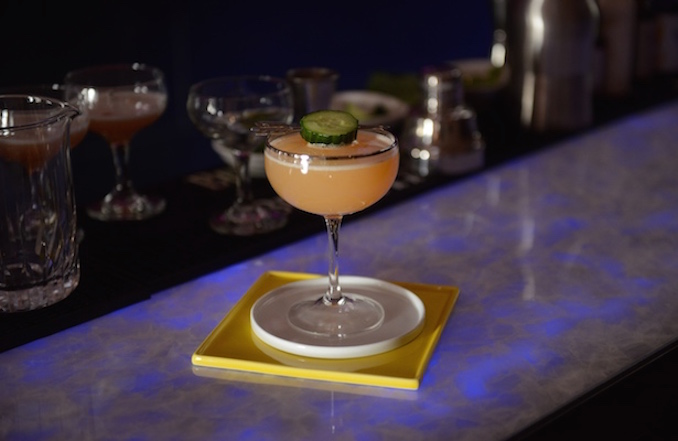 The venue is dimly lit, classy and modern. As it was a private function I did not get a good read on the average clientele but judging from the location between bank district and the trendier West of of Toronto, I would expect a high end, stylish trendsetters.
After our cocktails we were seated at a table with our tasting menu, place setting and waitress serving us pomegranate sake and water. A brief introduction to those around us and the dishes began to come out.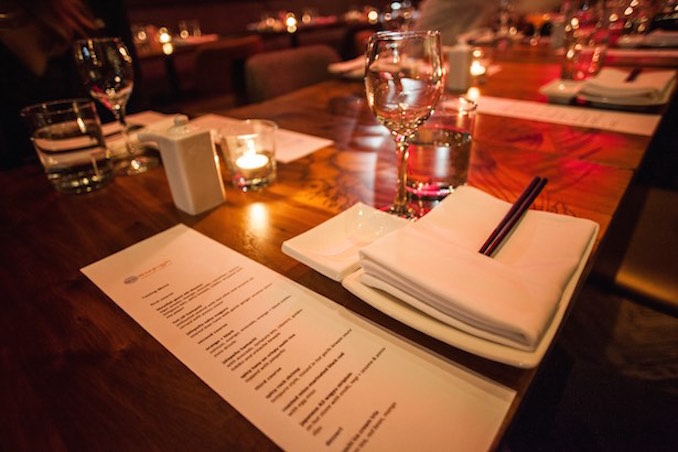 The first dish out was the Blowfish Giant Ebi Shooter – tiger prawn, mango, avocado, cucumber, lettuce, tempura bits, spicy kewpie, tobiko; wrapped with edible soy paper ($14). The dish is prepared like a cone-roll and is served in a glass to stabalize it. At first it might seem weird to eat the paper but this dish is one of their favourites.
The next two dishes were sashimi plates. The Hot Oil Hamachi – sesame + olive oil seared yellowtail with ponzu sauce ($18) and the Jalapeño Salsa Maguro – seared lean tuna with garlic-ginger sesame sauce. ($18) As sashimi is always my go-to at Japanese restaurant, these were probably my favourite part of our meal. Similar to other marinated sashimi at Izakaya restaurants like Hapa Izakaya and Guu, they were simple and full of spicy and sweet flavours.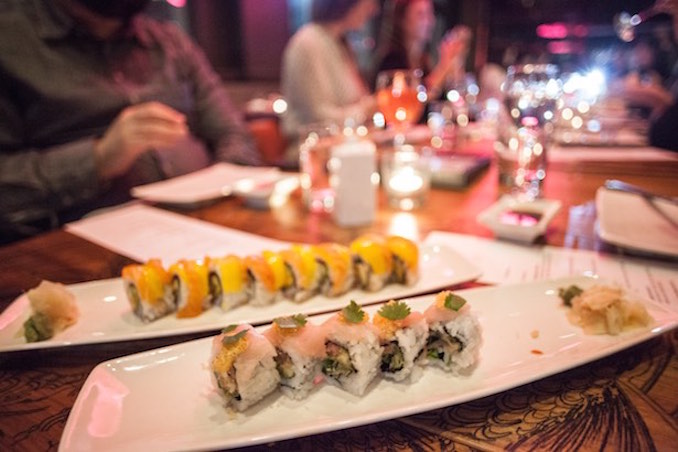 Our next round of food included the above pictured Orange + Black – salmon, mango, avocado, orange + black tobiko, ponzu drizzle ($13) and the Jalapeño Hamachi – with avocado, tempura bits, cilantro, golden tobiko and sriracha kewpie ($17). Both were delicately balanced with no one flavour overwhelming the others. The rolls were followed by Spicy Tuna on Crispy Sushi Rice – Jalapeño ($17) which could best be described as a spicy nigiri sushi on a hashbrown with a Jalapeño on top. A soft crunch combined with the spicy and tender piece of tuna and a hint of pepper.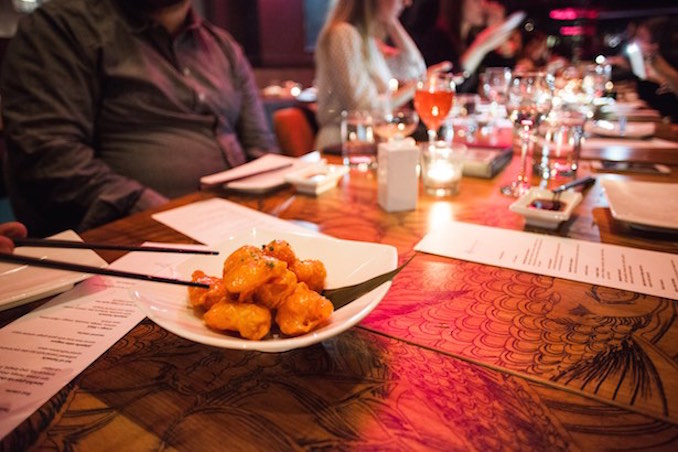 Our final course consisted of Spicy Rock Shrimp – tempura style, tossed in hot garlic kewpie sauce ($10) pictured above, the Roasted Miso-Marinated Black Cod -with sautéed seasonal greens ($19) and the Japanese A3 Wagyu Striploin – on hot stone with enoki, negi + sesame & ponzu dips ($40) pictured below. The Wagyu Striploin comes in thin slices, a bit fatter than charcuterie. The stone bowl is then placed in the middle of the table with an arrangement of dips and acts as your cooking source. The stone stays very hot allowing you to cook your beef for the desired length of time.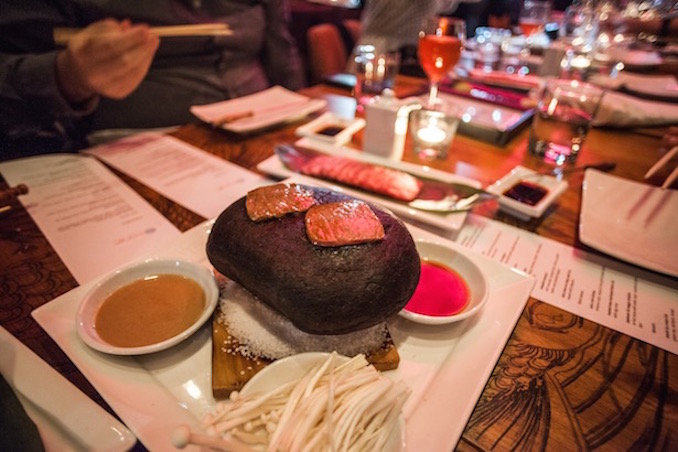 After dinner, I checked out BarFish again. The space in which BarFish occupies was previously outdoors. The West wall kept the old red brick exterior and now faces a large, traditional Japanese mural, which covers the east wall behind the bar. The venue can hold up to 60 people along a single bar of cold rolled steel with a fragmented onyx top lined with sleek walnut stools and plum-hued velvet banquets for larger groups.
Blowfish plans to expand again soon. Plans are in the works for two private dining rooms on the second floor that will accommodate up to 20 guests in each room (or can be opened up for a larger group) and a spectacular third floor rooftop patio.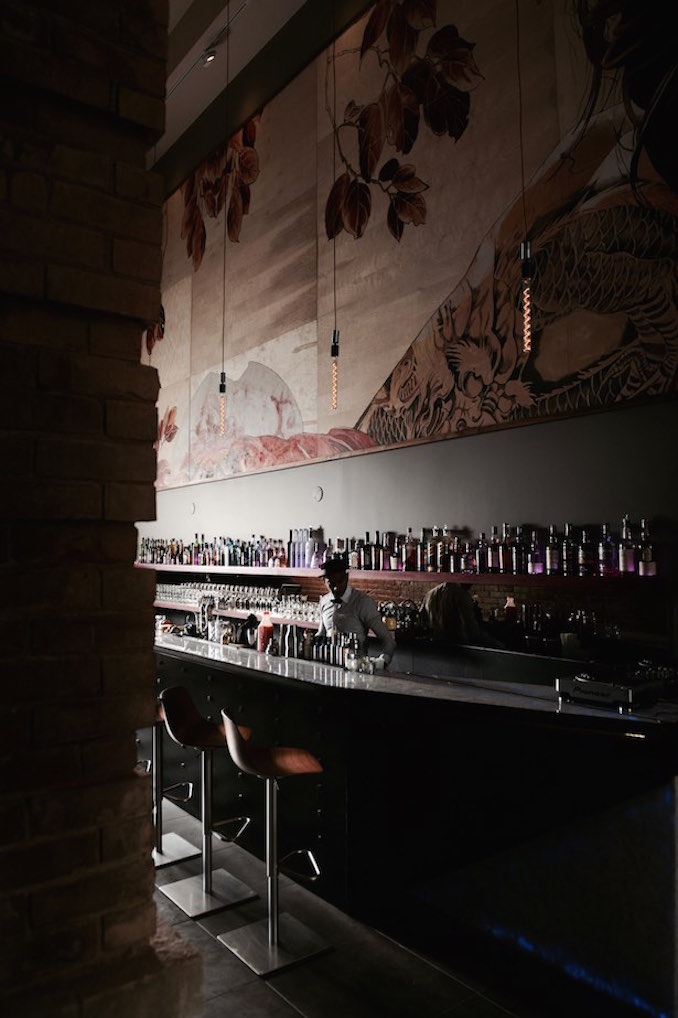 Visit the Blowfish website for more information.