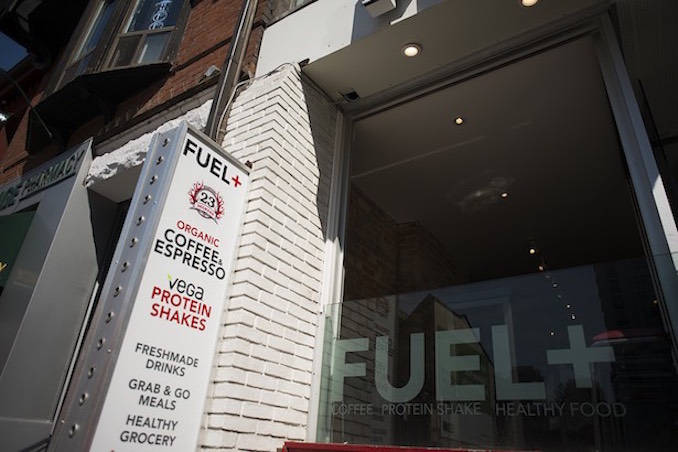 Fast food, or rather, food that is fast – there are few people that don't appreciate this notion. I, however, am one of them. Don't get me wrong, there's nothing I love more than running to Richtree Market on my lunch break, but let's get real, eating vegan and organic costs a pretty penny, especially when you're on the go.
I live in the heart of the Church and Wellesley Village, an area of town known for its high spirits and bustle. Cafes and restaurants help make this street popular for the locals who relish in the concept of quick, easy and delicious food. This is probably why Fuel+ is doing so great.
Located at 471 Church Street, owner Gary Taylor and his business partner Chester crafted the idea of Fuel+ through their likeminded beliefs in keeping health conscious during the rush of Toronto life.
"We love the concept of quick, nutritious and affordable, and we believe that the best way to do this is in a shake," said Gary, while my butter coffee was in full brew. MCT oil (medium chain triglycerides – a supplement for brain and body health), grass fed butter (you can substitute coconut oil for the vegan option) and espresso are melted together; a concoction that I found to be rather addicting (as I went back this morning for round two). Smooth on the taste buds and silky in the stomach, this Fuel+ original is a must have for healthy fat lovers.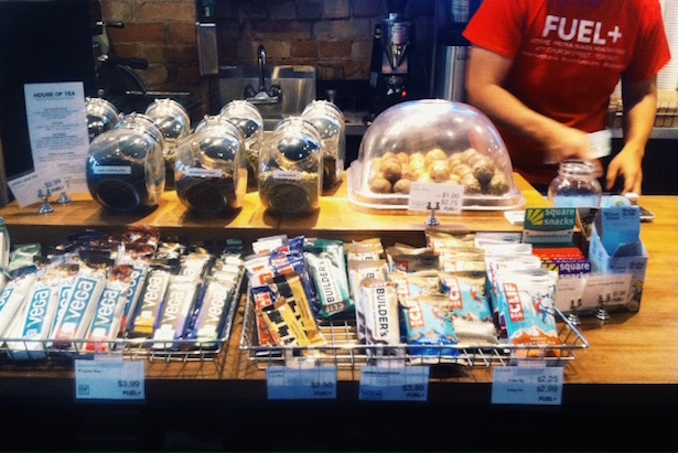 Despite not being purely vegan, all of the menu items are vegetarian-friendly, with vegan and gluten-free options available. Their most popular shake is the peanut butter banana chocolate, made with organic peanut butter, almond milk and Vega One Chocolate protein powder. "Although," according to Gary, "my favourite is the Almond Vanilla – it tastes like vanilla cake." Other shake options include: Kiwi Kale Detox, Green Goddess, Blueberry Banana Vanilla Chai, and their breakfast shakes that have oatmeal and chia seeds blended in. Plus, with the option of add-ons, the list goes on.
Vega, the plant-based protein powder that is featured in their smoothies and shakes, is a product that Gary and Chester feel passionate about. Packed with vitamins and minerals, it is gluten-free, corn-free, contains no GMO and is 100 per cent Canadian. Both Gary and Chester believe in local eating, and they strive to make it a part of their business in every way that they can.
Alongside their protein-dense shakes, Gary says that their Fuel balls are one of the most popular items on the menu, and very rarely do I exit a veg-facility without some kind of treat in ball form. However, straying away from the usual dried fruit base, Fuel+ uses protein as the main feature. Fuel balls are packed with ingredients that give you stamina, and are offered in a variety of flavours. Cinnamon sugar and cranberry were on display, however, peanut butter seems to be the flavour of choice amongst their returning customer, so of course, I had to try the peanut butter chocolate chip. Crispy from the rice puffs, creamy from the nut butter and a touch of sweetness from the chocolate – I regretted getting just one.
What makes this place different from the rest? It focuses on healthy fats, oils and proteins – nutrients that are essential to everyone's diet. Food that nourishes and energizes at an affordable cost, Fuel+ is paving the way for a lifestyle that is built on maintaining your body and psyche, while satisfying your craving and respecting your wallet. Time well spent if you ask me.
What more on Fuel+? Check out their website and download the app to gain access to nutritional information and receive exclusive in-store coupons.