Paula Stachyra, owner of @queenofthegrill, shared with us this amazing Sheet Pan Lasagna recipe. As the temperature dips and school is back in full swing this easy-to-make sheet pan lasagna is the perfect way to conquer weeknight meals.
This layer-less lasagna recipe comes together by combining the pasta, sauce, and cheese that is poured onto a sheet pan, topped with a ricotta mixture, more cheese, and bakes for a lot less time than the classic lasagna. Best of all, there are lots of crispy crunchy edges! By utilizing a single sheet pan, this dish eliminates the need for layering lasagna in a deep casserole dish, making it a time-saving alternative that is perfect for busy weeknight dinners or entertaining a crowd. Plus, it offers the pleasure of the classic lasagna experience, with every bite containing the same delicious medley of flavours.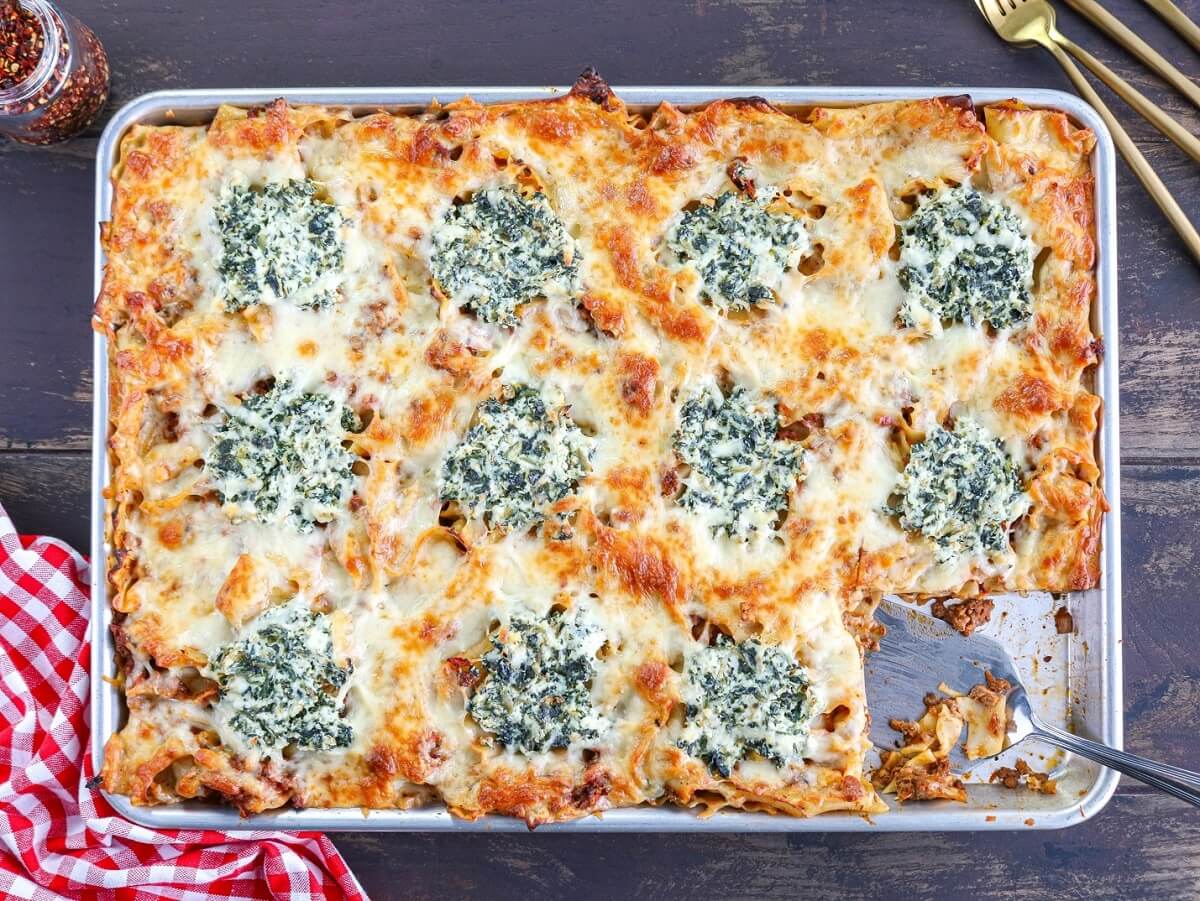 Sheet Pan Lasagna
Prep time: 20 minutes
Cook time: 45 minutes
Serving: 6
Ingredients:
5 oz. of frozen spinach, thawed
1 cup of ricotta cheese
1 tbsp minced garlic
Salt and pepper, to taste
1 (375g) box oven-ready lasagna, broken into 2-inch pieces
1 tbsp vegetable oil
1 yellow onion, diced
1 lb extra lean ground beef
1 tsp Italian seasoning
1 tsp garlic powder
4 cups of prepared pasta sauce, plus more for serving
2.5 cups of shredded mozzarella cheese, divided
1.5 cups of freshly grated parmesan cheese, divided
Directions:
1. In a medium bowl, combine the spinach, ricotta cheese, minced garlic, salt, and pepper. Cover and refrigerate until ready to use.
2. In a large skillet over medium heat, heat the oil and add the onion. Cook until the onion is fragrant and beginning to soften, about 5 minutes, stirring occasionally. Add the ground beef and cook, undisturbed for 3-5 minutes until browned on one side. Using a wooden spoon, break apart the ground. Season the meat and onions with Italian seasoning, garlic powder, salt, and pepper. Continue to cook, stirring often until the ground beef is cooked through and no longer pink. Add the pasta sauce and cook for another 10 minutes.
3. Meanwhile, bring a large pot of water to a boil and season with salt. Add the 2-inch lasagna pieces to the pot and cook until al dente, stirring often to avoid clumping. Drain and reserve ½ cup of pasta water.
4. Preheat the oven to 425ºF (218ºC). Lightly spray a 13 by 18-inch sheet pan with non-stick cooking spray.
5. Add the pasta water, lasagna pieces, 1 cup shredded mozzarella, and ½ cup freshly grated parmesan cheese to the skillet and gently stir to combine. Spread the mixture evenly on the prepared sheet pan. Dollop about 1 tablespoon of the ricotta mixture all over top of the lasagna and press down with the spoon to flatten the mixture. This will prevent the top of the mixture from burning. Then, top with the remaining mozzarella and parmesan cheese.
6. Bake for 35-45 minutes or until the cheese is golden brown and bubbly. Let the lasagna cool for 10 minutes before serving. Serve with more warmed pasta sauce for topping, if desired.