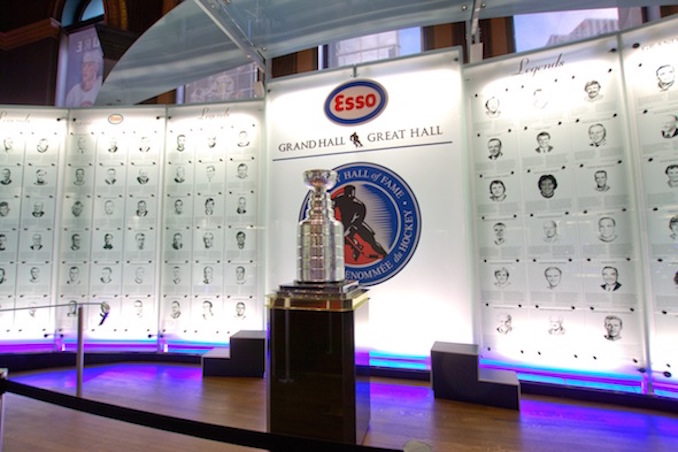 The Hockey Hall of Fame in Toronto is a great destination for any hockey fan. Since 1993 it has been located in Brookfield Place in downtown Toronto, which was once a bank. Most of the rooms are located underground except for the Great Hall which is where the old vaults and stain glass ceiling fixtures from the bank can be seen. This is also where they have the list of inductees and a version of the Stanley Cup amongst all the other great trophies.
We wanted to give you a walk through of the different rooms and attractions that the HHOF has to offer and accompanied them with photos.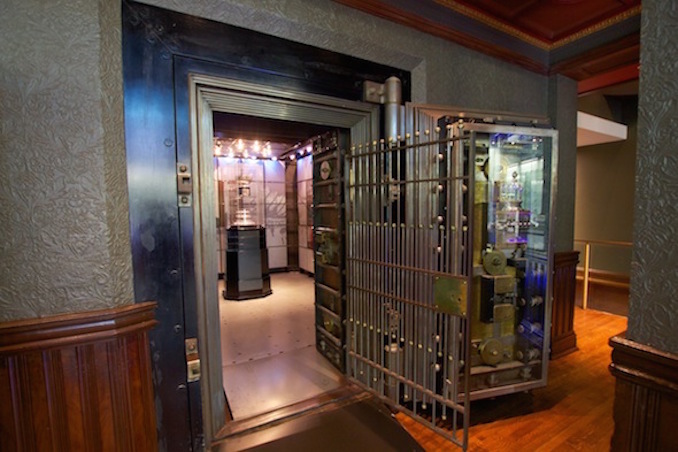 BANK
The Grand or Great Hall where the trophies lie was once the head office for tthe Bank of Montreal. Constructed in 1885 the location remained the head office until a new location at King and Bay was built. The Front and Yonge location continued on as a bank until 1982 when it closed down. The heritage building was unused and was slated to become a art gallery until it was renovated and included in the development of the Brookfield Place. In 1993 the HHOF took over the building to include it in their hockey shrine.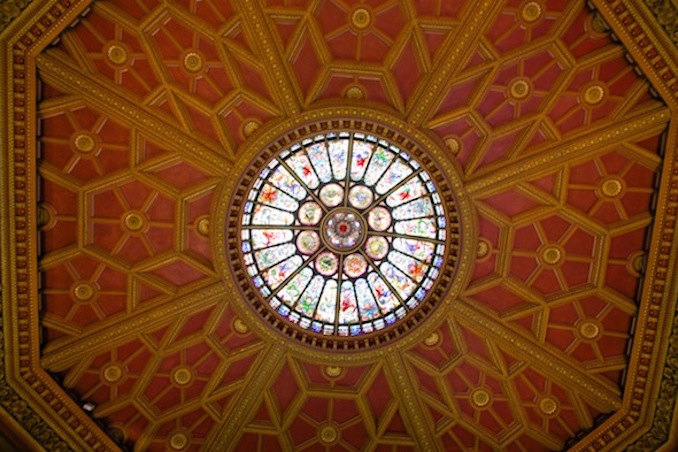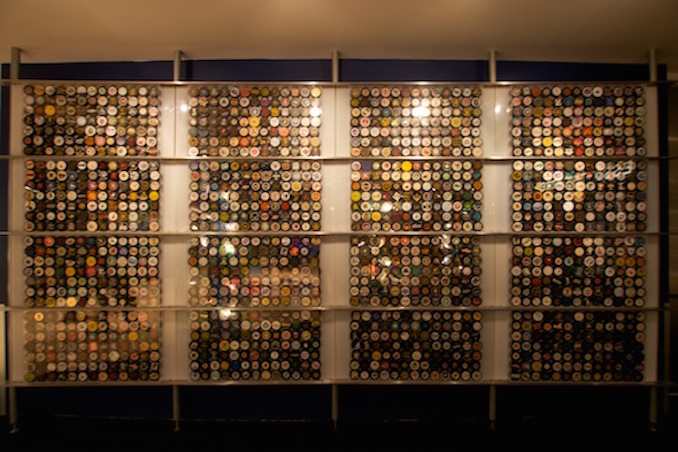 ENTRANCE
The Hall of Fame Puck Wall. Almost 1,300 pucks, each collected from a different arena or tournament from a location somewhere around the world, are featured through acrylic glass in an exhibit case situated in the Admissions area of the Hockey Hall of Fame along with a collection of goalie masks from legends who played the posts. The Goalie masks also show a picture of the player wearing the mask in a game.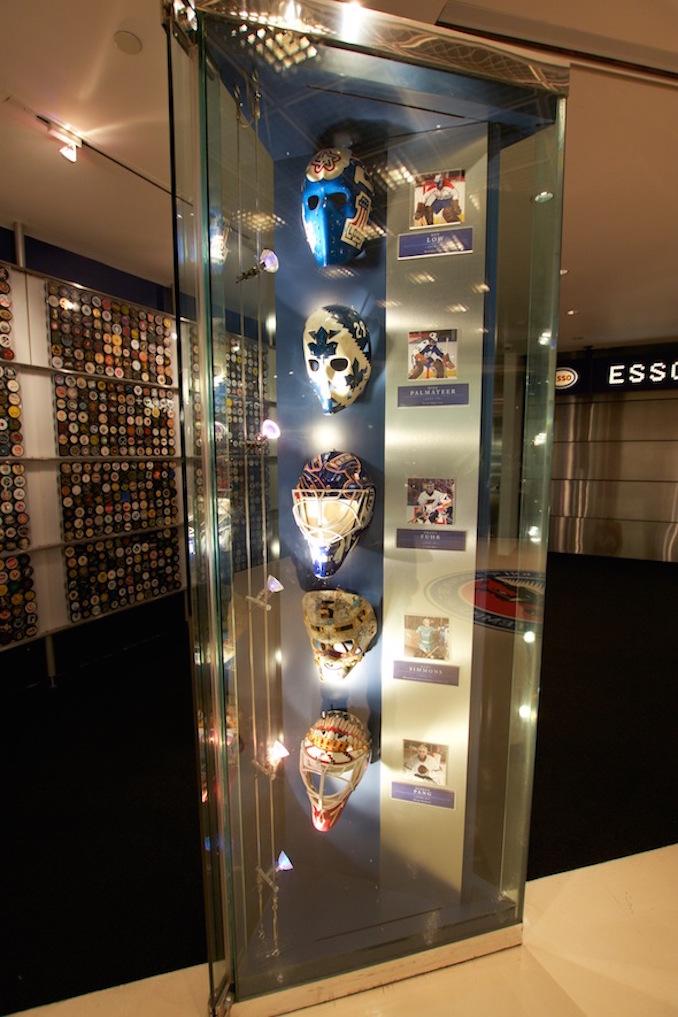 CANADIENS DRESSING ROOM
The Montreal Canadiens replica dressing room is a to-scale replica of the room that 23 Stanley Cup champion teams between 1924 and its closing in 1996 dressed in the Montreal Forum. Player stalls commemorating some of the greatest Habs, including Lafleur, Plante, Beliveau, Dryden and Morenz, encircle the area.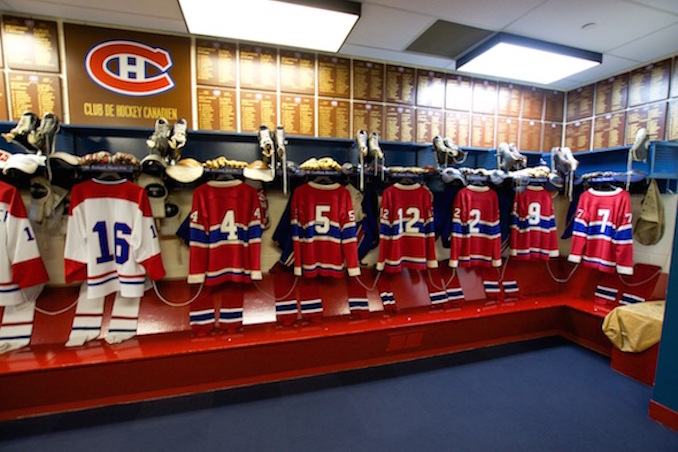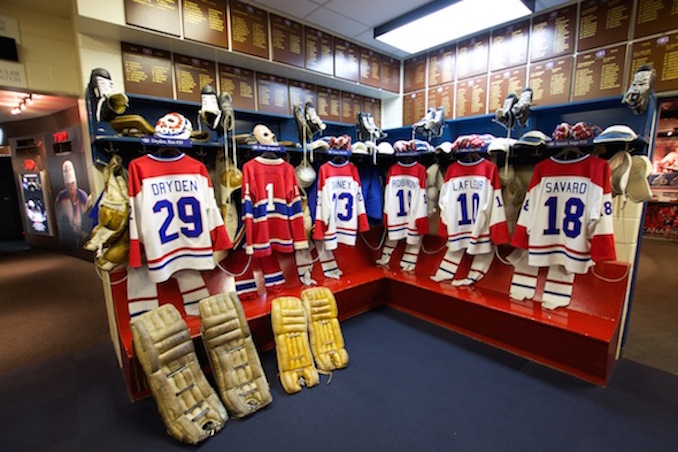 GAMES
There are a few types of games that one can be a part of at the HHOF. The first are video games that are set up for people to play on regular home entertainment systems. The other is an interactive game that puts you in the spot of either the goalie or of a shooter using videos and screens, as well as equipment you can put on.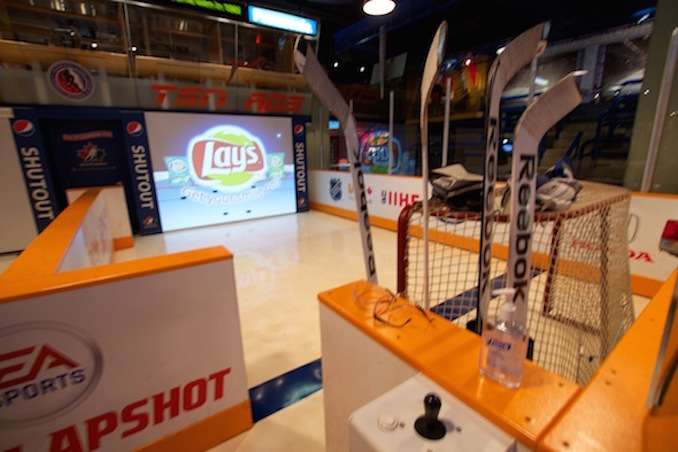 GOLDEN GOAL
A shrine to The Golden Goal has been set up as well immortalizing the 2010 olympic gold medal goal scored by Sidney Crosby that brought Canada its championship at home in Vancouver. The gloves, the stick, and the puck are all on display as well as a photo of the goal's celebration on the ice, in Vancouver, and in Toronto by the fans.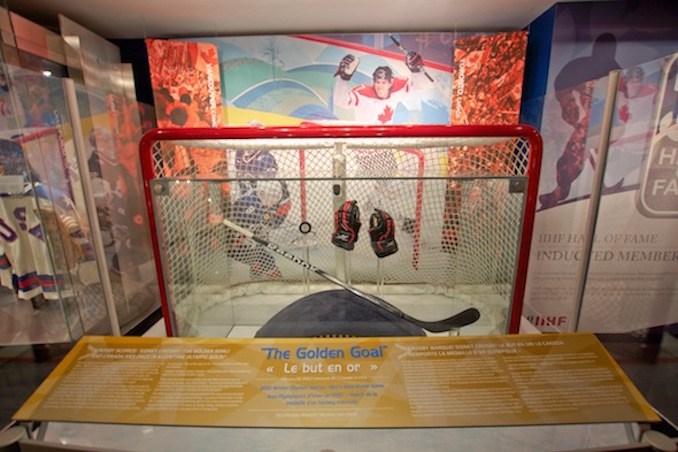 Here are some more pics of the sites and historical artifacts that the shrine has to offer.