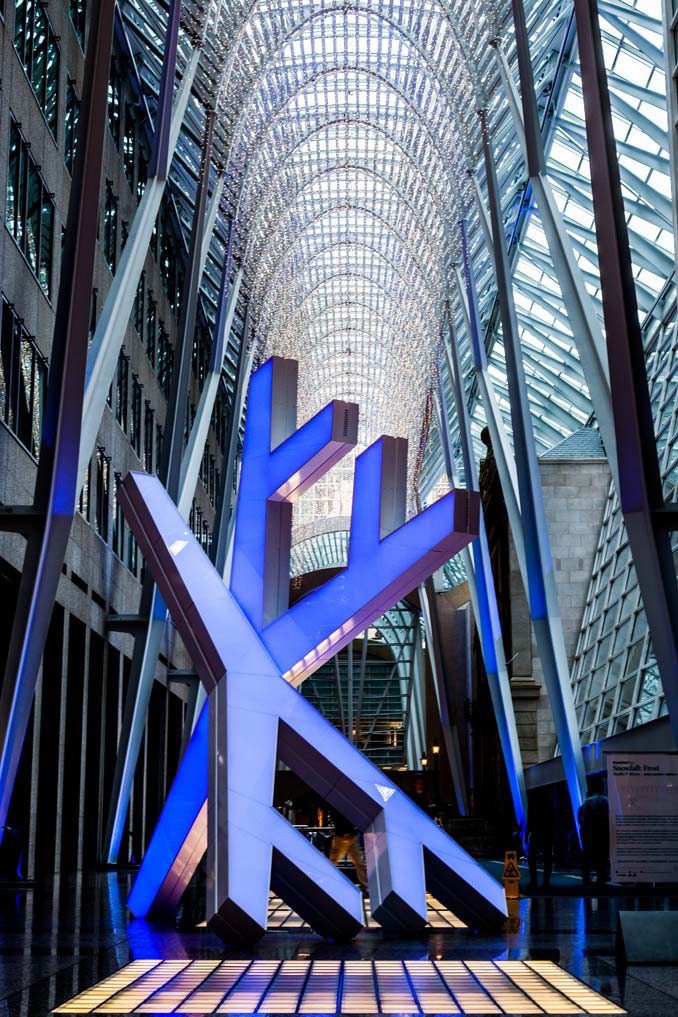 Snowfall, the annual holiday installation at Brookfield Place in Toronto, is more than your average doily cutout-inspired festive decor. We got to speak with Brad Hindson and Mitchell F. Chan of Studio F Minus, the design duo behind the creation, to get the full scoop on the impressive scale of the project.
In its first year, Snowfall took on the form of Frost and Gust. These sculptures look like two Y shapes folded together to emulate a snowflake, and were inspired by the structural columns featured in the Allan Lambert Galleria, an architectural landmark by Santiago Calatrava. Frost, the larger of the two installation pieces, was made from heat-activated material, adding an interactive element to the public art piece, so that it changes colour when you touch it.
In its 2015 addition, Flurry, dozens of tiny snowflakes were added and hung from the ceiling of the lower levels of Brookfield Place. While they bring a colourful sparkle to the space, the story of their creation is the main appeal. To start, Studio F Minus developed a solution for hanging the snowflakes without damaging the existing property, allowing them to be taken down and reinstalled each year: 6000 sq ft of ceiling surface was covered in 17 coats of magnetic paint. Hindson, Chan and their team proceeded to individually hang 2000 snowflakes with a custom designed pole.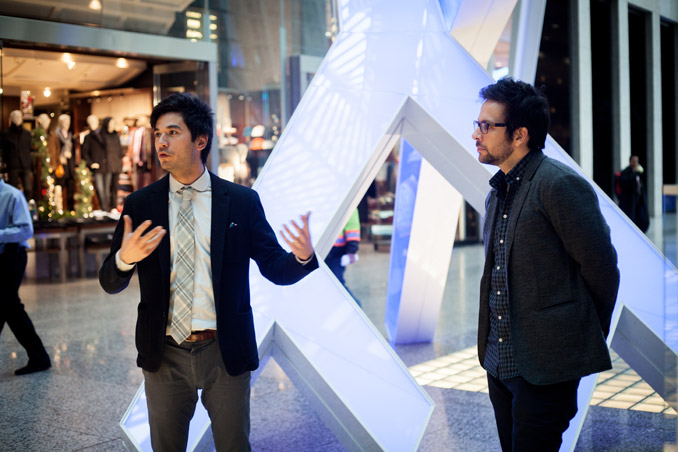 Choosing this spot where each snowflake would be hung was no random thing. A custom fluid simulation software was created by Chan to digitally produce how snow drift would blow through the space. The pattern was then printed and copied onto the ceiling using a black light marker, so that every year the artists could come back to hang each sculpture in the same spot.
If you take a close look at each Flurry snowflake, you can tell that they reflect light and show a different colour, depending on your angle of reference. The unique material they are made from acts just like a prism.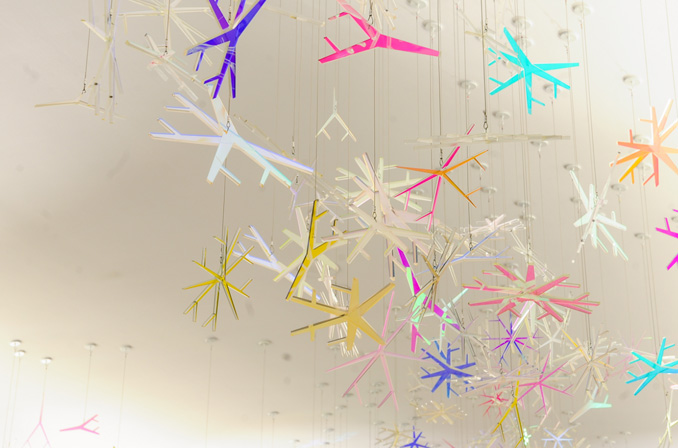 Internationally, Brookfield Arts invests a lot into bringing accessible public art to their properties, adding to a city's beautification.
"Our Arts Brookfield initiatives serve to enhance and animate the public spaces at Brookfield Place —engaging and inspiring tenants, visitors and the city of Toronto with world-class commissions and partnerships. There are no other Canadian properties offering this kind of high level visual arts programming to the public year-round," said James Trak, Vice President & Regional General Manager, Brookfield Office Properties