Lee is Chef Susur Lee's flagship restaurant celebrating over 20 years on King St. W. Lee offers a menu inspired by refreshing bright flavours and the spices of South-East Asia in a family-style setting. This delicious recipe is unlike any cheeseburger you've ever had before! Chef Lee recommends wrapping it in a crisp lettuce cup with fresh herbs and pickled vegetables to create a handheld and playful inside-out cheeseburger, the Cheeseburger Spring Rolls.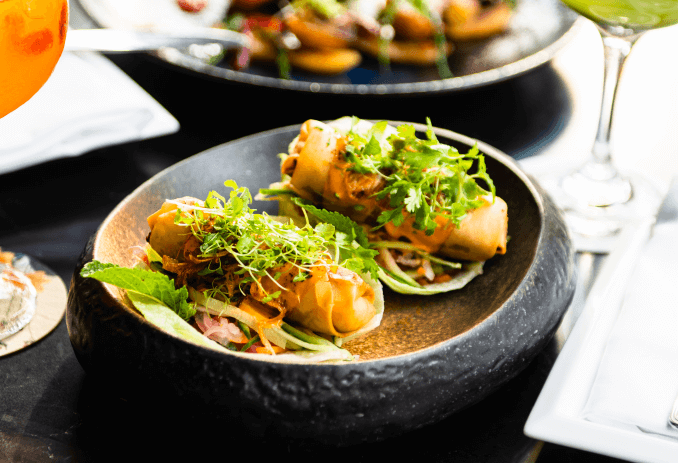 Cheeseburger Spring Rolls
makes 20-30 rolls
Suggested Toppings:
-lettuce cups
-pickled onions
-chipotle mayo
-crispy onions
Ingredients:
3 lbs LEAN COARSE ANGUS BEEF
1.5 lbs DICED ONIONS
15g SALT
25g SUGAR
17g SMOKED CHIPOTLE POWDER
10g GROUND BLACK PEPPER
3.5 oz LARGE CANNED TOMATO PASTE
1.5 cups CANOLA OIL
1.5 cups POTATO STARCH
½ cups WATER
2 lbs AGED WHITE CHEDDAR (SHREDDED)
20-30 SPRING ROLL WRAPPERS
Directions:
-Heat up canola oil in a large skillet
-Sauté the minced garlic until golden
-Add diced onions until translucent
-Add ground beef and brown
-Sauté for 8 minutes
-Add seasonings (salt, sugar, chipotle powder, black pepper)
-Add tomato paste
-Make a slurry mixture (the binder)
-Mix potato starch & water
-Add slurry and cook for another 5 minutes
-Let mixture cool in fridge overnight
-When mixture has cooled, add shredded cheese
-Prepare spring roll wrappers to make rolls with filling mixture (about 2 oz mixture per roll)
-Deep fry @ 350 degrees until golden brown
-Dress with toppings of your choice and enjoy!