There's an exciting shift in the food scene uptown and by that we define it as north of St. Clair and particularly along Yonge Street. Restaurants and Bars are opening up that are not your usual (read: predictable) fare of okay Italian, burger joints, and cajun chicken chains. Nope. The neighbourhoods are now seeing bolder offerings.  Now Torontonians won't always need to hustle downtown to dining hotspots. The latest entry to the North Toronto dining scene is Byblos Uptown.
The highly regarded restaurant with Eastern Mediterranean influence has taken over the former North 44 space. Here, Byblos Uptown explores the spices and flavours of the region with a twist, of course. Executive Chef Ben Heaton, who oversees 16 restaurants within the ICONINK portfolio including KOST, Sofia, Estia, Patria, Weslodge, Mira, is a world traveller who has a passion for exploring foods of different cultures and bringing the flavours and techniques back with him.
The new Byblos Uptown reflects the neighbourhood's vibe. No doubt they did their research into what locals craved. That is, a place where diners often seek the combination of an exciting menu in an environment that isn't rushed – an experience. Think South Beach vibe that soothes your unhurried soul. We had the opportunity to take a behind the scenes tour of the space before it opened to the public.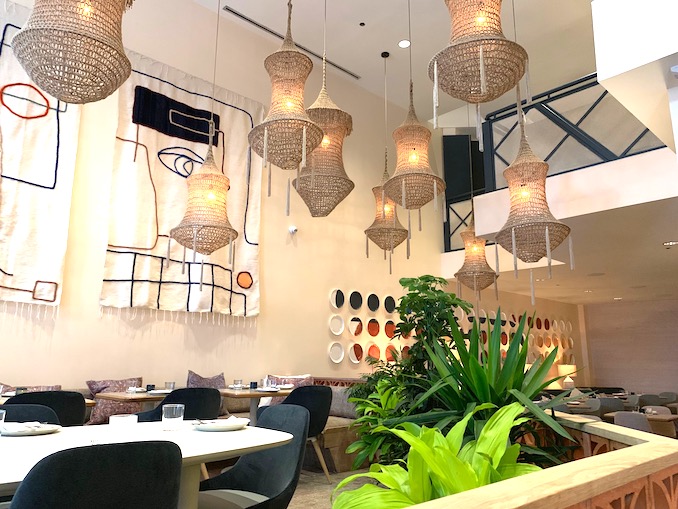 The space spans two levels. Upon entry you'll notice stunning Marrakesh woven lighting fixtures hanging from the tall ceilings over the slightly raised platformed area. The room continues with the perimeter lined with cozy angled banquette seating. A lot of great tables for twos and fours and larger tables to suit dinner gatherings. A private dining area that seats 10 is positioned nestled in a back nook. The kitchen is open in plain view of diners where Chef Heaton laughs when asked how he felt about that, "I just need to remember to be quieter as my voice tends to carry."
The front stairs leads you to the mezzanine level. Anchored by the cocktail bar and surrounded by plush seats with cushions and more cushions it's an ideal spot for coziness. Great space for dinner or evening cocktails with nibblies. We've already laid claim to one of the two tables overseeing the main dining room, warm lighting and cozy cushions. It's got an eclectic old world charm blended comfortably into a modern environment. Space is designed by the award winning Studio Munge.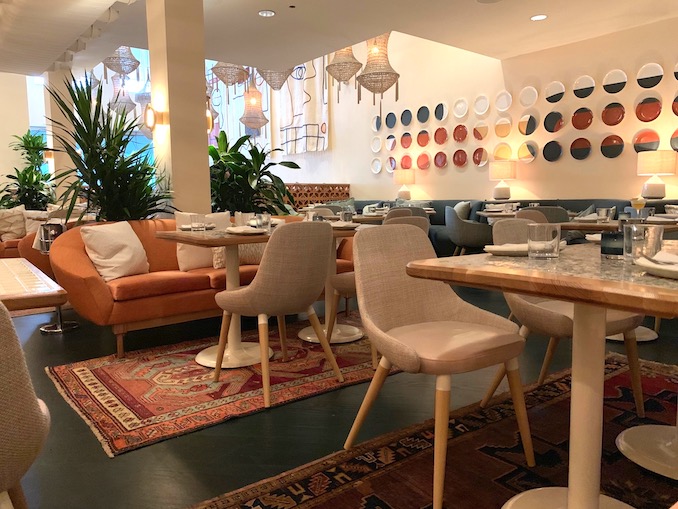 The cocktail menu lists a few favourites that you could find at the other Byblos locations (Miami, downtown Toronto) but of course there are few additions exclusive to this location — hello, Uptown Girl! In many of the recipes, they've made their own specialty syrups and elixirs in house.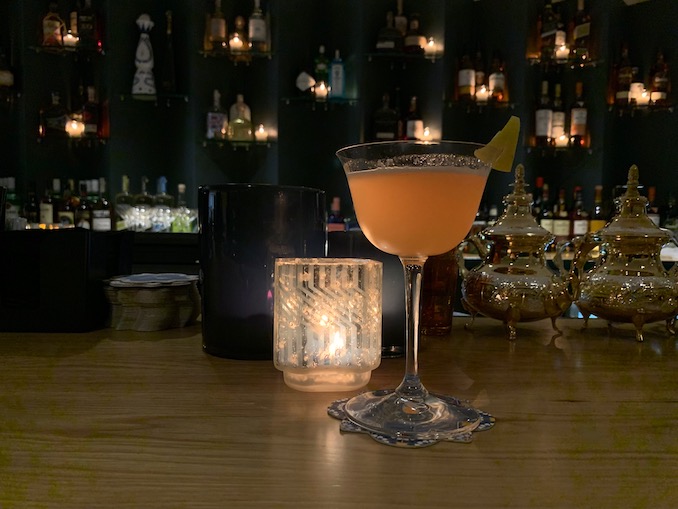 The dinner menu has a few Byblos favourites (house-made labneh, Turkish manti dumplings, wood fired pides) but  there are a few new additions worth exploring. "When you go to Byblos Uptown you'll find the same flavours, but we're expanding upon it by having different dishes in each of the locations – uptown, downtown and Miami." The dishes are meant for sharing – thank goodness because we want to taste it all.
We could easily just nestle into the seats and inhale vats of their smokey roasted eggplant dip. This particular dish, for example, is served with a Northern Israeli style pita bread that's not too puffy or filling.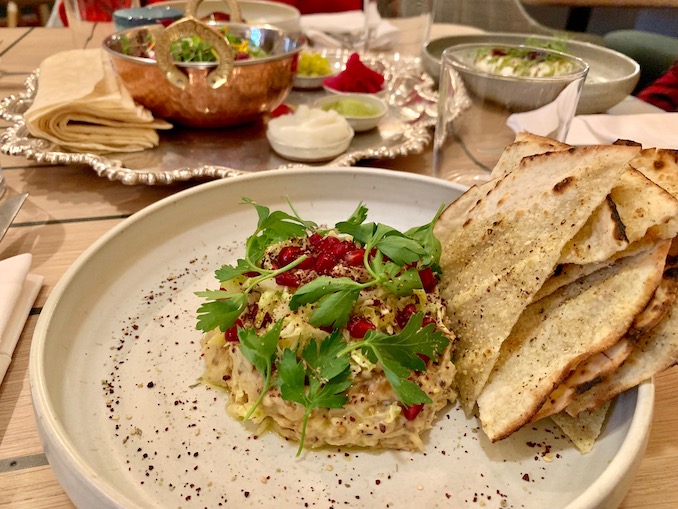 The kitchen is equipped with a wood burning oven. Chef Heaton tells us that 90 per cent of the dishes on the menu have, at some point, included the use of the oven. "The old world way of cooking is what we try to replicate in our restaurants as much as possible." But while it can be challenging to use the special oven all the time Chef tells us it's worth the extra work , "It imparts a flavour that you just can't get cooking with gas."
We also fell in love with his vibrant ras el hanout black cod dish made with a butter sauce infused with dried lime and includes pistachios, black olives and dried rose petals. The lamb dish is not just a pretty presentation but flavourful and moist. The secret? Chef explains this dish has a five day process including brining, confiting, rolling, roasting and glazing.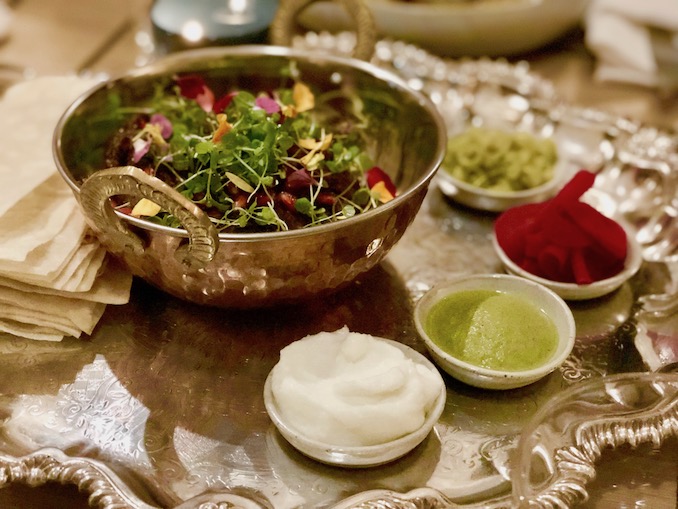 For you instagramming food lovers, be sure to order up the meringue ball dessert. A gorgeous presentation. Inside the globe is a semolina cake with a strawberry sumac sorbet, strawberries, lemon curd and white chocolate. Tastes as good as it looks!
There's so much more to look forward to trying on this menu. We'll definitely be back.
Byblos Uptown is located at 2537 Yonge Street (Yonge and Eglinton). Reservations highly recommended.