The sun was setting when we ventured down the laneway in the entertainment district. Blink and you might miss Stuart Cameron's new MIRA Peruvian Restaurant (420A Wellington Street West), if not for the warm glowing lantern lined walkway that leads you to the entrance of this unassuming place.
Executive Chef Cameron is no stranger in delighting our senses. He's been responsible for us having his other restaurants on repeat including Byblos and Patria all with ICONINK. What inspired this new restaurant? Chef Cameron spoke with great passion about his extensive travels to Peru and Latin America when we visited him at MIRA and tells us of the vibrant diversity in flavours and culture of the region. He wanted to share the culinary journey with Toronto so much as to go as far as sourcing ingredients from the country including lacuna, ahi peppers, lulo fruit and huacatay (black mint) that many of us are not too familiar with.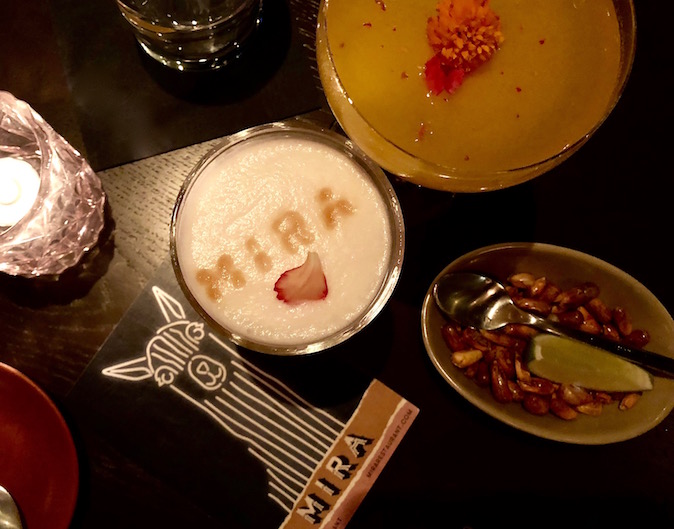 The space is dark and sultry, ideal for a little escape or one hot date night just steps away from busy sidewalks of King Street West. Upon entry you spot the neon llama and the glass mirrored walls are inspired by artistic body art designs. The open kitchen has a perfect overview of what's happening in the restaurant with a chef's table that's perched on deck.
The afterwork crowd descends for small plates and the wicked pisco cocktail list as well as other tasty house-made libations. A dish of Canchita (Peruvian popcorn) arrives at the table lightly salted with a lime wedge that is highly addictive. Unfamiliar with Peruvian cuisine? One thing you need to know, there are many influences including Japanese. Don't be surprised to find ingredients like yuzu (Japanese citrus fruit) on the menu as well as a nice selection of Sake.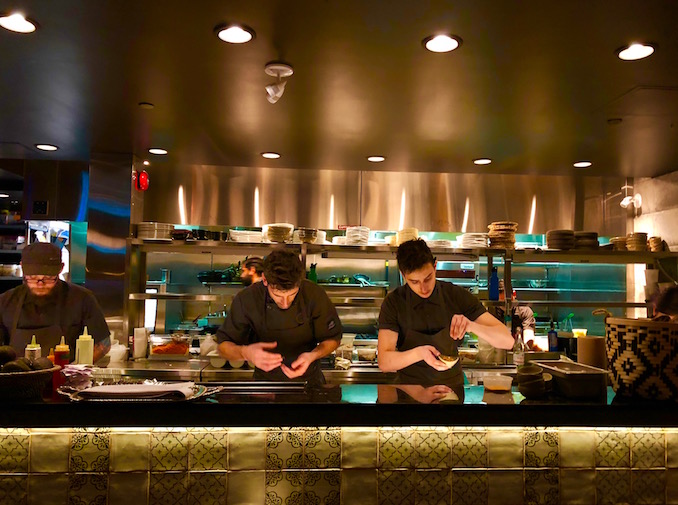 How did the Japanese come into the Peruvian food scene? It dates back to around the late 1800s when thousands of Japanese workers were attracted to the country on special two-year work permits to help mostly farm sugar cane. When their permits ended, many decided to stay. Soon Japanese cooking techniques blended with Peruvian ingredients and is one of the most popular style of cuisines found in the country along side the dishes of the Incas and the heartiness of the Conquistadors.
The dishes are definitely worth sharing so you can explore more of the flavourful offerings. Ceviche is a must have — order at least two to try. Definitely the Cerdo (Suckling pig with quinoa friend rice) is melt in your mouth oh. so. good. The beef heart on a skewer is a good flavourful meaty choice and if you love scallops, MIRA's dish is made with Chef Cameron's "atomic butter" that is delightfully rich and tasty.
Here's what we tried…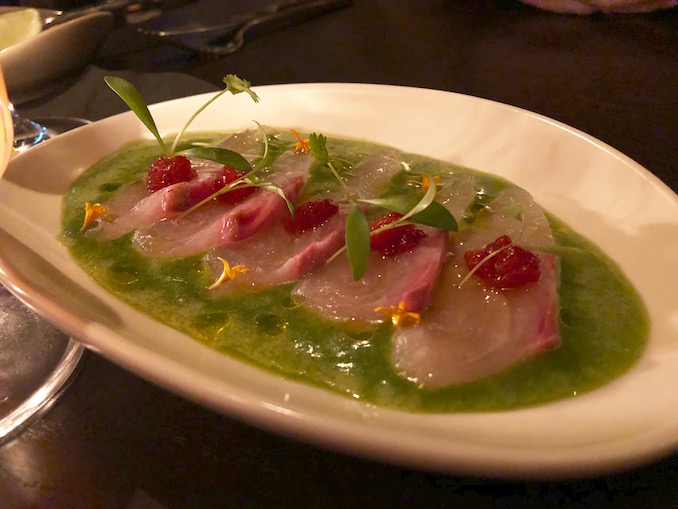 The Tiradito Hiramasa is a beautiful light dish of raw fish that's sliced similar to sashimi served with a bit of heat. Tiradito raw fish has the sauce added just before serving where ceviche is usually marinating in a sauce prior to serving.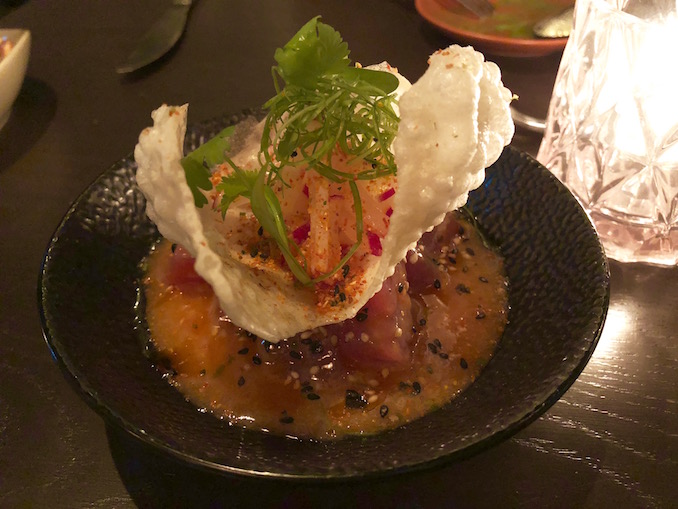 Nikkei Atun Ceviche balanced with the citrusy sweetness of the yuzu and a hint of spice from the togarashi spices.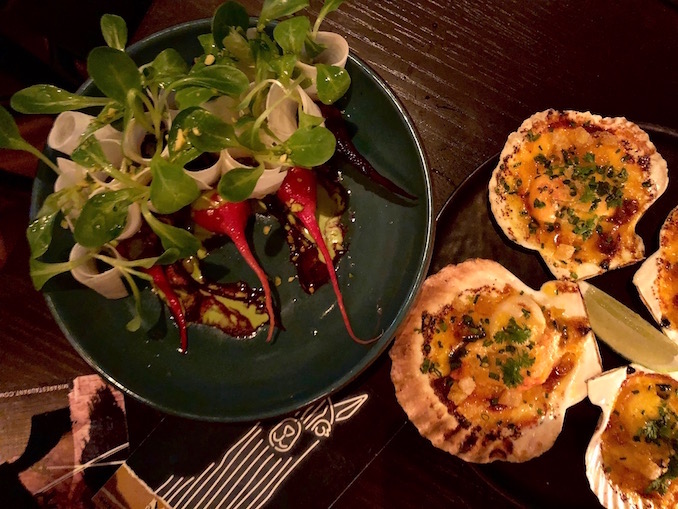 Beautiful Ensalada de Remolacha is a colourful medley of baby beets, heart of palm, pipits and goat cheese. Scallops served in half shells with that incredible atomic butter.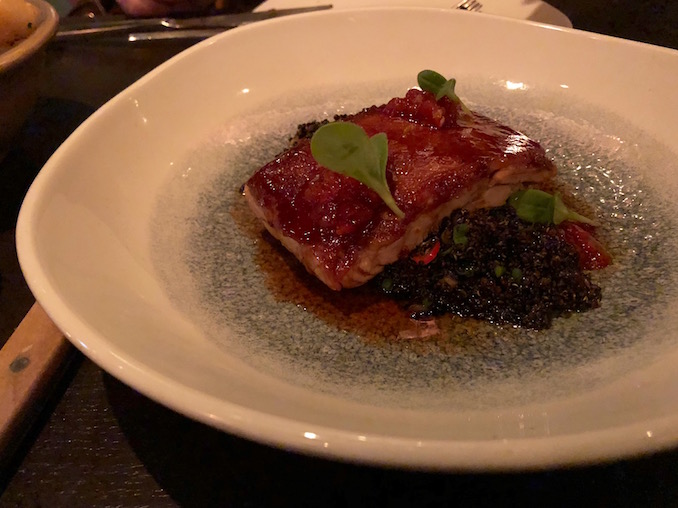 Lip-smacking good Cerdo (suckling pig) over a bed of quinoa fried rice with a ramen glaze and rococo jam.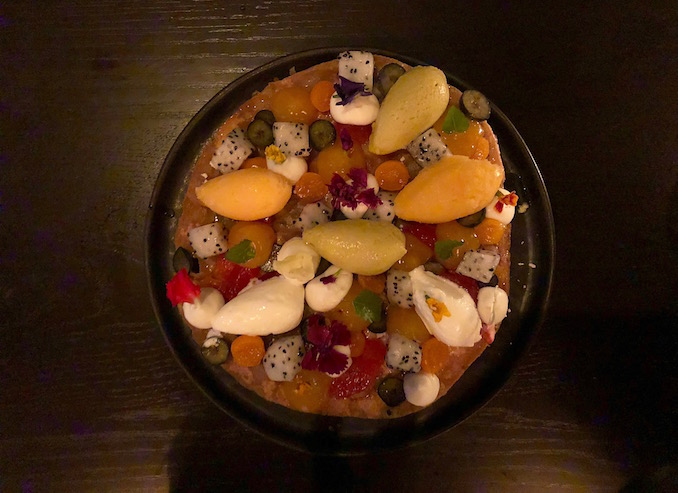 Almost too pretty to eat is this fruity ending. Cachangas Peruanas is a crispy pastry topped with coconut ice cream, lulo sorbet, goose berry sorbet, candied papaya and dragon fruit.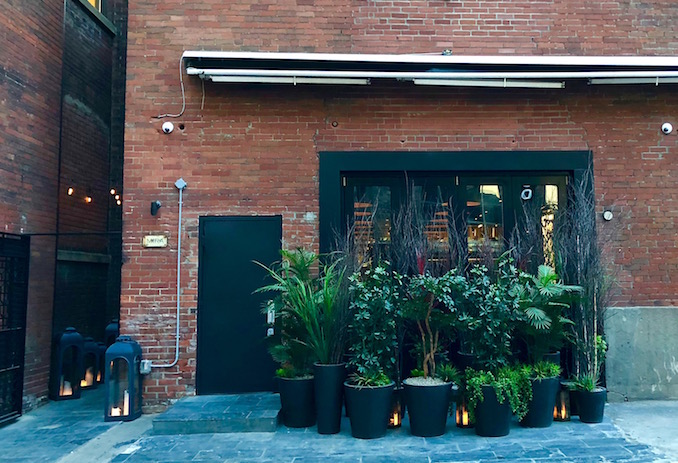 MIRA is open for nightly from 6:00 pm onwards. Find out more here: mirarestaurant.com