Fashion Art Toronto is back with its annual immersive fashion experience that includes five-nights of experimental and multi-sensory runway shows, live performances, film, photography + art. Art and fashion will merge with technology, fantasy, sound and visual stimuli across over 40 shows and presentations taking place from April 17-21.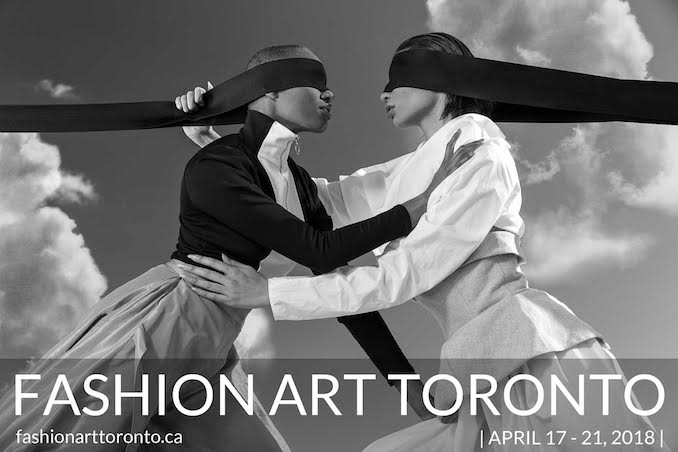 Here are some of the events taking place.
Tuesday, April 17 | CONNECTED
In Spite of Sirens, a large-scale installation by designer Olayide Abiola, transforms participant to be both witness and character, providing guests with their first immersion of #FAT2018; Mitra Ghavamian, known for transforming modern day issues into thought-provoking wearable art statements, unveils Nostalgia; award-winning multidisciplinary artist Vessna Perunovich's exploration into connectedness comes to life on the runway; and wedding dress designer, Najla Rahimi, showcases an ultra feminine collection adorned in couture details.
Wednesday, April 18 | DISCONNECTED
Internationally acclaimed designer, Aroshna Makanojia explores the transformative nature of her garments; Stevie Crowne presents glam rock upcycling at its finest; blurring the lines between gender and genre, Maxhole performs a track from his new record; and Amplify Apparel will evoke all senses with Disorder, an artful and chaotic deep look into mental illness.
Thursday, April 19 | GLOBAL WEB
Presenting Mexican designer, Bvisage's intricate pieces that entwine handicraft with elegant patchwork; the positive representation that is breaking stereotypes of Muslim women from Black Orchid; artisanal and conceptual Indian-inspired, boho looks from House of Poplyn; and a sensual, energetic performance from D!XON.
Friday, April 20 | COLLECTIVE CONSCIOUSNESS
Featuring experimental collaborations and explorations in fashion and re-purposed items; including a look at the wardrobe of a non-gender conforming professional from designers, Mic Carter of L'Uomo Strano & Natalissa Da Silva; Tala Nehlawi's embroidered Syrian poetry; and a fashionable, theatrical, and gender-bending performance from The Coven.
Saturday, April 21 | LOVE LINK
Opulence and high fashion reign for the last night of |FAT|, with exquisite collections from Diseiye, Nary Aref & Steven Lejambe; Baroque-inspired, couture corsetry is paraded in grandiose style at Bone & Busk; and award-winning Swiss visual performance artist, Genevieve Favre Petroff, synchronizes her high-tech, 16th century costume with her voice.
***
CONTEST
We have 4 full-week passes to give away to 2 of our readers. Here is how you can enter.
Facebook
1. Share this facebook post.
2. Comment on this post with what you are most excited to see during FAT.
Twitter
1. ReTweet this tweet.
2. Tweet what you are most excited to see during FAT 2018 and include @TORguardian and @FashionArtTO. Also use the hashtag #fashionarttoronto.
#CONTEST: Fashion Art Toronto is back and we have some passes for our readers – @FashionArtTO https://t.co/2q42eSJ8Ye

— Toronto Guardian (@TORGuardian) April 6, 2018