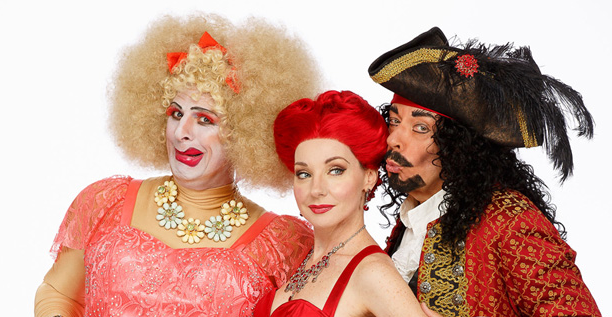 For the past few years we've had the most fun at the silly Ross Petty holiday stage productions. We look forward to his shows as he brings a familiar classic tale to life but cleverly embellishes and re-imagines the story to a whole new zany level. This year's production of Peter Pan in Wonderland is particularly of interest as it will be the final on stage performance by Ross Petty himself.
Peter Pan picks up loosely on the story we're familiar with but then mashes it up with Alice in Wonderland. It's still about a boy who never wants to grow up but here he finds himself in the city of Toronto (gorgeous backdrop by the way!) where he and Tinkerbell (aka TBum) gets into hilarious situations.
Why you must put this particular show on your must see list, you ask? Here are just a few reasons…
It's the 20th anniversary of the production company and Petty is retiring his "dame" characters. So, it's your last chance to witness all the Booing…yes, it's encouraged actually. I can recall our first Ross Petty show and we were quite taken back at first but then realized it's tradition. When it happens Petty side tracks off the story and gives sharp witted one-liners.
It's pantomime theatre – a type of musical comedy originally from England that is performed around Christmas season designed for families..but trust me, you don't need kids to go and see this.
Dan Chameroy is an audience favourite as his character Plumbum returns for the 7th year as TBum. We can't get enough of his loveable character with a big heart. JUST CAN'T GET ENOUGH.
This show brings in the talented comedian Jessica Holmes as the Queen of Hearts who has a Russian lisp. If you didn't know she sings, you'll be amazed!
The kids from the wildly popular TV hit series The Next Step are in this production. Kids in the audience who recognized Jordan Clark, Lamar Johnson, and Taveeta Szymanowicz went bananas.
Kids also love the injection of current pop tunes, My niece loved that her favourite songs were incorporated into the show…okay, I did too!
The sponsors of the show (Porter, Toronto Star, Star Touch, CIBC, Hilton Hotels) get their own special treatment "commercial breaks."
Be sure to check out the collection of costumes and production posters located on the lower level.
Peter Pan in Wonderland is fun fractured tale for the entire family. It's a fast paced show that is highly entertaining.  On stage until January 3, 2016 at the Elgin Theatre. Visit rosspetty.com for details.
Here's an idea idea of what happened over the past 20 years….