If you've been keeping a close eye on the food scene here in Toronto, you may have noticed a steady stream of Taiwanese and Japanese eateries opening up shop here. We're not only interested in trying out the dishes that have made them famous but we're also curious about the experiences they have to offer.
The Dazzling Cafe is the latest to hit our streets straight from Taiwan. This cafe is the latest expansion of this highly popular chain that has locations in Hong Kong, Singapore, Malaysia and the UK. This Toronto location is the second outpost in North America with the first one in Richmond, BC.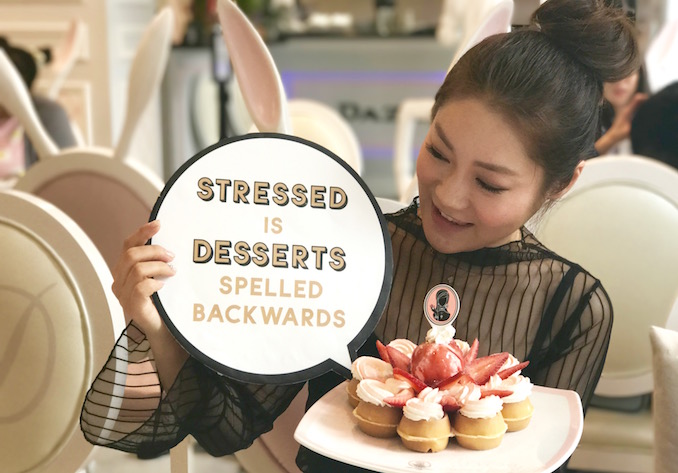 A little background info…Taiwanese socialite Janet Yang first created the "Dazzling" business in Taiwan in 2005. It actually started as a fashion boutique that offered international labels to it's customers. Dazzling became a popular spot for the fashionable set and a few years later, they added a cafe into the space and it quickly became a hotspot drawing celebrities like FanFan and Jay Chou as well as trendsetters alike.
What is it known for? Let's talk about the decor. Dazzling Cafe is unapologetically feminine.  This location is airy and whimsical with it's soft pink and grey on pearly white tones. The space is pretty and playful, but at the same time it feels sophisticated. Chairs are decked out in bunny ears — no doubt it's earned it's Instagram-worthy recognition. The owner tells us that the cafes around the world are known for where groups of friends like to gather. As we were there lingering for a couple of hours on a weekday afternoon, we saw the tables fill with groups of  lovelies enjoying their meals while taking endless selfies and photos of their food. Yes, totally acceptable.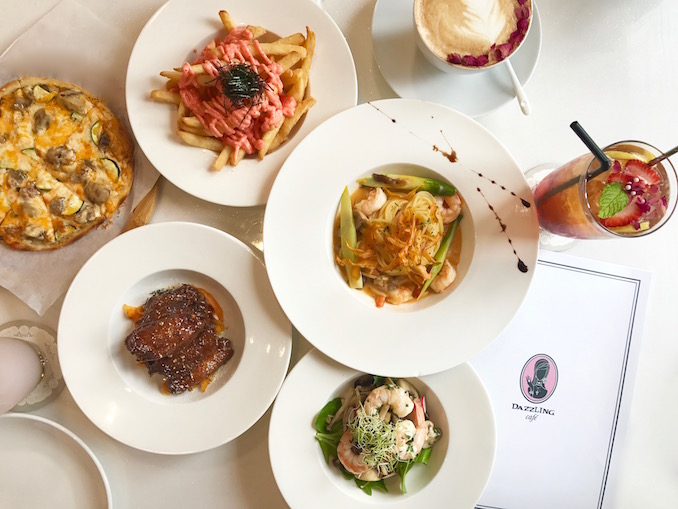 The food is what also draws crowds to this cafe. If I had to describe this Taiwanese restaurant to my friends, I'd say it's more familiar westernized dishes that are highlighted with asian ingredients. There are several items on the menu that are consistent in all locations and you'll find the most popular noted in the menu. While you glance through the 70+ items on the sweet and savoury list, make sure you order and save room for the Honey Toast. This isn't just any honey toast– it's the OG of honey toasts. The original "Honey Toast" was created by this cafe. Yep, the rest are reasonable copies. What is it? Think of a loaf of fresh white bread hollowed out. Pieces of fluffy goodness from the centre of the loaf are cut in cubes and toasted with butter until golden then placed back into the loaf. You can also choose the texture (soft, regular, crispy). Then it's smothered usually in ice cream, fruit, whipped cream and some sort of sweet drizzle of honey or other delights. Order it when you get there as it takes a while to make. There are several flavours to choose from and it's great for sharing. If you need a second dessert (and who doesn't?) go for the Strawberry Waffle made fresh as ordered. Don't quite know how to dig into these massive desserts? Your server will come and explain. It's actually company policy that the dessert comes with instructions if you're new to the concept.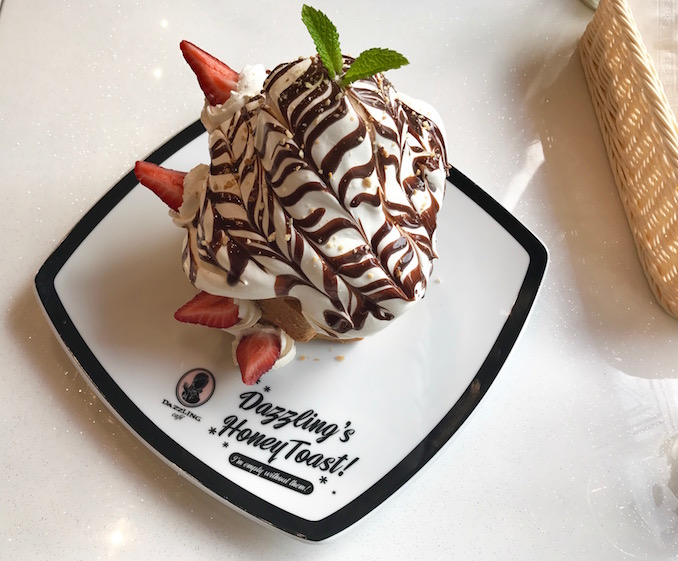 I admit that I had only dessert in mind but Dazzling Cafe's menu also offers up savoury dishes and fabulously refreshing drinks. Again, dishes that are popular world wide at their other locations can be found here. Think "ladies who lunch" offerings of fresh soups, salads, sandwiches, seafood and pasta dishes.  Okay, obviously not just for women but it's quality over quantity here. Stand outs include the caramel chicken wings appetizer and the bacon and poached egg on pasta (break and mix like a carbonara). Mentaiko fries topped with a sauce made with roe are surprisingly good and one of their best sellers. We also had a chance to try a few items that are not on the menu yet. But we're hoping the wasabi popcorn chicken will get on there stat.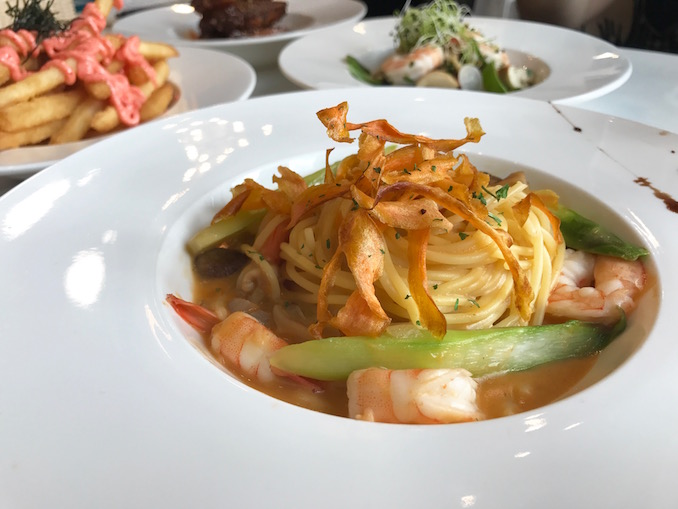 Can we admire the drinks for a few minutes? Arrived at our table were the "Dazzling Pearl", "Rose Lychee" and "Rose Latte" drinks. They are so stunning and incredibly delicious. They come to the table all sitting pretty but be sure to gently mix to blend all the flavours together.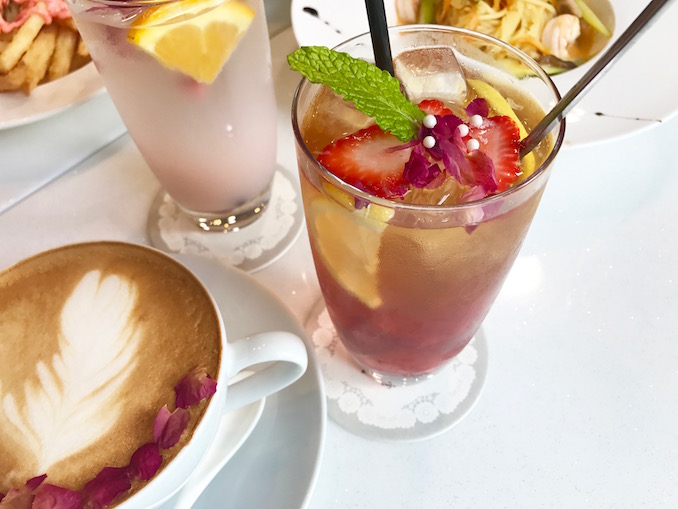 The owner tells us that they will soon have a pick up window for people who want a quick treat like their take-away individually portioned honey toast in a cup. Order the chestnut flavour. It's so good!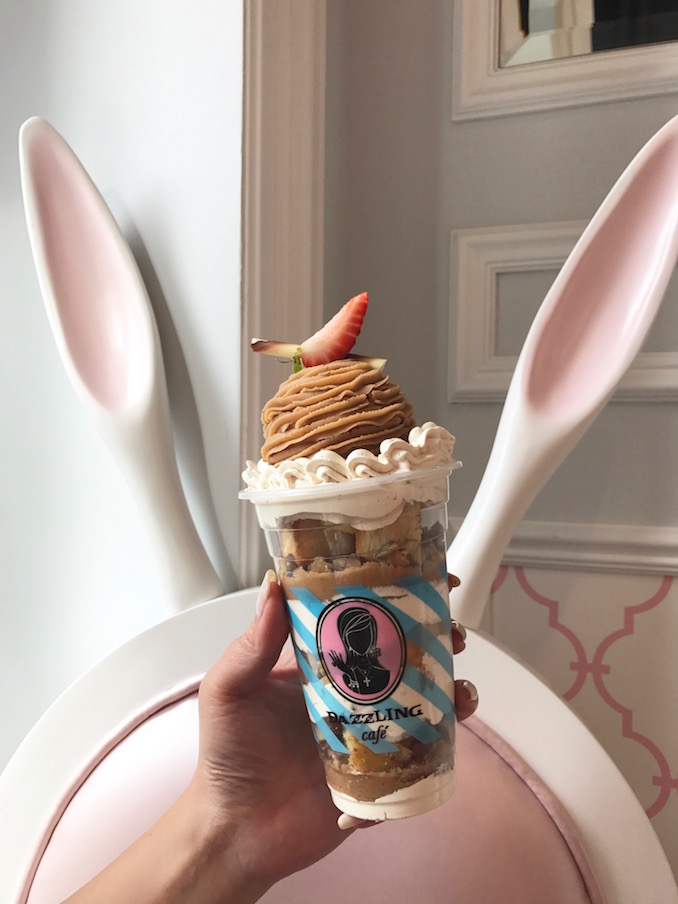 Don't be intimidated to ask questions. The staff are well-trained and happy to help guide through the menu.
Dazzling Cafe is located at 37 Sheppard Avenue East, Toronto. Visit their website here.