In the Mayan culture, Si'an Kaan is a place "where the sky is born." What most people don't know, is that Si'an Kaan is also where the great ancestors of Hubba Bubba, Double Bubble and Juicy Fruit were born.
Chewing gum goes back hundreds of years in the Mayan culture, and in the second episode of Travel Basecamp's newest series, the team visits Si'an Kaan to witness the origins of the chiclet firsthand.
"This is what it's all about," basecamper Troy Peckham says. "We want to see something different, something most people don't get to see…something most people don't think to see."
The 1.3 million-acre land lies just south of Tulum and has been in the Maya civilization for hundreds of years. Troy and his two fellow basecampers, Karla and Rodrigo, follow a gum guide into the reserve's dense tropical forest in search for the secrets of the Manilkara chicle tree.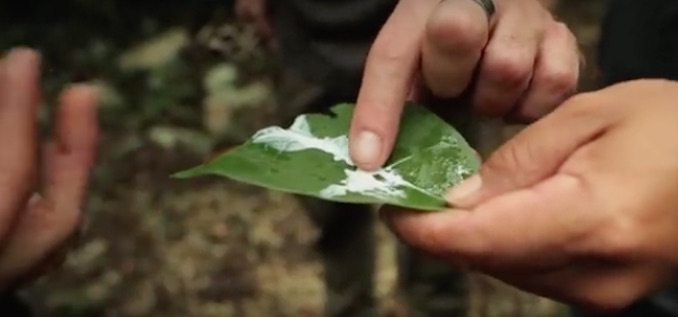 The tree, which is often called the chewing gum tree, has a tall spine that's filled with sticky resin. When the gum harvester starts chopping away at the tree's trunk, he exposes a deep red flesh underneath the bark. "So does that mean it's fruity-flavoured gum?" Rodrigo says with a laugh.
The basecampers return to a makeshift chewing gum factory where they take turns boiling and stirring the tree's resin. The result? A massive wad of chewing gum that everyone wants a piece of.
And while natural gum may not be the tastiest, the experience is what makes it worth chewing. "Anytime I think I'm gonna chew a piece of gum," Troy says, "I'm gonna think about that time that I was at Si'an Kaan and learned how to make gum myself from scratch."
Like former Basecamp episodes, the new series has beautifully captured the visuals of the Mexican landscape. Each episode is packed with history and culture, so their pop-up fact feature, which scrolls along the bottom of the screen, really helps to further explain the experiences in their short eight-minute videos.
This week, Travel Basecamp will release their third episode of the series, where they visit a traditional Mayan sweat lodge and experience the depths of their spirituality. Stay tuned!
Check out Travel Basecamp's website to watch more of their adventures and follow them on Twitter and Facebook to learn more about their upcoming episodes!
To keep up with Courtney's local adventures, follow her on Twitter at @courtneymiceli.