Artizenelle is a custom craft business run in the Greater Toronto Area. The company began with Janielle Walker's love of crafts and a unique vision for great gifts for family and friends. The company has now grown into a small business that enjoys making its customers smile. They currently offer custom mugs and glasses, creative craft pieces, love baskets (for Valentine's Day or any occasion), photo collages, and assistance with special events. We spoke with Janielle, owner and creator, to learn more about the hustle and bustle of a small business and the world of creating custom pieces for her clients.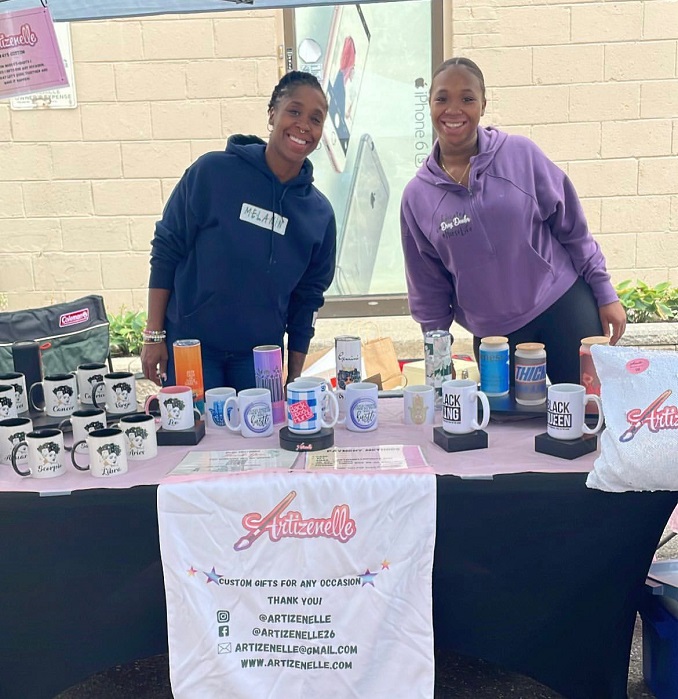 What is your business called and what does it do?
My passion for art inspired the name Artizenelle; it makes me feel Zen. I decided to combine my love of art and crafts with my feeling of being Zen. The name was created by adding Elle from the end of my first name, and BOOM! ARTIZENELLE, the company's name, was created.
We started this business in 2018, buying a Cricut, a cutting machine from Michael's (our local craft store) and exploring t-shirt making for our family's annual craft session. Artizenelle specializes in custom art projects, focusing mainly on custom drinkware with a special ink called sublimation ink which won't wash off.
What made you want to do this work?
I've always had a passion for art and crafts. In my spare time, I would experiment with different mediums to create custom art pieces such as bookmarks, T-shirts, and decor. Through many trials, I began finding my way, becoming more comfortable using different ranges of materials to create various custom pieces. Once I was 100% sure I could provide a variety of services through my art, I took a giant leap in launching Artizenelle to expand and offer more services to the community.
What problem did you want to solve with the business?
My main objective when creating Artizenelle was to develop more projects that reflected the Afro-Caribbean community. Typically, you don't see a lot of custom pieces that reflect that community in large capacities, and this is because, in large, big box stores, the items produced don't accurately reflect the diversity of our Afro-Caribbean culture. Through the freedom of creative expression given to me by my customers, I push for proper representation and diversity in general.
Who are your clientele/demographics?
There is no restriction on who we want to purchase or use Artizenelle's products and or services. We specialize in creating pieces for the Afro-Caribbean community; however, our customers come from all different backgrounds. We provide services and develop art ideas for all individuals interested in buying custom creations. Our main objective is to bring your designs and visions to life.
How does your business make money? How does it work?
We operate via referral business, popup booths throughout the community, Instagram, and our website. Customized Orders require A fifty per cent deposit and collaboration with our customers. Set-up and delivery services are available based on service and location.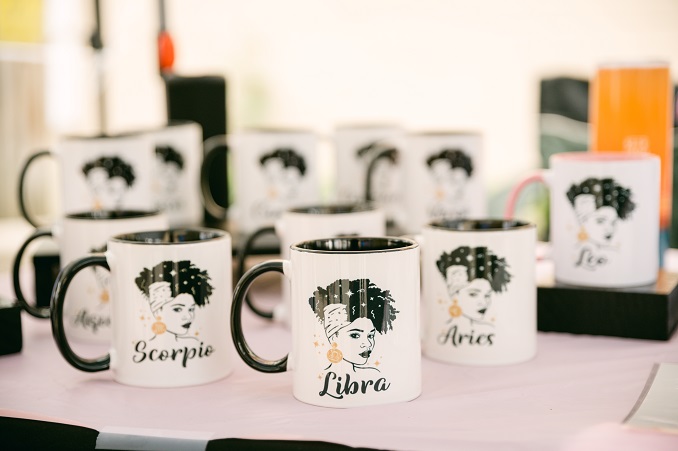 Where in the city can we find your profession?
Artizenelle is a small home business located in Toronto offering services throughout the GTA.
We are also an avid Pop Up Shop Vendor. You can always find Artizenelle set up in a booth throughout the community promoting the services we provide.
What is the best question a prospective customer could ask a member of your profession when comparing services?
When comparing services, a prospective customer could ask a member of my profession what type of materials I work with and how I can customize for any event or item. Assuring our customers that the equipment /materials used are high quality. Our sublimation custom orders (mugs/tumblers etc.) are reasonably priced for any occasion. Friendly and reliable customer service has helped grow our business through referrals.
What is the best part about what you do? What is the worst part?
The best part about what we do is bringing our customer's visions to life and providing diversity in products to anyone. We are passionate about our work, and our customers allow creative freedom to bring their visions to life. The more we attend popup events and collaborate with other small business owners, the more we enjoy growing and expanding our product line and services. Learning more about the craft industry is a joy and passion. We love what we do, and it shows. The worst part of the business is the trial and error of perfecting a project and the long hours to complete specific tasks, which is a necessary part of a customizing business.
What is your favourite joke about your own profession?
Michael's is my man; if crafting is your hobby, you will know who Michael's is. He takes all my good coins (LOL).
Where can we follow you?
PAY IT FORWARD: What is another local business that you love?
I love ShopKDAdesigns. It is another small business located in Brampton that specializes in Original Artwork and Handcrafted Accessories.