The Art Gallery of Ontario (AGO) has consistently wow'd us with their contemporary art exhibitions. The latest features the works of Brian Donnelly aka KAWS in a highly anticipated first Canadian solo show in a museum setting. Over 70 works on on display in this spectacular exhibition titled KAWS: FAMILY that spans three spaces at the AGO. Included in this collection are his familiar large scale sculptures, paintings, drawings and collaborations.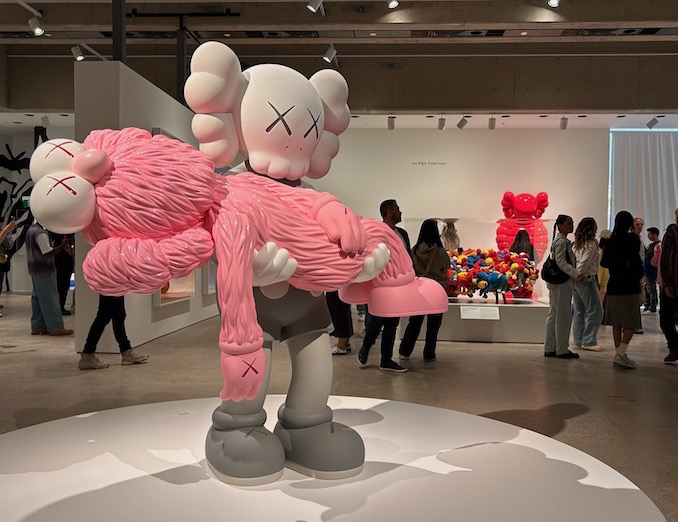 At first glance, visitors may feel a sense of joy as the works offer whimsical and cartoonish characters  — think of Michelin Man and Mickey Mouse mashup with a side of Sesame Street. But then, it doesn't take long for another emotion to sink in. A feeling of heaviness in thought. A sense of "geez, I could really use a hug right about now" and the urge for connection in a world that feels disconnected at times. Having been a fan of his work it was pretty special to chat with others at the preview who were not only familiar (maybe obsessed) with his work and to learn what it is that draws them. It's that kind of exhibition that inspires conversation at any age.
Donnelly, along with Julian Cox, the AGO's Deputy Director and Chief Curator, opened the exhibition for a preview to members of the press as well as the city's most influential in the pop culture and streetwear scenes ahead of the official public opening. The curator's Q&A offered insight into the artist's journey to become one of the world's most loved contemporary artists.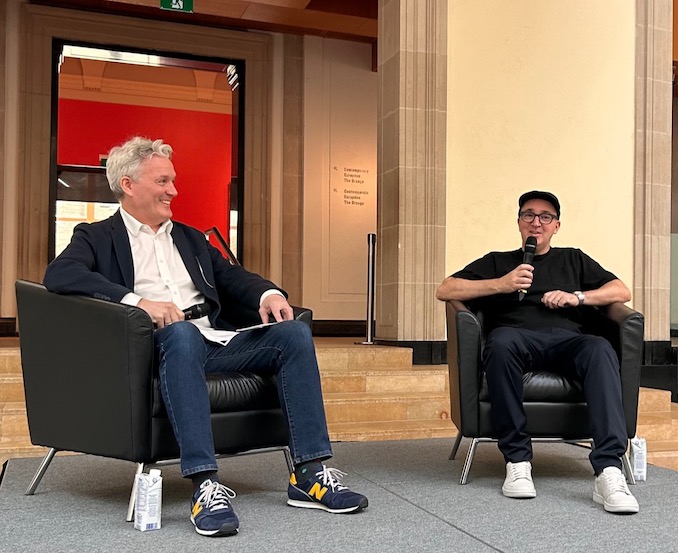 As a teen, Donnelly was tagging the streets of Jersey City and Manhattan and very much part of the skateboard culture. He then enrolled into the highly regarded School of Visual Arts where he earned his BFA in Illustration. Then, he found work as a graphic artist before his career path led him to become one of the most recognized contemporary artists of our time.
He told the audience about his humble beginnings and how he fell into this career by chance. "You know you're in school and in this comfort zone and it all feels great. Then, you hit your senior year and realize that there aren't any jobs," said Donnelly. So, he took on jobs including in animation that would help subsidize the art that he really wanted to do.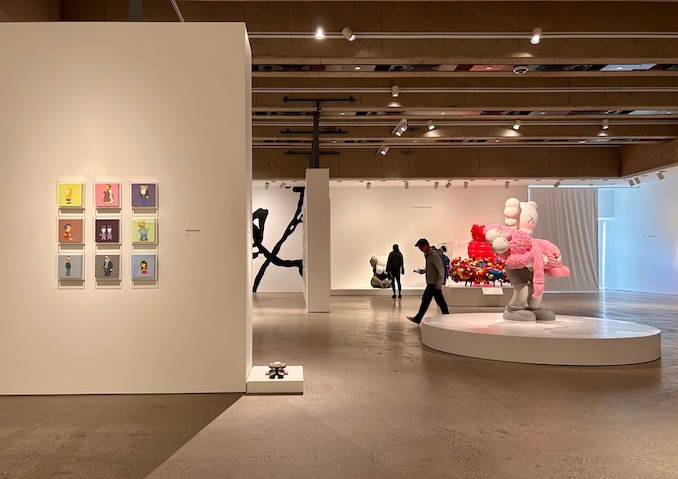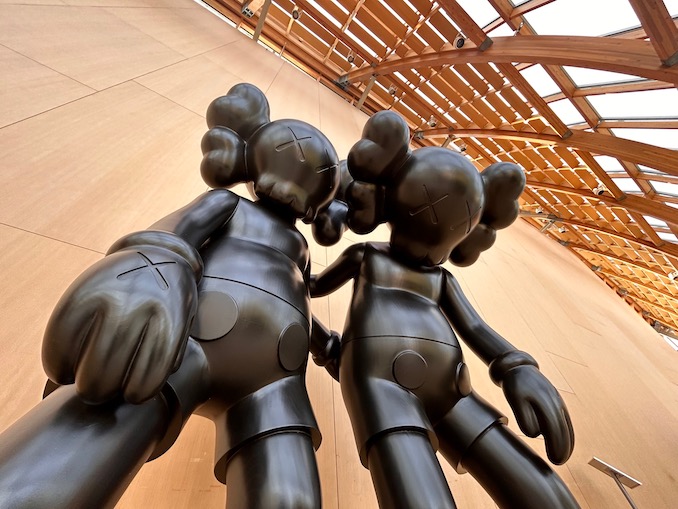 Donnelly spoke about how travel also influenced his career including in streetwear. At the AGO curator's talk he spoke about his time in Japan and friends he made along the way. "It was really about meeting other young guys who were passionate about mostly streetwear," said Donnelly. "Tokyo in the 90s didn't have a great art scene. Art wasn't like now and how it's embraced. I felt like the contemporary art scene was almost non-existent in Japan then. Streetwear was kind of the outlet. I was introduced to Nico and really I was at the right place at the right time. It's what I grew up on within the skate culture. And at that time, Japan was taking it to a new level that wasn't seen anywhere else in the world."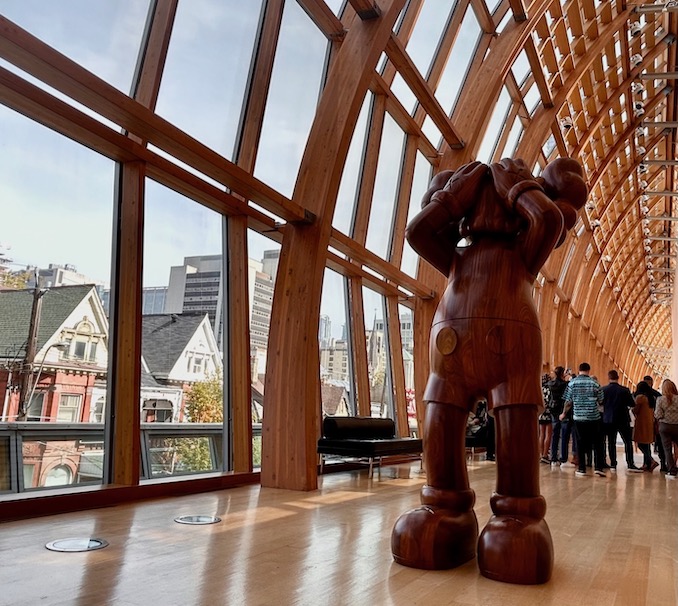 "Travelling is so important," he told the crowd. "Take any opportunity you can to throw yourself into a different scene and different culture. You start to realize by being in these different places what travel and travel imagery is like. It's just great to go to countries and see what things you grew up on and how they translate beyond language."
KAWS: FAMILY offers an incredible collection of his work including the much loved characters (CHUM, COMPANION, BFF)  in various mediums including sculptures in bronze, wood, and plastic. Visitors will also the opportunity to get up close to his paintings and drawings. What is also included in this exhibition are a few of his collaborations and projects including Nike, Calvin Klein, and packaging he worked on — shoe designs, cereal boxes, and album covers. There is also a love seat collaboration with Campana Brothers. There are also two augmented reality installations that can only be viewed via the Acute Art app. Hint: download it before you visit. It's pretty cool how this cutting-edge technology is incorporated into this exhibition.
"There are different ways of existing as an artist. I think early on I realized there's no right way. So, being in different circles gave me license to open up and pursue my interests," said Donnelly.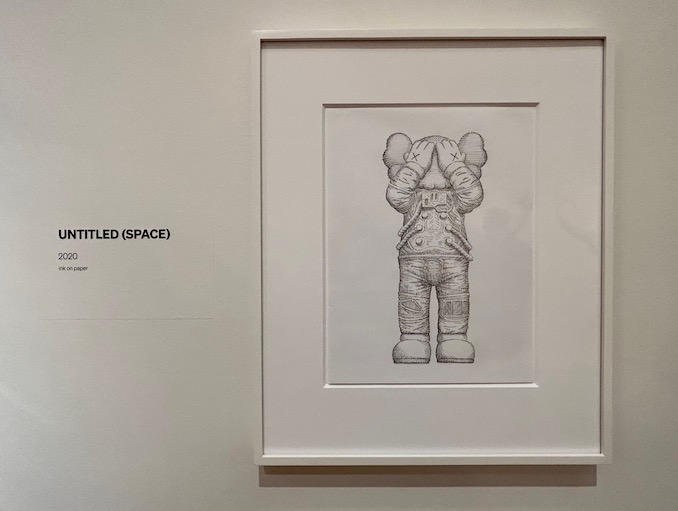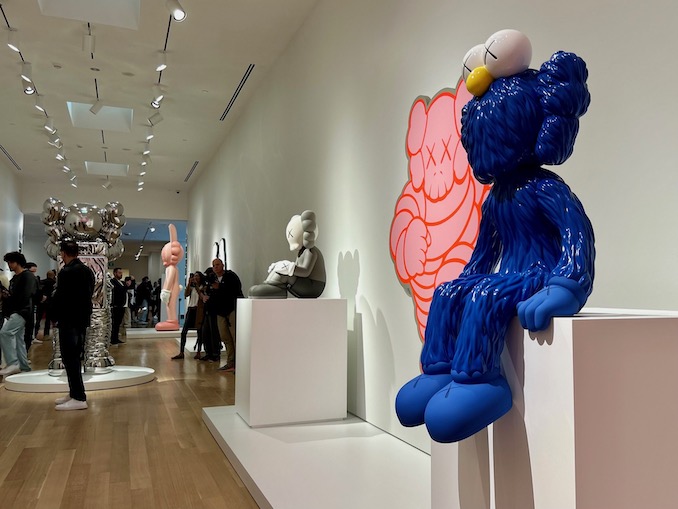 Dla wszystkich entuzjastów kasyn nadszedł czas, aby sprawdzić Vavada Casino Poland! Kasyno Vavada oferuje światowej klasy wrażenia z gry, z szeroką gamą gier do wyboru. Niezależnie od tego, czy lubisz klasyczne automaty, nowoczesne automaty wideo, czy gry stołowe, znajdziesz coś dla siebie. A dzięki najnowszej technologii napędzającej gry możesz spodziewać się płynnej rozgrywki i oszałamiającej grafiki. Ponadto doskonała obsługa klienta i bezpieczne opcje płatności sprawiają, że kasyno jest najlepszym wyborem dla graczy. Podsumowując, kasyno Vavada jest zdecydowanie warte odwiedzenia dla każdego, kto szuka ekscytujących wrażeń w kasynie.
Cox also asked him how he related to the characters he had created. Donnelly explained that the characters have developed over time. "I use them as forms that I communicate through and put my thoughts and project my feelings out into the world. I think like any sculptor uses the body of work it's your language and it's lives with you. It's inseparable."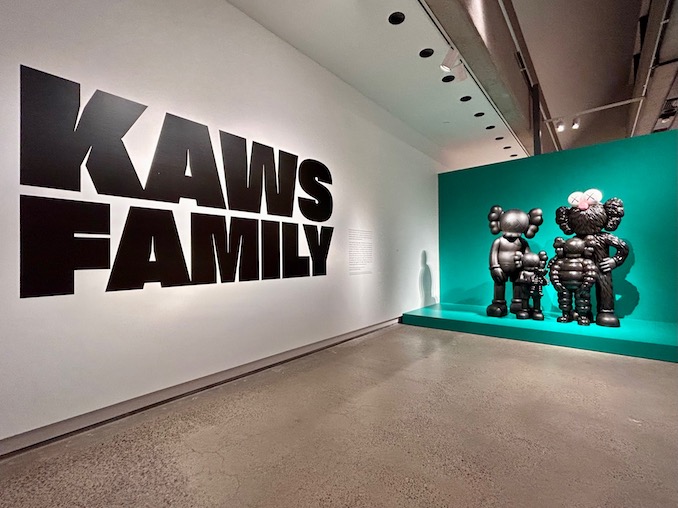 KAWS: FAMILY will also have additional programming (talks, studio courses, screenings) coming up in the fall. Keep an eye out for announcements.
Admission to KAWS: FAMILY is free for all Indigenous peoples, AGO Members, Annual Passholders and visitors aged 25 and under. AGO Members see it first beginning Sept. 27, 2023. Annual Passholders join Members in seeing the exhibition beginning Oct. 4, 2023. Single paid tickets will be available beginning Oct. 11, 2023. The exhibition runs until March 31, 2024. For more details on how to book your tickets or to become a Member or Annual Passholder, visit AGO.ca
And yes, there's KAWS merch in the gift shop.
*all photos taken at the media preview of KAWS: FAMILY at the AGO in Toronto. Photo credit: Sonya Davidson