Meet Bertha, a delightful female cat who may initially appear a bit reserved, but once you get to know her, you'll discover her heartwarming personality. Bertha's journey to becoming a beloved companion starts with a few simple steps.
Begin by engaging Bertha in a conversation, allowing her a few moments to get comfortable with your presence. Then, offer your hand to her. As she gently sniffs, lightly pet the top of her head and watch for any affectionate nudges. If not, don't worry; Bertha appreciates patience and will warm up at her own pace.
Bertha's playful side shines when you introduce simple wand toys, especially when they mysteriously disappear under a towel or behind something. During our time together, she emerged from her hiding spot, sat under her perch, and purred with delight as we offered her pets and brushing. Bertha also enjoyed some playtime with the wand toy and independently indulged in dry food.
Today, Bertha was exceptionally sweet, demonstrating her potential as a loving and cherished companion. With a bit of time and understanding, she's sure to become a loyal and affectionate member of your family.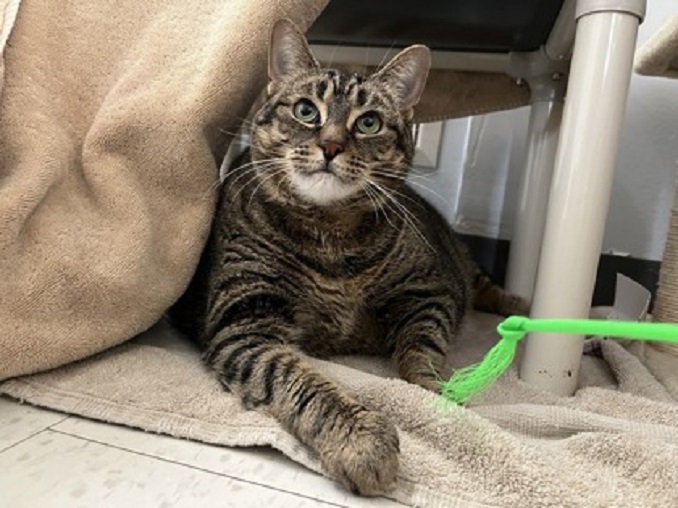 Bertha
Breed: Domestic Shorthair, Mix
Age: 5 Years
Sex: Female
Size: L
Colour: Brown
Spayed/Neutered: Yes
Declawed: No
For Toronto Humane Society's complete adoption process, please click here to learn more about how you can make this companion, a forever friend!
About this column:
Each week we feature animals available for adoption from local shelters in the Toronto area with the hopes that our readers will assist in finding good homes for them. If you, or someone you know, has the resources to take care of one of these animals, please do get in touch with the appropriate shelter via the links provided.