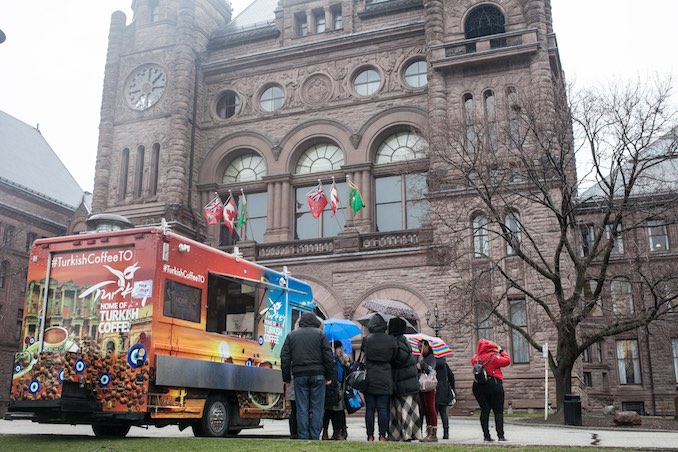 A couple weeks ago Sonya Davidson posted a tweet about the Turkish Coffee Truck that was visiting our city delivering free coffee and turkish treats to passersby in Toronto. The city's first ever Mobile Turkish Coffee Truck initiative took place March 30-April 3 on behalf of the Turkish Culture and Tourism Office in Toronto.
I wanted to learn more about the initiative and what it was all about so I chatted with a representative in Toronto from the tourism office.
Really enjoying these treats! Watch for the Turkish CoffeeTruck Mar30-Apr2 free coffee! #toronto #turkishcoffeeTO pic.twitter.com/25tpp2hJVa

— Sonya D (@TheCulturePearl) March 24, 2016

The tourism and culture office in Toronto was recently opened to help promote Turkey's culture and tourism amongst the Canadian public. Turkish coffee is a symbol of hospitality and was visioned as a great bridge of cultures as coffee is popular in both Canada and Turkey. The truck was also serving treats like Turkish delight for a sweet addition to the bitter beverage.
The truck was not only a cultural experience for locals but also a little taste of home for those that have Turkish origin. Some 20,000 people of Turkish origin live in Ontario alone.
I also found out that Turkey is the 6th most visited country in the world. More visited than the United Kingdom. I went there myself a few years ago and had such a great time. The country is very diverse with each region having its own landscapes, people and beauty.
Here are some Quick Facts on the Turkish Truck if interested:
3000 complimentary cups of Turkish Coffee were served
Stops included Union Station, Yonge and Dundas Square, Queen's Park, Kensington Market, The Beaches and University of Toronto
This was the FIRST Canadian stop ever for the global initiative
The initiative was staffed by members of the local Turkish community in Toronto
The initiative was a partnership between the Turkish Culture and Tourism Office in Toronto and Mobile Turkish Coffee Truck Organization.
***
Turkish Culture and Tourism Office will also be at the Terroir Symposium for this year's event focusing on Art, Culture and Technology.
If you do not know about Terroir, it is a not-for-profit committee of hospitality industry professionals that put on an annual symposium in Toronto. The annual event aims to educate, provide networking opportunities and build stronger international relations and community. Presenters, guests and representatives will be from the field of hospitality, including: chefs, food and beverage experts, writers and business leaders.
This year's Terroir Symposium partners include Turkey Home, Wine Marketing Agency of Ontario, Muskoka Brewery, World Class™, Ketel One®, Pizzeria Libretto, Cacao Barry, Ontario Culinary Tourism Alliance, Alberta Culinary Tourism Alliance, Durham Region, Dairy Farmers of Ontario, Sheraton Hotel, San Pellegrino, Ocean Wise, Serrano Imports, Neal Brothers Foods, Seacore Seafood and The Art Gallery of Ontario.
Here are some of the events involving Turkish cuisine.
Sunday, April 24, 2016
-12 p.m. – 4 p.m. Totally Turkish at the Cheese Boutique
-Afrim Pristine from the Cheese Boutique will host a cultural day designed to showcase Turkish food products and culture.
-45 Ripley Ave, Toronto
Monday, April 25, 2016
-Terroir Symposium, The Art Gallery of Ontario
-Afternoon – Turkish Culinary Presentation
-Chef Eyup Kemal Sevinc will be presenting Turkish culinary history and cuisine.
Totally Turkey Closing Reception
-Culinary celebration of Turkish gastronomy in a reception for delegates featuring
-Turkish food & beverage.