Name: Girl Pow-R = Ava, Bella Grace, Carina, Kalista, Krisalyn, Milana, and Sofia
Genre: Pop Rock
Founded: April 2017
# of Albums: First album to be released at the end of this summer
Latest Release: 'Stronger than Yesterday'
Latest Video: 'Stronger than Yesterday'
Bio
Girl Pow-R is an all-girl pop rock band. The group consists of very talented young girls (ages 9 to 16) who sing original music, cover songs, play instruments, as well as dance! Their amazing vocals and energetic performances earned Girl Pow-R the following opportunities in the last year:
-Performed 65+ shows in the last year
-A 2017 Toronto Independent Music Award Nomination
-Won First Place at a Family Channel singing competition last summer
-Live performance on Fresh Radio 95.3 in Hamilton, and in Barrie, singing Alessia Cara's Wild Things
-Interviewed on CityTV as part of Youth Day Global 2017
-Interviewed on eTalk Canada as part of the launch of their first original song, "Krisi"
-Performed twice on YTV The Zone, singing and dancing
-Chosen to re-record the Mysticons theme song
-Launched their first music video with an exclusive premiere from Girls' Life magazine/website in the US/Canada
-Launched their second orginal song with an exclusive premiere from Tiger Beat magazine/website in the US/Canada
-Promoted as a featured artist in J-14 magazine with an autographed t-shirt give-away between July and September in the US/Canada
-Launched their second music video with an exclusive premiere from Celeb Secrets magazine/website in the US/Canada
Girl Pow-R's sound is rooted in Pop-Rock, with the goal of inspiring others to be their best, through their music and lyrics. Too often, young people are influenced by the thoughts and life experiences of singers and musicians who are in their late teens and their 20's. It's time to give young people an alternative to these messages.
In addition to a passion for music, each girl in the group also has a social cause that they represent like advocating for better education for girls all around the world, youth homelessness, or all of us taking better care of our health through the foods that we eat.
Latest Single: 'Stronger Than Yesterday'
We have launched two original songs which you can listen to here on SoundCloud, but we are also on Spotify, Apple Music, iTunes, Deezer, and more.
Favourite Restaurant:
We often eat out together, and we love Jimmy the Greek and anything Italian – particularly Antica Ristorante & Pizzeria in Niagara Falls!!
Favourite band as a teenager:
We are teenagers, ha ha!! We love Alessia Cara, Ariana Grande, Taylor Swift, Katy Perry, Pink, Kelly Clarkson, Avril Lavigne, and more … with 30+ songs in our set, we love them all!
Favourite band now:
So hard to choose … but 'then is now', so the list is the same! From an inspiration perspective, we can best relate to Grace Vanderwaal. [Don't know her, look her up!]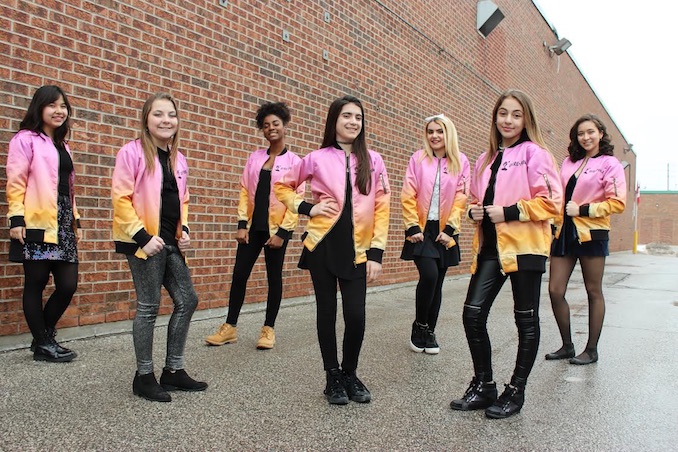 Guilty Pleasure Song:
For just having tons of fun, we love 'Walking on Sunshine' by Katrina and the Waves. It's so much fun to sing, too!
Live Show Ritual:
We always arrive early, practice the order of the songs and our song introductions, warm up by running through some of the songs, review harmonies and dance moves where we have to coordinate timing, decide who will be counting in each song when we play our instruments, drink tons of water, tune our instruments, set up the mics, instruments and our line-up on stage, and do a sound check!
After every show, we make sure there is an opportunity to 'meet and greet' the audience by signing autographs, taking pictures and selling t-shirts.
Favourite local artist:
We regularly perform with Mauve (http://mauve-music.com/) Torontos' up and coming pop songstress. She has an eclectic and playful sound, that touches your soul. Mauve transcends genres to bring you feel-good tracks with hints of RnB through Tropical House and EDM production. Her songs have gained over 200,000 streams on Spotify.
Sneaky Dees nachos, pasta from Terroni or a superfood salad from Fresh?
Pasta from Terroni (because it's Italian!)
Queen or College St?
Queen Street – shopping!!
Trinity Bellwoods or High Park, Riverdale or Kew Gardens?
High Park because we have shot a bunch of our music video footage for our first music video (Krisi) in that area, as well as the second one (Stronger than Yesterday).
Kew Gardens … we have performed at the RibFest at the Beaches in mid-June twice now! And, we love that whole area.
EP or LP?
Watch for our first album coming out at the end of the summer!
Early bird or night owl?
Pretty much everyone is a night owl! But, either way, we have tons of energy to spare!
Road or studio?
Can't choose. Have to say BOTH! Having performed 65+ shows in the last year, we absolutely LOVE to perform!! And, writing songs and recording is so very rewarding, as we love to bring out new music for our fans!!
Swiss Chalet or Roti?
Swiss Chalet. Lots of variety, plus desserts!!
Where can we follow you?
Any upcoming shows or releases?
We JUST released our new music video for 'Stronger than Yesterday'. Check it out here: https://youtu.be/GA7uowdi6hI
Shows!!! There are always tons of them. Check out the list here.
Definitely come to see us at these shows THIS WEEKEND:
Brampton RibFest, Saturday, July 21st at 1 pm
Toronto Diversity Festival, Saturday, July 21st at 6:15 pm
Youth Day, where we are Featured International Artists and Canadian Ambassadors. Sunday, July 22nd at 6:30 pm at Yonge-Dundas Square​​