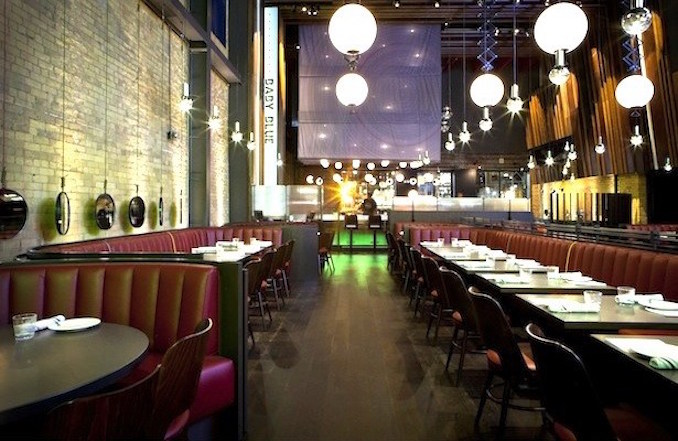 Chef David Lee is a force to be reckoned with in Toronto restaurant scene.  He has run the noted Nota Bene (located on Queen West) with front of house partner Yannick Bigourdan and together they have decided to take the plunge on another restaurant.  The space has a bit of history attached (having one housed CityTV) but with this newest venture,  Lee and company have decided to write their own history.
The restaurant is The Carbon Bar and inside you'll find a smartly designed and hip interior with brick walls and maroon booths.  As homage to the old CityTV days is a bright club-light "Electric" sign.  Everything is perfectly thought out the entire resto – right down to the branding on the plates.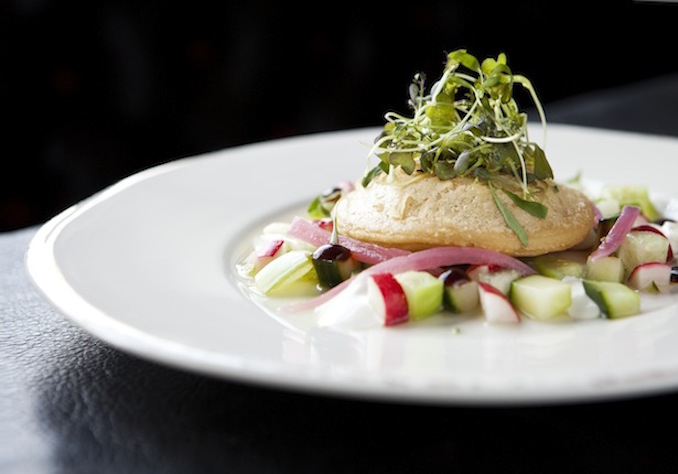 I asked David Lee what the most difficult thing was about opening a new restaurant was and he told me, "you have little to no time for yourself and family. But also, it is difficult to get to know a new kitchen, space and a brand new team."  If David has had any trouble getting acquainted in the new space, the indication did not come to light upon my visit to Carbon Bar. The fare is a simple barbecue restaurant but it pulls from the chef's Italian and pan-Asian influences.  This is not your typical meat & potatoes.
David tells me, "I've been in love with natural wood and charcoal fire cooking since my childhood. Every country has a BBQ story, and mine was growing up in Mauritius and cooking over charcoal in a drum; making Char Sui / BBQ pork belly, & Peking ducks.  I wanted to create a restaurant where these flavors were accessible to everyone"
We saddled ourselves up next to the Crispy Chicken Skins with sweet chill vinegar ($7),  Hamachi with clementines, pear and kombucha vinegar ($14) and the Cabrito Papusa conveniently stuff with goat cheese and tomatillo salsa ($13).  These dishes touted as "Carbon Originals" and they seemed to be smashes.  No lie: I would love a bucket of Crispy Chicken Skins delivered to my house nightly.  I'm not sure if Chef David takes order for that.  But if he does, I hope he is listening.  The Hamachi was lacking a bit of acid which is a shame for a good Hamachi dish.  But please, whatever you do: order that Cabrito Papusa. It is heavenly and cheesy.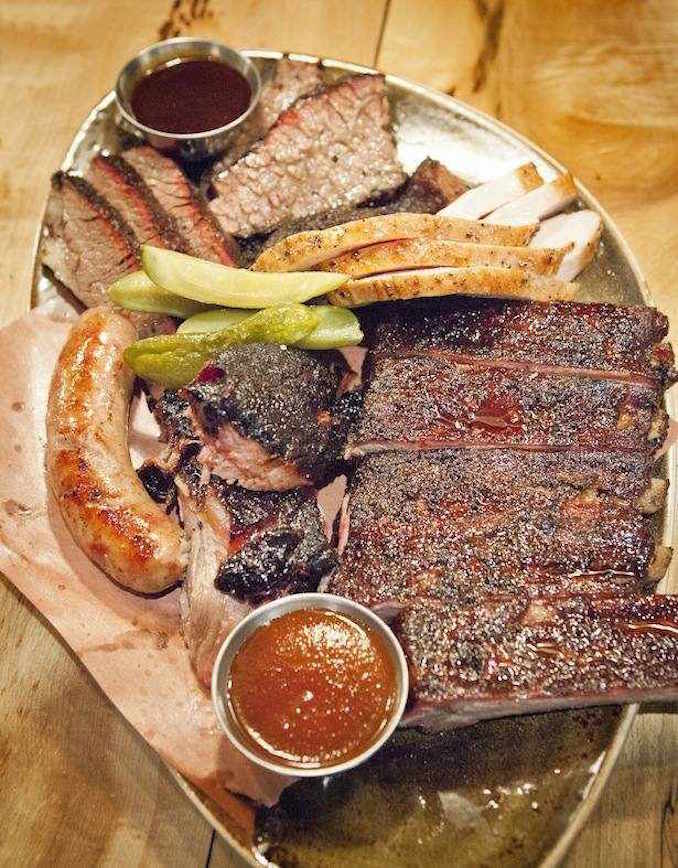 From there, we feasted upon what is known as the Pit Masters Platter (for two people at $26 p.p) which contains pork ribs, beef brisket, cornmeal fried chicken, pickles and smoked in white oak and black cherry wood.  Lee tells me, "We season our meat with only salt & pepper. This allows for the guest to taste the meat and all of our cuts come from Cumbrae Farms,"  With each platter, several different sides are to be chosen and on this night we picked the TCB Slaw ($6) and Collard Greens ($5). The signature TCB Slaw ($6) topped with corn nuts is one word: genius!  It adds this little crunch and pop each time you bite in.
But let's rewind back to that meat for a moment: this platter included some of the juiciest BBQ I have tasted and well, I have been to some BBQ  joints in the city.  The one that stood out most to me was their turkey, which was juicy and tender and moist.  Also, lest not forget the Jalapeño Sausage.  The sausage had hints of jalapeño with little to no fat.  It was pure delicious.  Basically everything on this platter (brisket was fatty and moist, ribs fall off the bone good — I don't want to spoil the entire platter for you) was incredible and well worth the price.  Even if some meat sweats ensued.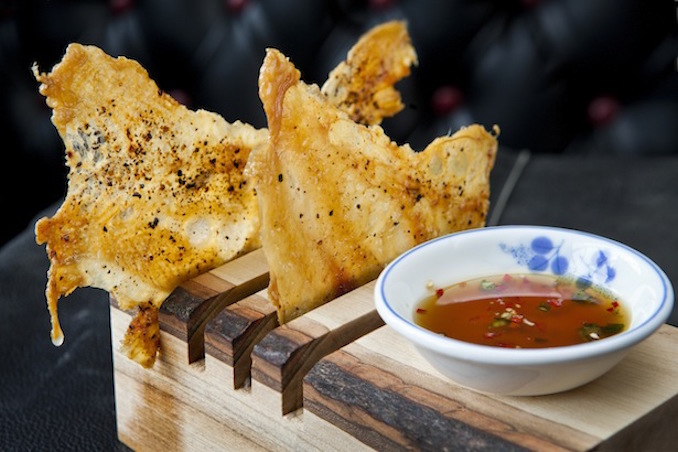 For dessert, we were delighted with the Cheddar Ice Cream Sandwich – which I must say – was amazing.  I am not a huge sweets fan and this was everything.  The right mix aged cheddar ice cream, thin wafers and the ultimate Canadian treat: maple syrup.
Nota Bene is a loved restaurant by many in this fine city and David Lee may have just created another restaurant that will be loved by one and all once again. From entry through the door to first plate to exit, The Carbon Bar is sure to be making many Top Ten Lists for 2014.