In 2015 I chatted with Yale Fox who launched a website called LandlordWatch that combined citizen-journalism, housing activism and problem solving with social technologies to list the worst landlords and worst apartments in Toronto based on violations. The website used open government data provided by the City of Toronto in order to create transparency in the rental housing market.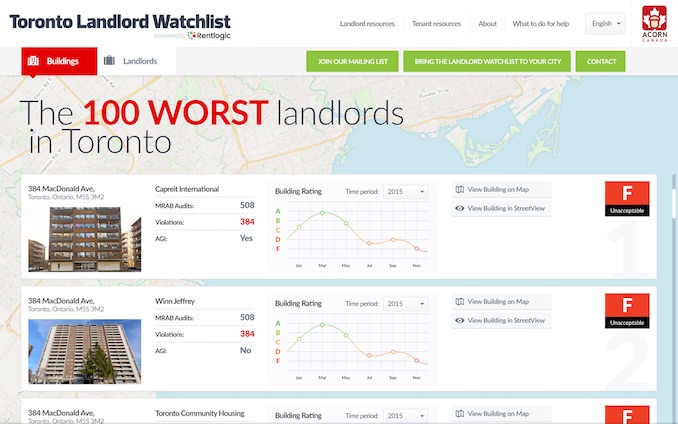 All of their data was downloaded from the City of Toronto's open data catalogues. All inspections were conducted by third party city inspectors.
The 100 worst buildings are the buildings with the most violations on a per-year basis. The 100 worst landlords were calculated by the landlord or company with the the most violations over the time period of 2014 – 2016.
Landlord Watch worked with the company Acorn (Association of Community Organizations for Reform Now), an independent national organization of low- and moderate-income families who believe that social and economic justice can be achieved with a national group of active members working together for change. They have spearheaded many important social justice campaigns including ones that deal with payday lending, tenant issues, disability rights and fair banking.
The group, along with Landlord Watch, believes that new licensing should be brought in for landlords that would better serve the tenants and the government.
Marva Burnett, President of ACORN Canada and Chair of Scarborough ACORN had these things to say about the issue.
"For 12 years ACORN has fought for a Landlord Licensing, program for apartment buildings which would be similar to the Dine Safe program used for the city's restaurants. Landlord Licensing would help ensure that tenants in this city are protected. We are excited to be working with Yale Fox of Rentlogic on LandlordWatch. ACORN members are primarily low and moderate income tenants and we welcome any new tools that demonstrate and help address the problems we are experiencing. LandlordWatch will clearly show that our landlords are not doing their part and that the city's basic maintenance standards are not being met. There is a clear need for a licensing regime for landlords. Ultimately, the City of Toronto needs a proactive inspection system with real tenant engagement in order to ensure that tenants have healthy homes. LandlordWatch would provide critical information for ACORN members and tenants."
"LandlordWatch is an important tool for tenants. It also clearly demonstrates the current system of inspections is too reliant on tenant complaints or proactive city councillors. It clearly shows a need for a rigorous pro-active inspection program through landlord licensing, with a focus on tenant engagement and outreach to let them know the City will go after bad landlords."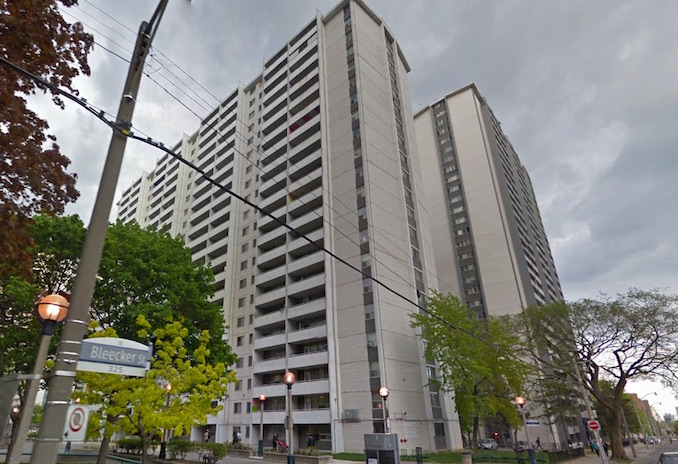 5 Worst Landlords and 5 Worst Apartments in Toronto.
WORST LANDLORDS
1. TORONTO COMMUNITY HOUSING 6322
2. BNAI FISHEL CORPORATION 1106
3. 1147335 ONTARIO INC 769
4. SUN LIFE ASSURANCE COMPANY OF CANADA 702
5. 2021349 ONTARIO LIMITED 580
WORST APARTMENTS
1. 103 & 105 West Lodge Avenue – BNAI Fishel Corporation – 968 Violations
2. 275 Bleecker Street – Toronto Community Housing – 926 Violations
3. 1765 – 1775 Weston Road – 1147335 Ontario Inc. – 769 Violations
4. 15 Martha Eaton Way – Sun Life Assurance Company of Canada – 702 Violations
5. 34 HEYDON PARK RD – GUPTA RAKESH, GUPTA SWARASH – 516 Violations
For more info on ACORN Canada, visit their website.
For information about landlords from the city of Toronto, visit their website.