We often think of Canmore, Alberta as a getaway in the winter for skiing. It's a popular one for sure! The town is literally surrounded by mountains making it an unforgettable getaway but not just during the winter months. Visiting during off-ski season opens up a whole other type of vacation especially for outdoor adventure seekers at every level.
In the summer months, the days are longer giving you ample time to explore. Plus the views are ABSOLUTELY breathtaking! Our visit early June proved to be warmer than expected. And coming from Toronto, the clean fresh air was a welcomed change.
Canmore's locale makes for an ideal home-base. Whether you're travelling as a couple, with friends, or with family you will find many options. Easy access to many points of interest and conveniences means more time exploring and less time trying to get from A to B.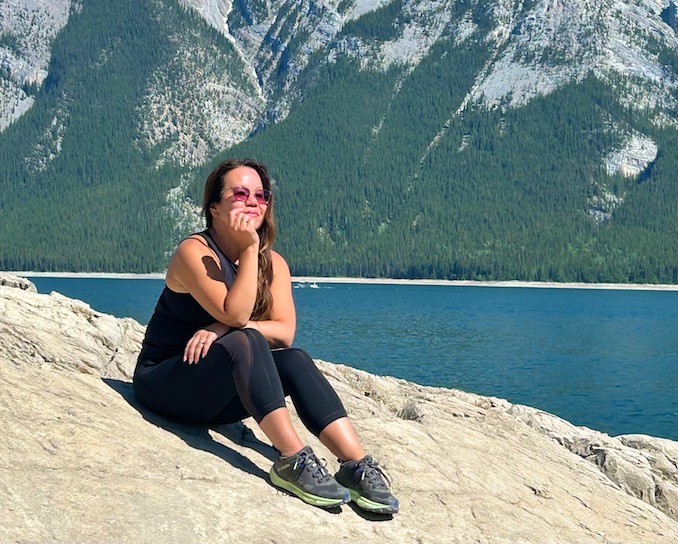 CANMORE'S RICH HISTORY:
Canmore was named in 1884 by Donald A. Smith, an employee of the Canadian Pacific Railway and  became a home for those working in the mining community.
The North West Mounted Police also built their first barracks in Canmore in 1890. It was eventually vacated in 1929 and turned into a private residence. Then, in 1989 the barracks were purchased back by the town and restored.
In the early 20th century many of the coal mines in the area began to shut down. The nearby towns of Anthracite, Georgetown, and Bankhead closed down and many of the buildings and residents were relocated to Banff and Canmore. In 1965, Canmore was incorporated as a town with 2,000 residents.
In 1979 Canmore Mines Ltd. shut down but a few families continue to call area home to this day.  The Lamp House and a few mine entrances remain, due to provincial safety and reclamation policies.
Thanks to the 1988 Olympic Winter Games, Canmore experienced a renewed interest in the the area and has since seen a steady increase in its population. Today, the town is also a popular destination attracting adventure travellers globally.
And if you're looking for a place to unplug this is it. You won't want to be scrolling on social media when you're out here. It's beautiful every direction you turn.
There are several points of interest featuring the history of the area. Audio tours are accessible right on your smartphone. Learn more here.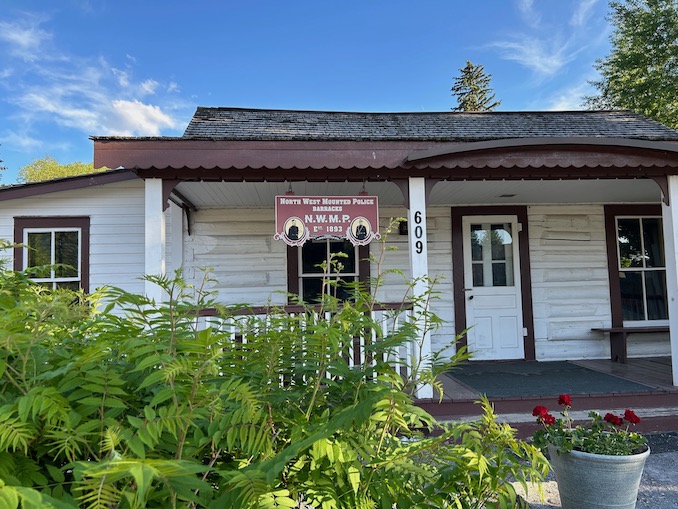 WHERE TO STAY:
Basecamp Resorts has three properties in Canmore with easy access to everything in the area. For our friends getaway, we stayed at the OG of the resort properties located right on Bow Valley Trail. Ideal for families and friends, this modern, clean and spacious apartment style property offers all the comforts of home – kitchen, separate bedrooms, living room, bathrooms. Bonus! There's a hot tub on site waiting for you after a day of exploring. Also, grocery and convenience stores are located within walking distance. They also have pet friendly suites.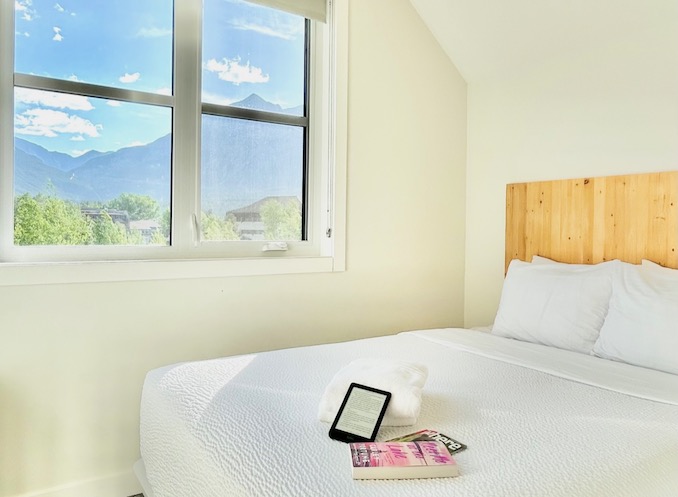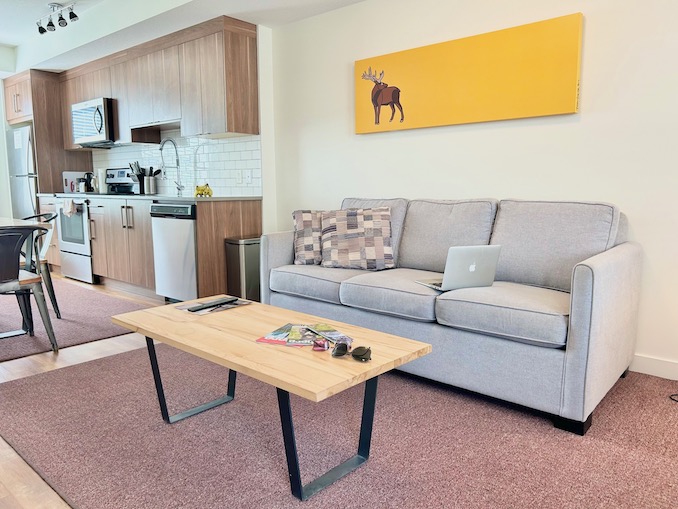 Right next-door is the "Lodge" where guests have can opt for a little more pampered stay with bike rentals included. Then, the Canmore Suites located in Town Centre has a more boutique hotel vibe. All good options depending on your budget and needs/wants.
If you haven't heard of Basecamp Resorts the Canadian-run company was founded in Canmore by Canadian business woman Sky McLean. The brand now currently operates 11 properties across the western provinces. Their focus is on accommodations in Western Canada mountain destinations with outdoor adventure in mind and at varying price points to suit a range of travellers needs — luxury, lodges, cabins, and families.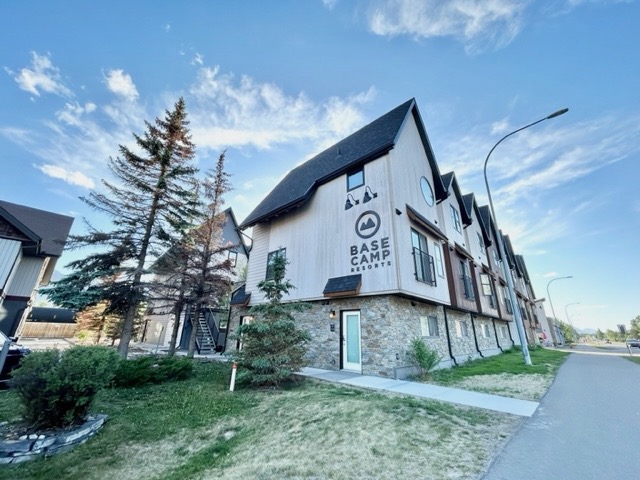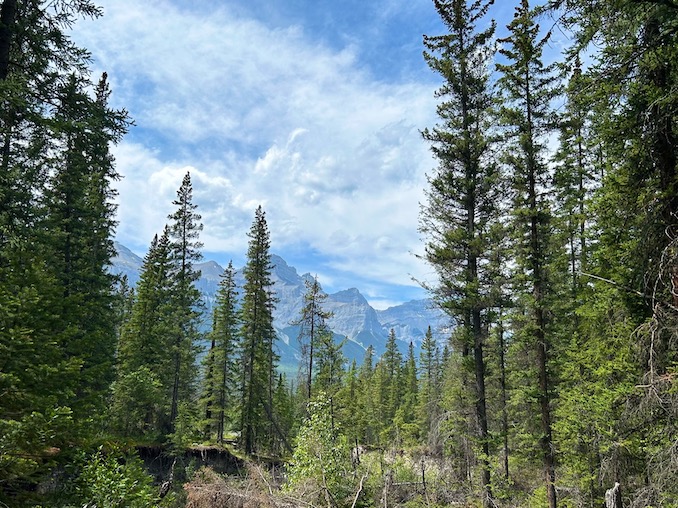 THINGS TO DO IN CANMORE:
Within walking distance from Basecamp Resorts  is the Town Centre — where locals have maintained that cozy small town vibe. Main Street is closed off for pedestrian access during peak tourist season. Here is where visitors will discover quaint independently owned shops, cafes, artist galleries, patios, and restaurants.  The locals are very friendly and happy to offer you any recommendations you'd like. Having said that, there are lots of university students from other places who work here temporarily during the peak tourist seasons. What a place to work!
If you're looking for something more zen to do, we discovered Wildheart Yoga Studio in its new location with a spectacular view of the mountains for  sun salutations. Visitors are welcome to sign up for classes for all levels.
We also wanted to explore the land through the eyes and stories of Heather Black (BuffaloStoneWoman.ca) who's also known as the Indigenous Adventure Girl from the Blood Tribe Nation. In her hikes she share her Indigenous culture and stories. However, she was away during the time we were visiting.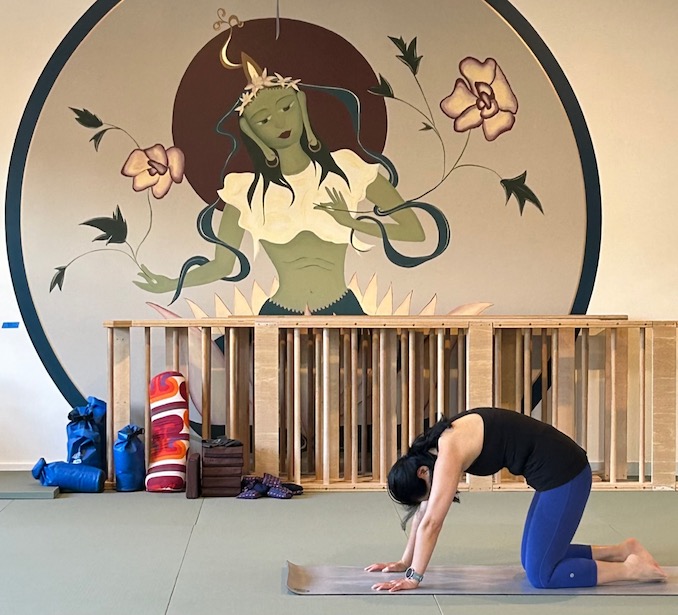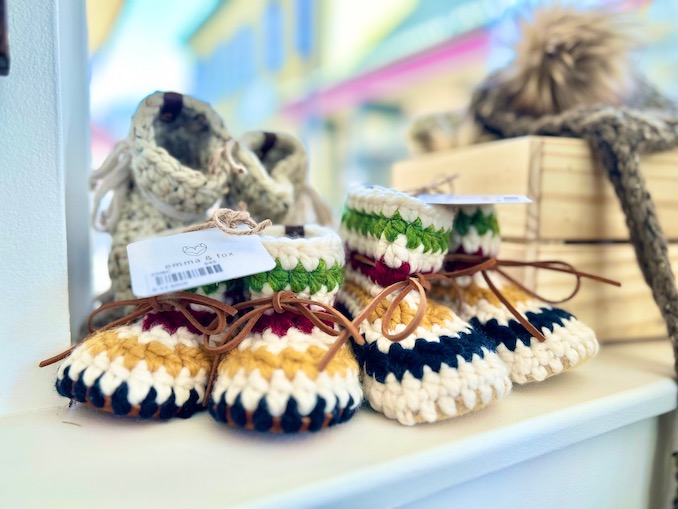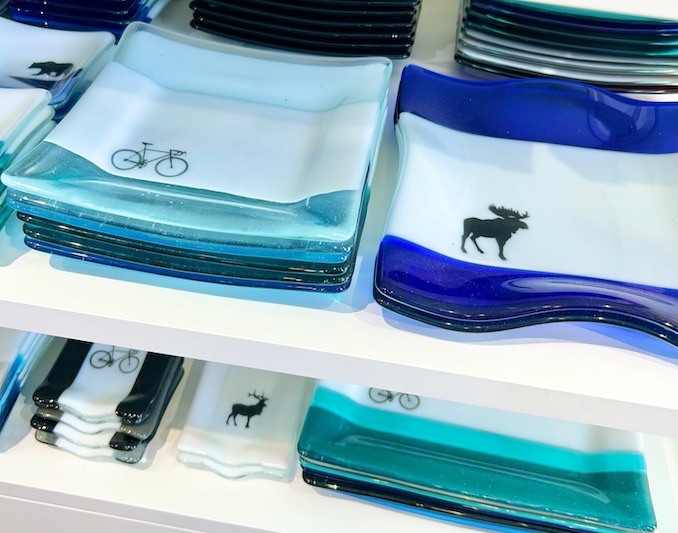 The area also offers great starting point for those wanting to ease into their hiking adventures. Highly recommend starting low and slow before working your way to more challenging trails. As you enter the Town Centre take the trail and you'll all of the sudden find yourself in a quiet natural setting surrounded by the Canadian Rockies including the Three Sisters Mountain.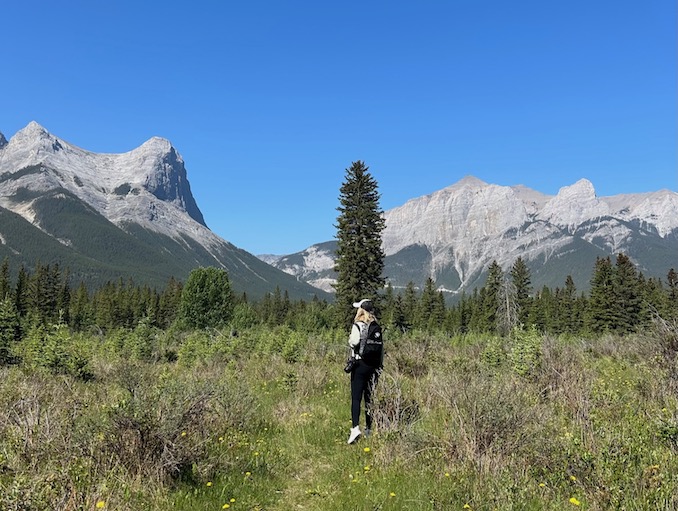 The area is also popular for avid and recreational cyclists. Bike rentals are bountiful and dedicated wide bike lanes run along side main roads. Canmore itself is also very pet friendly.
A short drive, and a park pass, will get you into Banff National Park. Or depending on time of year, it may be best to leave the car at Basecamp Resorts and take the local ROAM bus.  While Moraine Lake and Lake Louise are hotspots, locals told us to head to Johnson Lake and Lake Minnewanka for more hiking and spectacular views.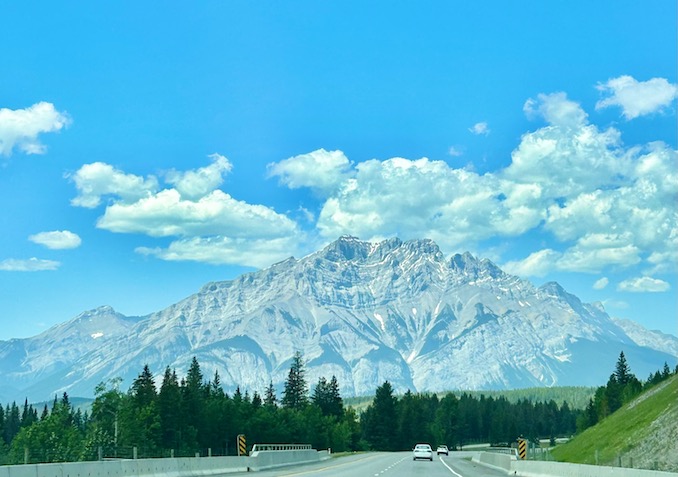 Lake Minnewanka is known to the Stoney Nakoda First Nations people as Minn-waki or "Lake of the Spirits".  Its shores are well documented archeological sites with artifacts from 14,000 years ago.
Johnson Lake can easily be walked around its entirety. We saw families and small groups gather along the way enjoying picnics. It's a more peaceful walk that with not too many inclines or obstacles making it a popular trek for most.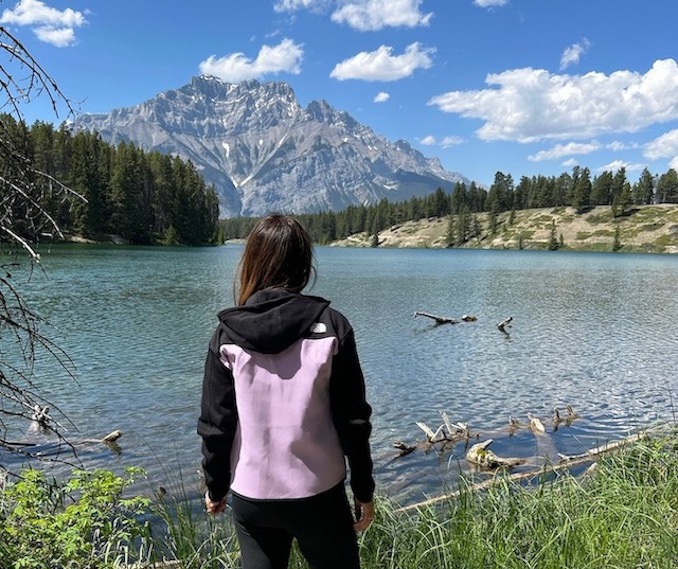 Stay tuned for Part II as we ventured into the heart of Bear Country!
*all photos were taken by me, except for the images of me — they were taking by my travel pal, Libby Roach.