When I was a kid growing up in the city we didn't have many options of things to do. My parents worked shift work and I was often sent to day camps run by the city. My friends and I didn't know cottage country existed. Muskoka was not on our radar. Far from. Instead, we hung out in backyards with sprinklers, hula-hoops, and Lolas. We had to create our own fun. We didn't have mobile devices and we certainly didn't have TikTok.
We did, however, have  toys that kept our minds and idle hands busy. Some of the most popular include Rubik's Cubes, Spirographs and Sea Monkeys (I guess they weren't toys but wow, the marketing was freaky). We had skateboards too! We all just had to have them. Who else remembers the banana yellow board?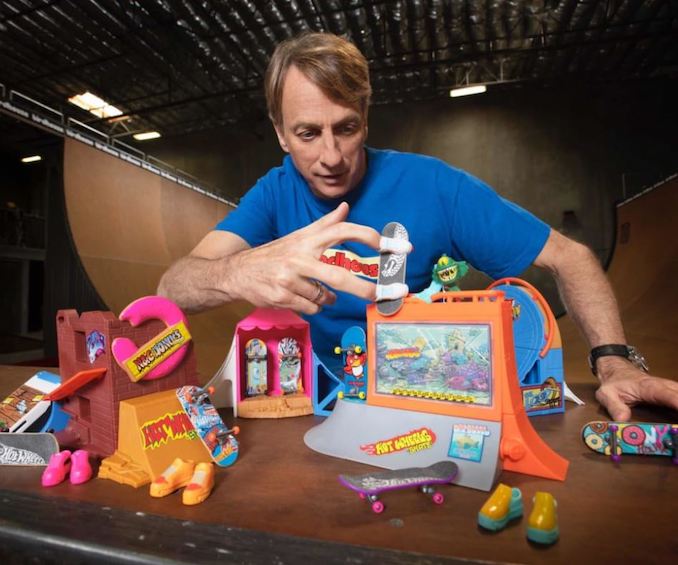 Today's kids have way more play options than ever before. Toys that trend today may look a little different. As parents, we often look at the benefits of what our kids play with. One of the most intriguing toy trends that seem to have enjoyed a longer run is fingerboarding.
What is Fingerboarding?
First off, a fingerboard is mini version of a skateboard. Some are actually quite elaborate. Instead of using your body to move the board you use your fingers to"skate" the board and do tricks. Sounds basic? Well, it's not necessarily.
Like a skateboard the fingerboard can be used to perform tricks. There are  competitions globally for fingerboarders. There's no shortage of YouTube videos that teach and demonstrate simple to elaborate tricks. Moves like "shuvit" and "ollie" keep players busy learning and perfecting tricks. There are even mini skateparks and accessories created entirely for in this miniature world.
The History of Fingerboarding
According to fingerboarding.com people began crafting for fun in the 1960s. But it wasn't until the 1980s when skateboards were all the rage and mini versions were mass produced as keychains and accessories for other toys/action figures. It didn't take long for kids to get creative and "ride" the mini skateboards with their fingers and doing tricks. The mini-boards became one of the biggest toy fads for both kids and adults alike. They became more detailed and more elaborate which made them a popular collectible. The toy's trend has seen its popularity come in waves globally and it continues to this day.
The Benefits of Fingerboarding
I was first surprised that this toy was more than just a cute collectible. When you see some of the videos you quickly learn that to perform these tricks requires quick thinking, manual dexterity, and concentration. No surprise it's inspiring a whole new generation. And hey, if it gets kids off their phones for a bit and even teach/learn the new found skills with friends and family, that's fun, right?
Hot Wheels recently announced a partnership with legendary skateboarder Tony Hawk. Hot Wheels Skate is a collection of kid-friendly fingerboards and accessories for all ages and abilities. Fingerboarding is a fun and engaging hobby for skaters and non-skaters alike, however, because of the steep learning curve and dexterity required, it can be difficult for young kids to master. With Hot Wheels Skate, just clip on the shoes and go. Kids can execute stunts they typically wouldn't be able to on a regular fingerboard and once they've mastered the skill, they can lose the shoes for a new challenge!  
It's a great collection just in time for the summer break!
Here's a how to video…