Winter here in the city can be pretty grey and dull. Bundling up in our puffy coats and getting out helps us weather the colder months. Of course, we'd LOVE to escape to warmer climates but it may not always be feasible. But here's a fun way to escape IN the city! MARKED Restaurant is our ticket to paradise!
The MARKED Weekend Resort All-inclusive Bubbles Brunch has arrived and we're jumping on board. What's included? Unlimited small plates and bottomless Prosecco. Yes, you read that correctly!
This South American and Spanish inspired menu offers indulgent dishes that take your tastebuds on a journey even if it's for a brief Toronto moment in time. There are 19 shareable dishes on the menu and each one is worth exploring. By the way, we highly recommend just leaving the ordering to your server – which is what we did.  Our wonderful and hospitable server Luke brought us nearly everything on the menu much to our delight and we finished everything. We were very impressed with his expert gauge on the number of dishes for our table of four. He brought out a wonderful variety and enough to satisfy our bellies and then double checked to ensure that any favourites could make additional appearances if we desired.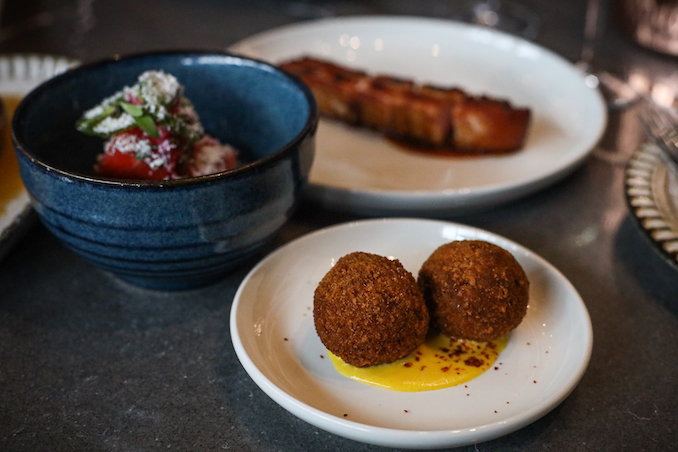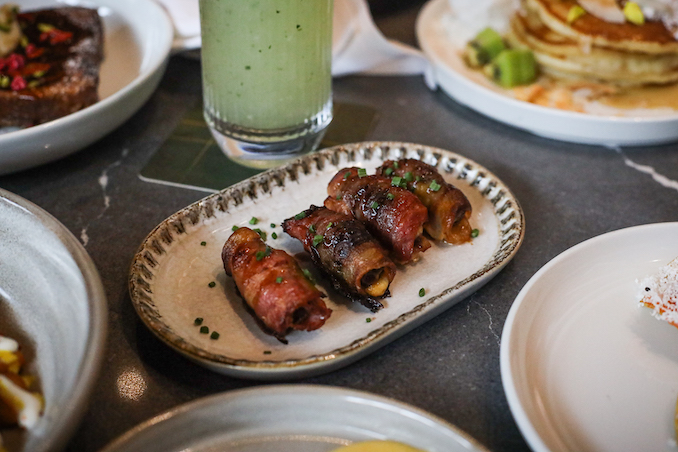 There are quite a number of dishes we would happily devour several times over. Many of them, have us dreaming back to travels of Pinxtos Bars in Spain where we would happily spend time with our loves over great food and drinks.  The Manchego (cheese made of pasteurized sheep's milk commonly produced in the La Mancha region of Spain) and Dates wrapped in smokey bacon are pop-in-your-mouth delights bursting with flavours. Salmon Tostada (a crunchy, toasted tortilla) with whipped creme fraiche, avocado, cilantro cream and guindillas (a thin, green chili pepper commonly grown in the Basque region of Spain) topped with everything bagel seasoning is fresh and wonderfully satisfying. The housemade sausage, a favourite of Chef Mike's is a moist and juicy savoury treat. The crunchy delicious (and very addictive) Roasted Chicken Coxinha (deep fried croquettes popular in Brazil).
Familiar brunch offering like French Toast and Pancakes have unexpected delicious twists. French Toast is a thick sliced sweet offering with it's goji berry, chancaca syrup (a Peruvian/Chilean warm sweet sauce made from sugarcanes) topped with crushed pistachios. The fluffy stack of Pancakes is not just eye-candy but a meal in itself with fresh kiwi, toasted shaved coconut and maple syrup. Another stand out is the buttery Manchego Biscuit Benedict with an option of salmon, house back-bacon, or mushroom with a perfectly poached egg and hollandaise.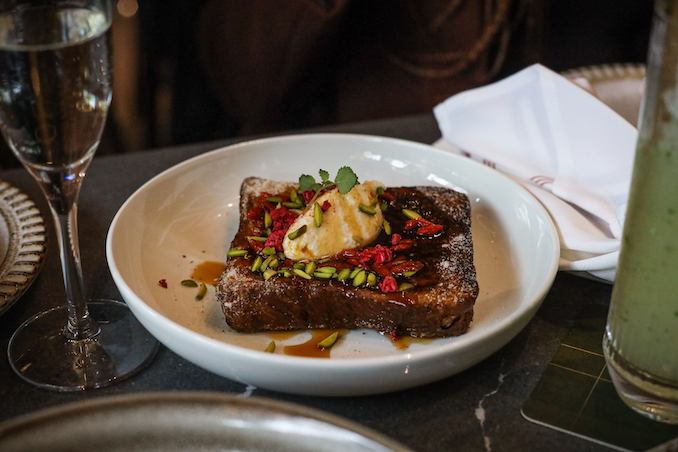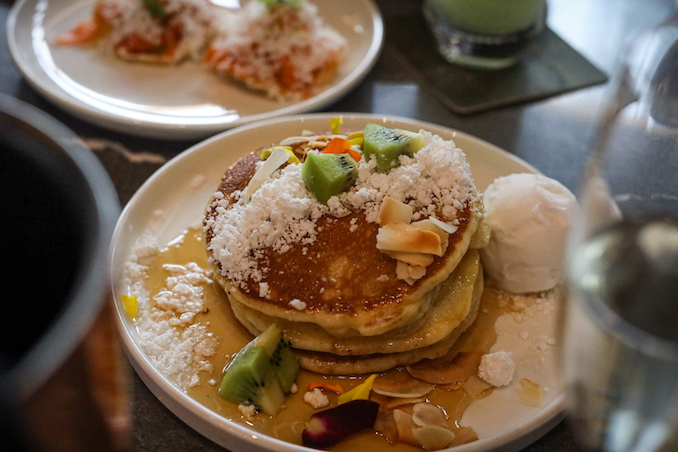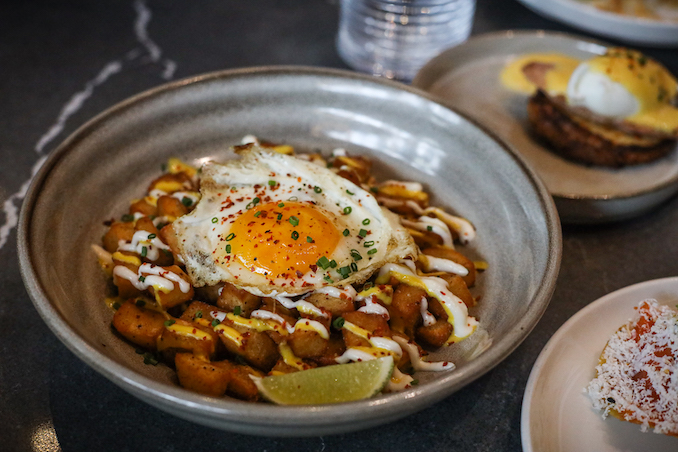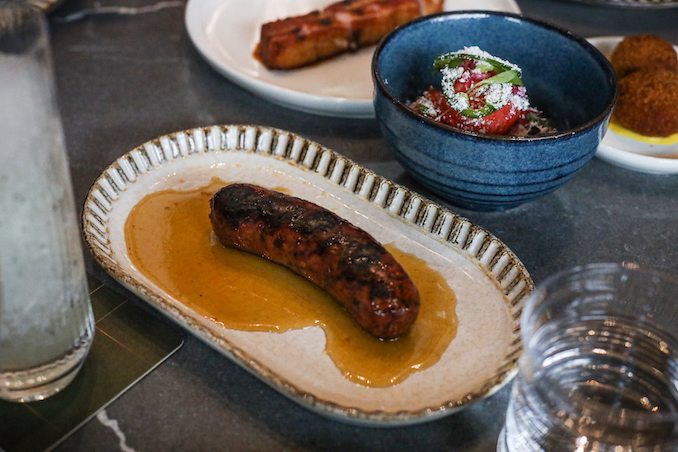 If you love your homefries, be sure to order up MARKED's Patatas Bravas with huancaina (a Peruvian spicy cheese sauce) and aioli topped with a fried egg. And bacon lovers they got you too! The Wood-fired Pork Belly Bacon is thick cut and served with a house bbq sauce.
While the Weekend Resort brunch menu is filled with savoury dishes a refreshing dish to have is their Watermelon Salad – an exciting take on their wildly popular evening cocktail (sans alcohol). This colourful dish includes fresh cubes of watermelon, jalapeño peppers, mint with a light topping of cojita (aged Mexican cheese made from cow's milk).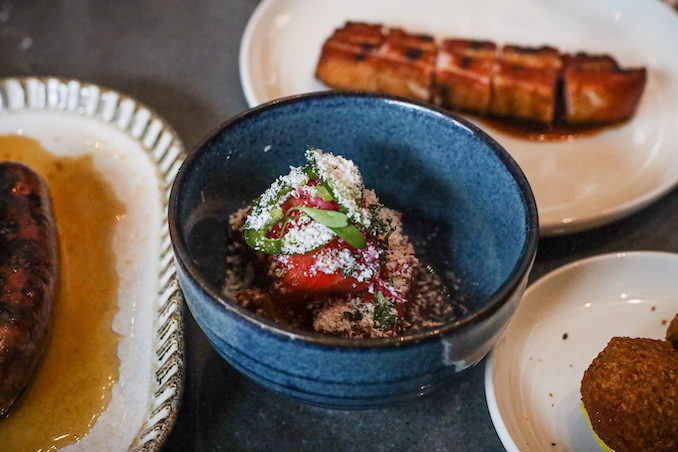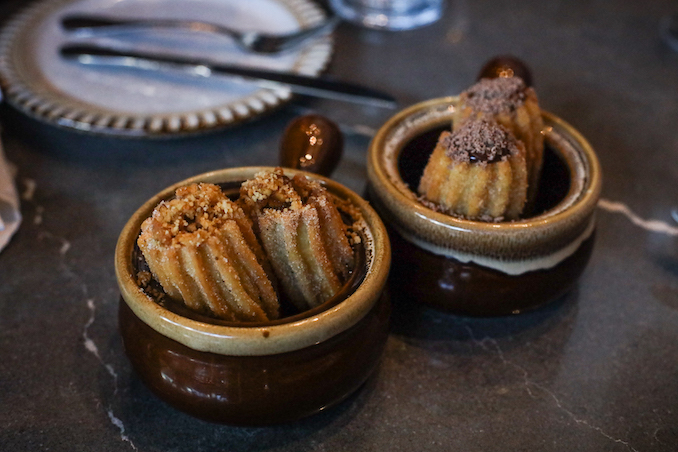 To finish off a blissful brunch be sure to save room for the crunchy warm house made churros available with two scrumptious fillings  — chocolate or apple pie. (GET BOTH)
There is also a cocktail program offered in addition to the all-inclusive brunch where mixologists offer up sunny vacation favourites including Pina Coladas, Mojitos, and Caipirinhas with a modern twist. An example is their refreshing mojito — they incorporate liquid nitrogen that helps to temporarily freeze the mint to preserve colour and flavour. When the mint is muddled it contains the fine pieces making the flavour more vibrant. They also use lime cordial instead of sugar before a splash of Plantation Three Star rum is added.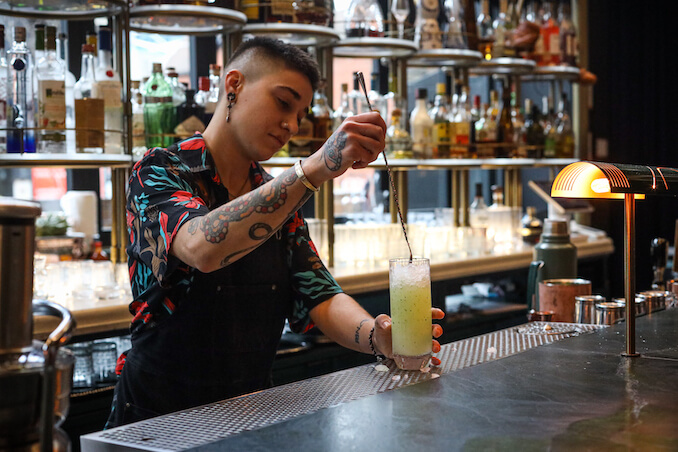 Brunchers also have the option to add on juices to their glasses of Prosecco for that magical island mimosa kiss.
Not only did the food give us vacation vibes! The front of the restaurant, where we've dined several times, offers natural light beaming in from the outdoors in a travel inspired space filled with high top tables and comfortable seating. But a few steps in opens to another larger dining room with banquettes ideal also for larger parties. The Corsair bar is a luxe curtained area ready for revellers and there's also a private dining room to accommodate celebration parties. During our brunch visit local DJ Marlon Jordan had firmly placed us on island vacation mode.
This is the perfect escape from our grey, cold days that will make you forget about winter…and bonus! You won't have to worry of luggage being lost.
MARKED Restaurant (132 John Street) Weekend Resort All-inclusive Bubbles Brunch is $95 per person (or $75 without alcohol). Available Saturdays and Sundays. Reservations definitely encouraged! For more information visit markedrestaurant.com 
*All photos by Joel Levy Photography