In an already tumultuous election year, with hundreds of candidates on the ballot across 47 (or is that 25?) wards, it can be hard for any individual candidate to stand out and be heard.
But Tiffany Ford is doing just that.
Ms. Ford is running in Ward 7, currently represented – technically, anyway – by the iconic and eccentric Giorgio Mammoliti. He's been bringing his outlandish and periodically outright racist style to the Council chambers for almost 30 years, despite scandal after scandal after scandal. He is in many ways the personification of the problems at City Hall – an old-guard iconoclast who holds on to power, and in whom a new generation of Torontonians struggle to see themselves reflected.
By contrast, Tiffany Ford offers a compelling personal story and a fresh, bold perspective. We took the opportunity to ask her to share a bit about herself and her experiences in Ward 7 as both a resident and a TDSB trustee – take a look below.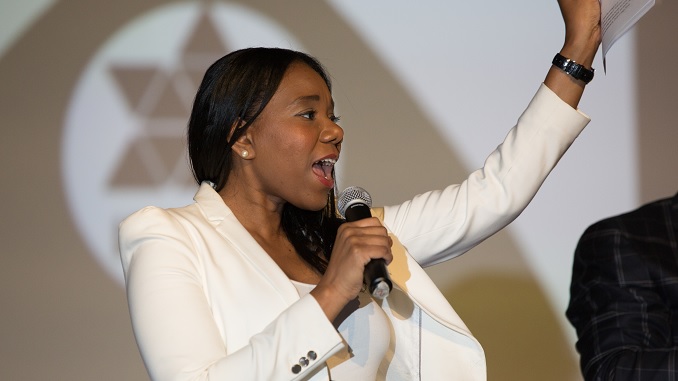 Tell me a bit about yourself
I'm a lifelong resident of Ward 7, a serial-entrepreneur, and a Toronto District School Board Trustee. I am passionate about amplifying the voices of marginalized individuals and advocating for more thriving, healthy communities.
I'm also strongly against all forms of animal cruelty and recently became vegan.
What made you decide to run?
I'm running because my community has been stagnant on progress for the past three decades. Residents have experienced many socio-economic issues for most (if not all) of their lives that persist, with little clarity from those in positions of leadership on how such issues will effectively be addressed and solved. These issues include poverty and stigmatization, the latter has been exacerbated by negative media coverage over the decades. This further marginalizes communities and heightens risks for young people already facing barriers.
My skills, deep relationships in this community, and proven track record as a champion for this ward make me confident that I can work with individuals, organizations, and businesses to make substantial changes that will move our community forward.
You were a TDSB Trustee in this ward for several years. What do you think your biggest accomplishment was in your time as Trustee?
There is a lot I am proud of from my tenure as Trustee, and the area I oversaw included the schools in Ward 7. My biggest accomplishments included increasing capital funding for the 22 schools in the area by an average of 186%, which is both unprecedented and deeply important, given that some schools have seen major increase in costs due to years of neglect. I am also really proud of creating the first parent and student councils in the area to deepen transparency and ensure students and parents are heard by school board officials.
Ward 7 has been represented by the same person for quite some time. What kinds of changes do you think you'd bring if you were to win?
First and foremost, I want to ensure all residents feel seen and represented, which means creating channels and strengthening relationships so their voices are included in decision-making at city hall. I want young people to have access to resources and safe spaces for learning, work, and building community. I intend to set up a resident council that I can closely work with to implement changes our residents want to see. There are a lot of opportunities in a community like this, where we haven't seen any real changes in over 20 years. I'm excited to bring forth new options.
What do you think is the most pressing issue currently facing Toronto as a whole?
The lack of affordable housing, gun violence, and road safety–particularly for pedestrians and cyclists. I think there are opportunities to advocate for new solutions at city hall, but also to collaborate meaningfully with provincial and federal government to take the urgent action that is required. There is such a huge opportunity in fresh leadership, especially with a person who has both the expertise and intimate understanding of these issues. When it comes to a nuanced understanding of matters like gun violence and housing insecurity, yes I understand the research and I've seen the data, but I've also lived it. I've seen these problems first hand, and I don't know how many council members can say that.
Do you have a "flagship" policy or position for your ward that you think defines your campaign or really makes you stand out from the others running?
My campaign is really defined by working towards change with community and for community. It's about us doing this together. This campaign has nothing to do with the incumbent. It's about doing the hard work, getting things done, and seeing that work through together for true progress. That's why my campaign slogan is Together We Can.
When you're not working in politics, how do you spend your time?
I've been a business owner for 12 years, with a number of start up businesses. I had two businesses, but dissolved them both while becoming a trustee. Now I'm committed full-time to community advocacy on a personal and work level. As a life-long resident of this community, entrusted by my neighbours to advocate on their behalf, I feel that it's necessary to step up. I want to ensure I contribute to creating opportunities in this community and also demanding the change we deserve.
Where is your favourite place to eat in Ward 7?
I love spicy foods, so I am always at Caribbean Hut, Caribbean Cuisine Delight, Jamaica House, Tasty's, and Caribbean Queen. As stated before, I'm vegan now so I eat spicy food, but with no meat or fish products. Yes, it's boring, but it is important to me.