Autumn is my favourite time of year. The leaves are changing to golden yellows, bright oranges, and blazing reds. We yearn to take day trips out of the city and luckily there are no shortages of places to visit. Visiting apple orchards and pumpkin patches are traditions for many of us who have grown up here. There are many options from low-key pick your own farms, to a fun outing with haunted forests, corn mazes, cafes, bakeries and shops. You can also find some that are dog friendly too!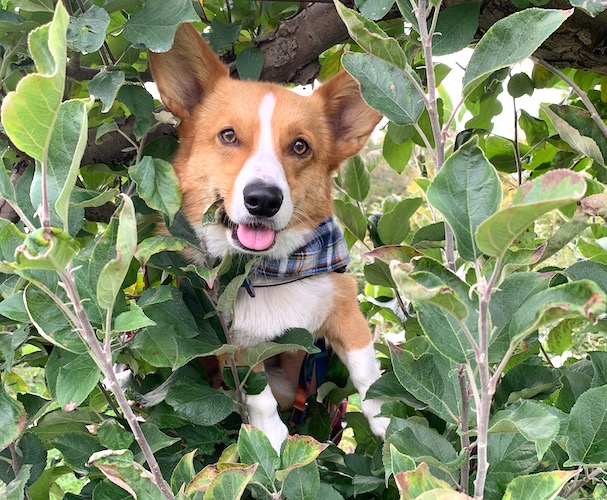 Here are some family-run farms that are within a few hours drive where you can take your furry friend to:
The Apple Orchard: Hamilton. Visitors can pick their own apples, pumpkins and squash — or just grabbed freshly pre-picked at the onsite market. No reservation required here. Some activities and facilities are adjusted because of COVID19 e.g no wagon rides on weekends. Want to take photos but don't have someone that has a good eye? They have an onsite photographer too (pre-book).  Closed Tuesday/Wednesday.
Chudleigh's: Halton Hills. The most popular of farms aims to provide visitors a fun-filled outing on this massive farm. They grow 22 apple varieties and have 47,500 trees on site. A glorious pumpkin patch is nestled in between the apple orchard. The farm is a big attraction for families with lots to see and do including a small farm petting zone, corn mazes, rides, and a cafe. Don't leave without picking up some of their famous Apple Blossoms.
Carl Laidlaw Orchards: Credit River Valley, Brampton. Only open to the public  on Fridays, Saturdays, Sundays, and holiday Mondays. No reservations needed. This 100 acres farm is home to 20 apple varieties and 3 pear varieties. Pick your own apples and pears (or just pick up some from their parked wagon). There's also a pumpkin patch, corn maze, hay bales to jump in, and farm animals to visit at this family-run farm.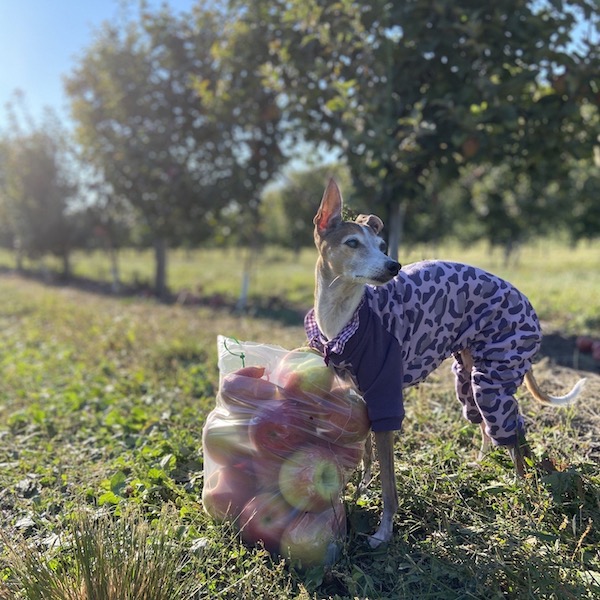 Pine Farms Orchard: King City. A great pick-your-own working farm that started as a small log cabin on 100 acres of land and retreat from the city for a Toronto family. In 1948, the family begun planting apple trees on the property. Today, it is still run by family.  They encourage you to pick what you need and also visitors will be informed as to what is ripe for picking. Apples varietals are ripening in waves! Market and cafe are also on site. Also sells dog ice cream at their market shop.
Andrew's Scenic Acres:Normally, they would host special dog visit days for the public. However, at the time of publishing this article, all events have been postponed. Keep an eye on their site for any updates. Visits with dogs are allowed but call ahead to confirm which days.
Dubeau Family Farm: Tiny, North Simcoe. A small family-run farm that's been in business for the last 20 years. Small pumpkin area and a great spot to pass through and quickly pick up seasonal fruits and vegetables if you're in the area. Cute photo opps while supporting local farmers.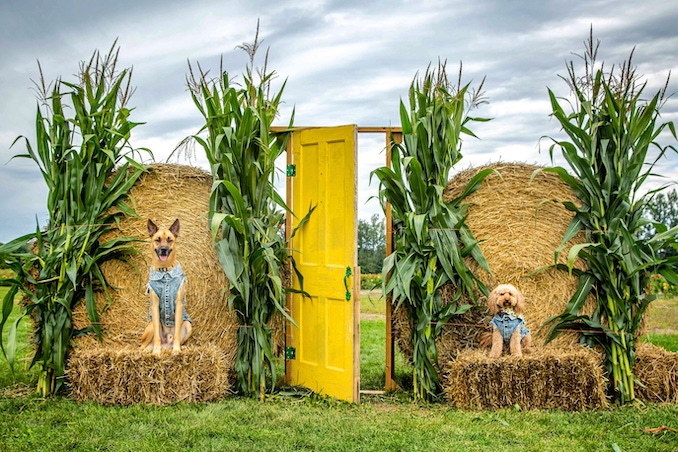 What you should know:
Check individual websites for any restrictions on dates and times, and if there are any additional charges when bringing a pet. With COVID19, there are limits to the number of visitors allowed at any given time.
Be sure to also check with individual farm COVID19 protocols about where you (humans) will be required to wear a mask (indoors and outdoors).
Best to avoid going on weekends or PA days as the farms will be at allowable capacity and there are wait times getting into the popular farms. If you must go on the weekend, then go closer to the end of the day when most families have exhausted themselves and head home. Besides, the golden hour is gorgeous for photos.
If you're planning on a full out photoshoot – say for engagement or annual family photos with your pooch,  inquire ahead of time about special permits and fees.
Dogs must be kept ON LEASH at all the farms we've researched. Since the farms have other visitors including families with young kids it's wise to keep your fuzzball with you. Also, keeps them from trampling on plants and trees.
Bring your own poop bags and clean up after your dog.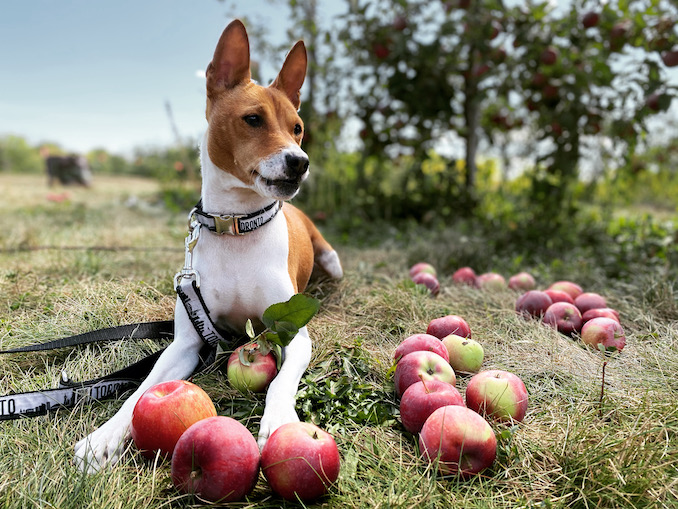 Getting There:
Road trip! Most of the farms are within a couple of hours drive out of the city. But if you don't have access to a car we found Your Dog Butler Pet Taxi service a reliable and comfortable option not just for city rides but for your daytrips too. While they have fleet of vehicles, you'll want to book ahead. They will provide rates ahead of time. They are well equipped for all dog needs including ramps to get in and out of the vehicles if necessary. Safety is a priority. But if you also want to ride in style, you can request their black car service for ultimate comfort. Longer drives factor in pitstops along the way if needed.  They also clean their vehicles in between customer rides. They can also accommodate up to 5 people and 2 dogs (within your family bubble) in the vehicle.
Goober Rides is another a Toronto-based ride service created for pets. Easy and efficient rides without all the bells and whistles. Aaron will get you and your pet safely where you need to go without hassles. No more worrying about being ghosted by a regular cabbie or ride share driver. Book ahead of time to secure your ride.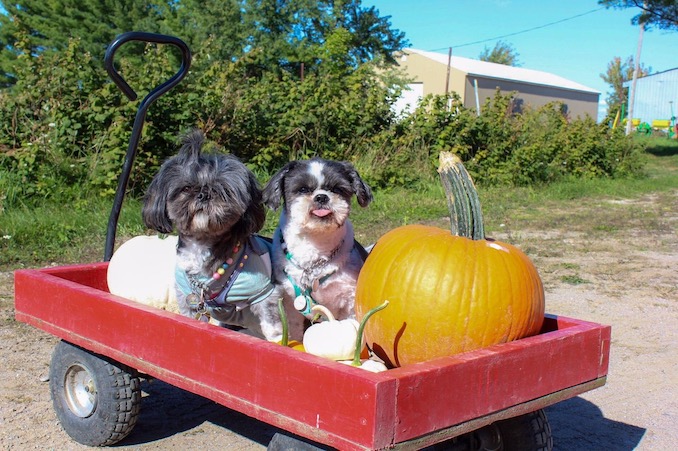 *photos in the piece were provided by the dog families and published with their permission.