Picture this. It's Saturday morning and you're slowly waking up. As you stretch out your body you feel something furry snuggled up against your thigh. You doze off for what seems like a second until you now feel something on your chest. You open your eyes and there's Regalia perched on top of you purring away, patiently waiting for her breakfast.
That's Regalia in a nutshell. She's the cat who comes to you. Whether you're on the bed, on the couch, or just walking through the door, she's eager to say hi, get the scratches, and show you how much she loves you with snuggles and kisses. And believe us, she gives out the kisses!
Dignified and super smart, Regalia communicates her feelings very clearly. You'll know when she's looking for cuddles or when she's woken up on the wrong side of your bed. When she's feeling overwhelmed or frustrated, she'll let you know with a little hiss. We've all been there. If only it were socially acceptable for humans to hiss at people in public.
Regalia enjoys meeting new people. In-fact she loves it. She will come to the door when you have company and do some investigating. Like any cat (or human) she's not always comfortable with being pet right away. She likes it when people move slowly, bend down to her level, and speak gently.
Once she is familiar with you, Regalia will show you all the love in the world. All she wants is to be a part of the family. Movie night is her favourite because then she can find the perfect spot right next to you (or on you).
Regalia hopes to find a home where her space will be respected. She loves being a part of the action, but she can sometimes get a little frustrated when there's too much going on. Sometimes she doesn't want to be pet or played with. When she gets frustrated she'll let you know she would like some alone time.
She would prefer a more quiet, more peaceful environment where she can tap into all the cozy, snuggly vibes. Wary of unsolicited petting and loud sudden noises, she thinks she might do better in a more mature home.
Once you get to know Regalia you can really appreciate the personality she brings to the home and will be a great addition to her new family.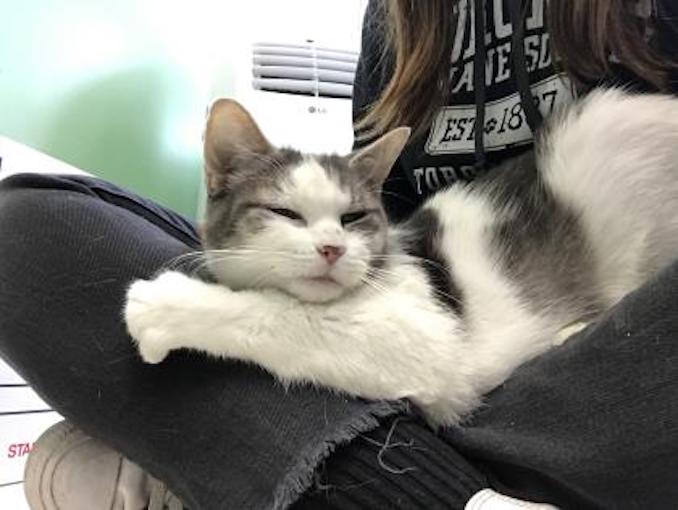 Regalia
Age: 11 years 5 months
Sex: Female
Size: Medium
Colour: White/Grey
Spayed/Neutered: Yes
Declawed: No
In order to ensure a smooth and successful adoption, please remember to check all the basic requirements for adopting before coming in to the shelter.
About this column:
Each week we feature animals available for adoption from local shelters in the Toronto area with the hopes that our readers will assist in finding good homes for them. If you, or someone you know, has the resources to take care of one of these animals, please do get in touch with the appropriate shelter via the links provided.