Sonority Sisters is a flute and violin duo comprising Toronto Symphony Orchestra musicians Kelly Zimba Lukić and Clare Semes. Motivated by their desire to spark creativity and engage communities through musical experiences, the pair performs innovative pop-up events across the GTA and around the world. They've shared virtual concerts with over 3,600 long-term care residents across North America, distributed musical e-cards to families separated by pandemic restrictions, and presented workplace wellness concerts to incorporate music into corporate cultural fabrics.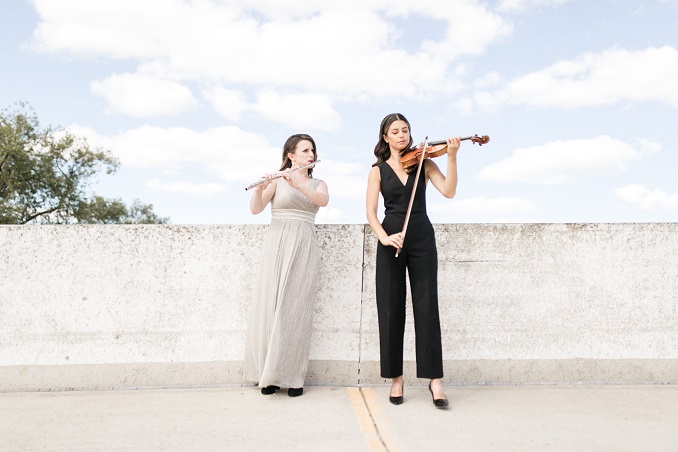 Name:
Sonority Sisters: Kelly Zimba Lukić, flute & Clare Semes, violin
Genre:
Classical
Founded:
2020
# of Albums:
None so far – but hopefully not for long!
Favourite musician growing up:
Kelly's was James Galway, after hearing him perform live in Pittsburgh when I was in 8th grade. Clare's was Hilary Hahn – she would buy her CDs as soon as they came out and would listen to them on repeat (and still does).
Favourite musician now:
Too many to choose!
Guilty pleasure song:
Kelly's is All Star by Smash Mouth (Astro Lounge was the first CD I ever owned).
Live show ritual:
Usually taking a selfie.
Favourite local musician:
Anh Phung. She plays so soulfully and I envy her improvisation abilities!
EP or LP?
LP!
Early bird or night owl?
Naturally early birds, but harder with late Toronto Symphony concerts!
Road or studio?
Road! Travelling is one of the best perks of being a musician.
Any shows or albums coming up?
We are currently working on a super exciting commission/performance project with five Toronto-based composers. More on that soon – follow us to stay up to date!
Where can we follow you?
Instagram is our main platform. You can also visit our website.
***
Rapid Fire Toronto Qs
What is your favourite local restaurant?
Kelly's is Ice n Spice. Clare's is Raku on Queen Street.
What is your favourite street in your city and why?
Kelly's is Baldwin Street. I randomly stumbled upon it one day and think it's so quaint. Clare's is Palmerston Ave – since she always incorporates it as part of her running route it's become very comforting!
What is your favourite park in your city and why?
Trinity Bellwoods. It's where Sonority Sisters got its start!
What is your favourite music venue in your city?
Rooftop Revue in the Junction. It's an outdoor concert series that is super local and a great way to spend a summer evening.
What is your favourite music store in your city?
Remenyi & The Sound Post.