Looking for a way to incorporate more plant-based meals into your week? Tracy On, a Registered Dietitian based in the Toronto area, shared with us a recipe for these crispy tofu tenders. Tofu is a source of plant-based protein, calcium, and iron and is very affordable. Serve these tenders with your favourite dipping sauce, have them in a wrap, or chop them up and add them into a salad!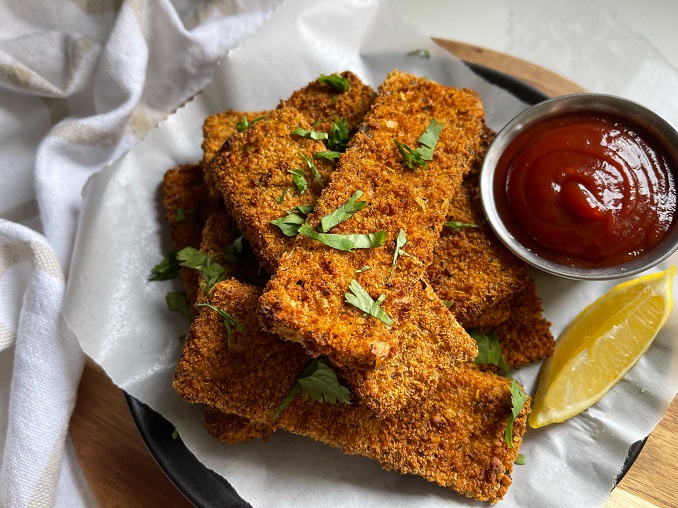 Crispy Tofu Tenders
Serves: 3-4
Ingredients:
● 1 block of extra firm tofu
● 1 cup vegetarian chicken broth (or vegetable broth)
● ¾ cup whole wheat Panko breadcrumbs
● ½ teaspoon dried basil
● ¼ teaspoon ground black pepper
● 1 tablespoon garlic powder
● 1/4 teaspoon ground ginger
● 1 teaspoon dried mustard
● 1 tablespoon nutritional yeast
● 1 teaspoon onion powder
● ⅓ teaspoon oregano
● 1 teaspoon paprika
● ¼ teaspoon salt
● ½ teaspoon thyme
● ¼ cup all-purpose flour
● Olive oil cooking spray
Directions:
1. Marinate the tofu: Unwrap and drain the block of tofu, then wrap in a tea towel or paper towel and gently press to remove any excess moisture. Then, cut the tofu into ¾ cm-thick strips.
2. Place the sliced tofu into a baking dish or another container, pour the vegetarian chicken broth over the tofu and set aside to marinate for at least 30 minutes.
3. Prepare the breading: While the tofu is marinating, prepare the crispy breading by whisking together the breadcrumbs, basil, black pepper, garlic, ginger, mustard, nutritional yeast, onion, oregano, paprika, salt, and thyme and set aside.
4. In another bowl, measure out the all-purpose flour.
5. Cook the tofu tenders: If air-frying, preheat air-fryer to 400°F. If baking, preheat oven to 400°F and place a wire rack on top of a baking sheet.
6. Drain the broth from the marinated tofu into a bowl and line up the bowls of flour, broth, and breadcrumbs.
7. Dip each tofu strip into the flour, tapping off any excess, then into the broth, and finally into the breadcrumb mixture. Press the breadcrumbs gently into the tofu, then transfer to the air fryer basket or wire rack. Ensure that the tenders aren't overlapping. Repeat with the remaining tofu.
8. Spray the tofu with cooking spray and air-fry/bake at 400°F for 15 minutes, flipping halfway through and spraying with additional cooking spray to ensure both sides are golden brown.