Xena arrived on our doorstep in mid-March along with a litter of her kittens. They were quickly placed in a foster home together so she could care for her babies as they grew. Now they're old enough to move into their adoptive homes, so Xena has been relieved of her parental duties and is herself looking for a loving home!
Regarding her personality, her foster parent says, "Xena is a very friendly and sociable lady, and loves to be pet. She is not afraid to meet new friends when presented with the opportunity, and always wants to be pet. She enjoys having her chin scratched very much, and also loves to be brushed. She's generally quiet but will let it be known when she wants attention or she's hungry. Xena is interested in playing, she especially likes chasing a ball or running after her kittens. She also loves playing with a laser pointer and her wand toy, but is not generally very interested in treats. She is very affectionate and loves it when you sit down and pet her."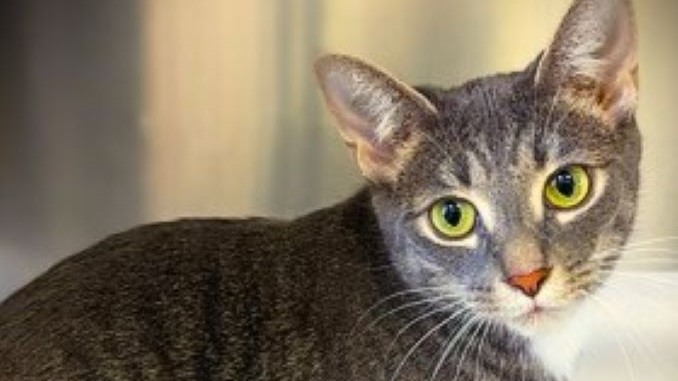 Xena
Age: 11 Months
Sex: Female
Size: S
Colour: Grey
Spayed/Neutered: Yes
Declawed: No
For Toronto Humane Society's complete adoption process, please click here to learn more about how you can make this companion, a forever friend!
About this column:
Each week we feature animals available for adoption from local shelters in the Toronto area with the hopes that our readers will assist in finding good homes for them. If you, or someone you know, has the resources to take care of one of these animals, please do get in touch with the appropriate shelter via the links provided.