My first real spa experience was at the Elmwood Spa a long, long time ago.  I had just started working and it was a treat to go. I didn't really know what to do but this day spa was conveniently located in the heart of the city close to walking distance from home and work. It was always a welcoming space that served locals and tourists alike. I remember having my first facial. First massage. First mani/pedi all under this roof. Over the years, the "Elmwood" has renovated and expanded to become a multi-level spa and wellness destination in this historical building. It's no surprise that it continues to be one of the city's most cherished spots to recharge! Although I've been there many times over the years, I probably haven't been in over a year. But now since it's their 35th year in business it was time to revisit and discover what's new.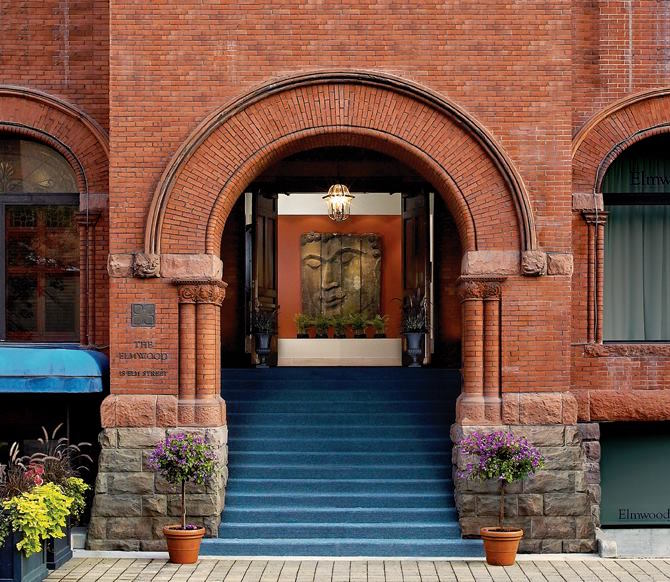 As part of the milestone celebration, I was invited to join in a wellness journey one morning that began with a traditional Tibetan Monk Blessings Ceremony. Here, local monks led us in prayer wishing the Elmwood Spa, and her guests, a healthy and prosperous future. Florals, herbs, bark and other earthly delights were burned to wash away any bad spirits. Those in attendance received personal good wishes from the monks to move forward in a positive light.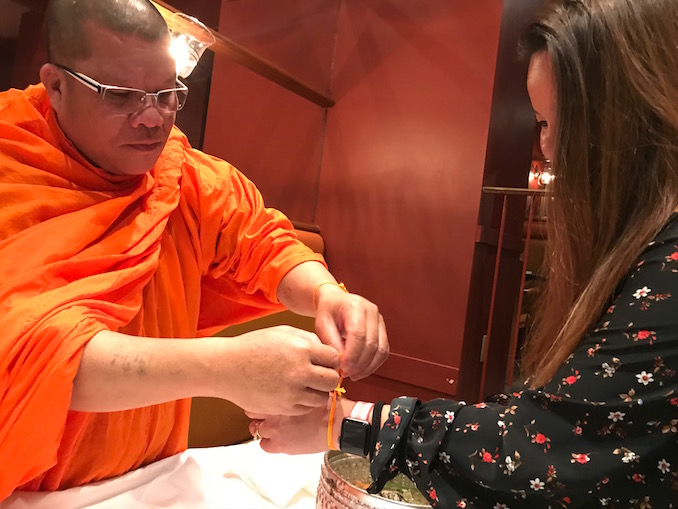 As I've never been one to shy away from trying something different, I signed myself up for the Li'Tya Kodo Body Massage – a treatment that incorporates Australian Aboriginal techniques with a combination of spiralling movements and pressure points to ground and uplift, leaving the body's energies 'laughing with joy.'  Yes! I am ALL in with that description!
It began with a gentle foot bath with beautiful flower petals and herbs. This must be for the Gods and Goddesses that roam amongst us. Then came the "smudging." Some of you may be familiar with this ritual that often combines the burning of sage and herbs that is used in many cultures. With this treatment, you're brought into a private treatment suite where you receive a personal smudging. While comfortably covered in a cozy blanket, the burning of the herbs are floated around, under and over me. This, I was told, is an ancient healing ritual to help rid and repel any negative energy while restoring positive energy. We could all use some of that these days. I had heard of smudging before but more for the home. This was special. This was personal and for whatever reason, I was overcome with feelings of relief and weightlessness.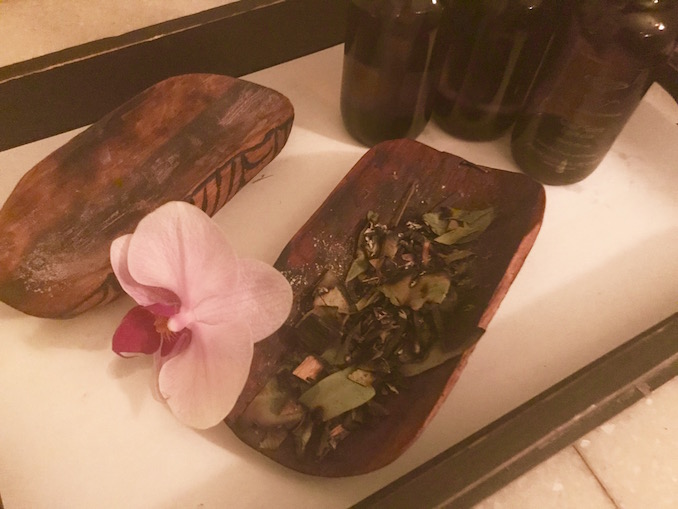 The treatment moved onto a massage with essential oils. There were three to choose from and how to select was purely by scent and what you're body is calling out for at that moment. "Close your eyes and just breathe in when I bring each one close to you," she said. The first one had no scent to me and I didn't react. The second one was beautiful. The third I didn't care for. "Interesting" she noted. The one that I was most drawn to wasn't the "energy" one nor was it the scentless one (or so I thought) which was for harmony or balancing. But it was the second one "detoxifying" that appealed to me the most. The Li'Tya treatment also includes a Quandong hair and scalp ritual that uses rich ingredients that are massaged in slowly. Best to leave the treatment in for a few hours — ideally overnight to get the most benefits.
60 minutes later, I was ready for a nap except for my stomach that was growling at me for some lunch. I gathered myself and headed for the change room. I had forgotten that there's a pool, steam room and whirlpool to use that's complimentary with most spa services. Kicking myself for not bringing my bathing suit, I made note for next time and headed to the adjoining Bangkok Gardens Thai Restaurant for lunch.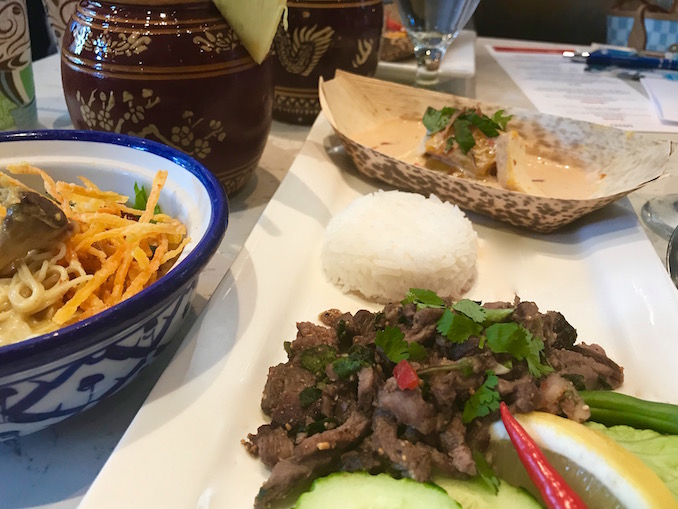 This Thai restaurant use to be my go-to when I worked at the end of the same street. Their street noodle soup bar was always a favourite that was made to order. I'm happy to see it's still popular today! They still have a lunch buffet for $16.99 on weekdays that is a real deal! Bangkok Gardens is one of the oldest and most authentic Thai restaurants in the city and it always made me feel like I've left the hustle and bustle of the city behind when I'm here. The tranquil waterfalls and soothing music in the deep rich wood setting is beautiful. All I need is one of their "Thai Festival" cocktails (Coconut rum, white rum, palm sugar syrup, lime, coconut water in a thai cup) and my afternoon is complete.
Yes, this is one of the greatest escapes in the city. I definitely left feeling recharged and "laughing with joy."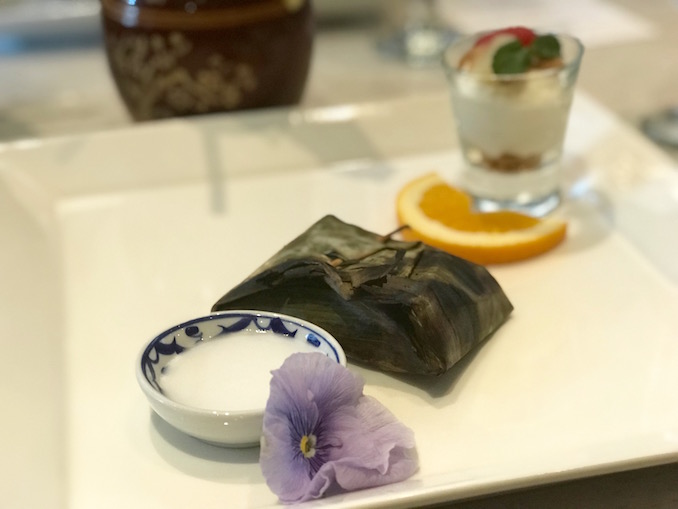 Thank you to the Elmwood Spa and Bangkok Gardens for inviting us to join in your 35th anniversary!