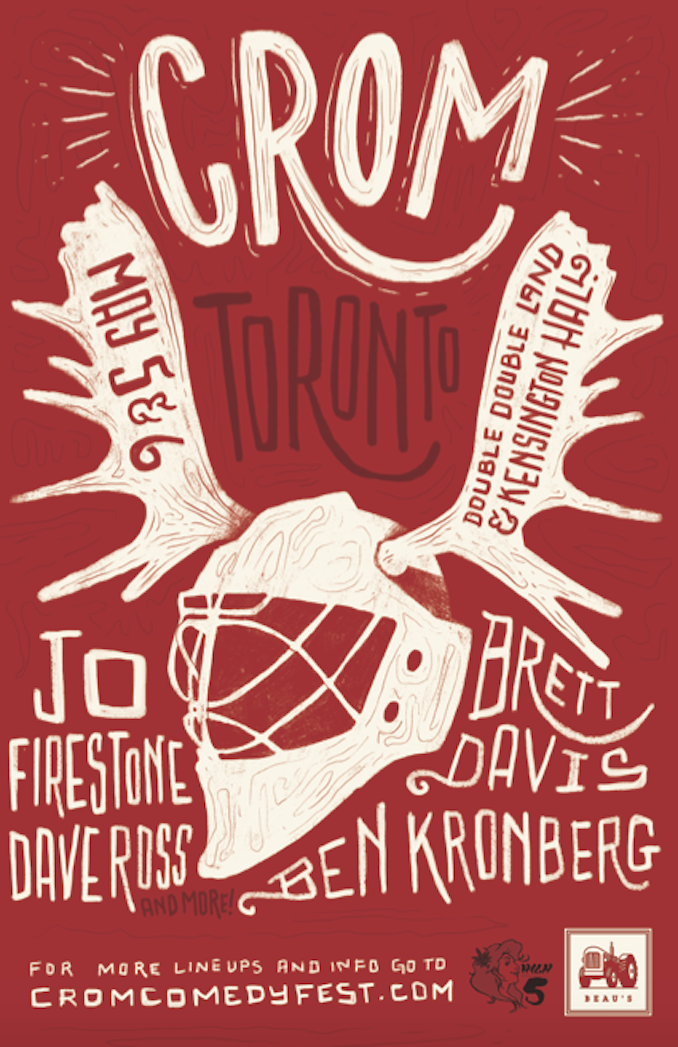 If Iggy Pop was a comedy festival, it would definitely be Crom Fest. The annual alternative standup festival (with a DIY-spirit and a punk rock aesthetic) is hitting the #Six this weekend! Normally making its home in Omaha and Denver, this year Crom Fest added Toronto to the roster – for it's final year. Blending some of America's favourite flavours in alternative standup, with some of our favourite homegrown Canadian crowd killers and Toronto's upcoming comedy creme de la creme – Crom Fest is going out with a riot this weekend in the hip hub that is Kensington Market.
With intimate showcases at Double Double Land, followed by theatre galas (Crom style!) at Kensington Hall
With 8 shows in total, and 8 totally different flavours – Crom Fest promises to deliver a weekend of pants-pissing punk spirited standup with a self proclaimed "chill party vibe". You WILL laugh, and zero jerks are allowed in the door!
Who can audiences expect to see? U.S headliners who are currently hot in the streets, like Alice Wetterlund. Frequently appearing on-stage at the UCB and L.A comedy scene hotspots like Largo and the Improv. She can also be seen on HBO's Silicon Valley.
By way of Brooklyn, Ben Kronberg delivers his wholly original standup style and well-honed voice as seen on John Oliver's "NY Standup Special" on Comedy Central and Jimmy Kimmel Live. But better yet, he's here for you at Crom Fest Toronto!
Not to mention one of our own Canadian comedy all-stars, Mark Little. He was a founding featured player in the cult comedy series Picnicface, and currently appears in the CBC series Mr. D. Little was recently noted by Variety as one of 10 comics to watch. We agree, he's one of Toronto's finest.
Rounding out a full lineup of comics from both sides of the border, this weekend features hometown comics like Mikey Kolberg, Natalie Norman, Hoodo Hersi, Ana Marija Stojic, Everardo Ramirez and Aliya Kanani. Montreal imports like Nour Hadidi and Mike Carrozza,  and festival promoter Gabe Koury. Ottawa's own Rachelle Elie and Greg Houston – just to name a few!
8 shows, 38 comics, two stages. And a whole shit-ton of indie Cromedy taking over #Toronto this weekend!