The HotDocs film festival is well under way and while we've been going through the films (and WOW the line up is stellar!) there have been a few events happening to celebrate the celebrities, filmmaker and subjects. Hello, Bill Nye and  Zac Posen….we see you! But this year's spotlight on documentaries 'Made in Japan' in partnership with TokyoDocs brought a few extra special guests to Toronto that included a press event at Momofuku Nikai. Along with some of Japan's top documentary filmmakers, we had the opportunity to meet with Chef Osamu Tomita, Japan's 4-time reigning ramen champion and yes, we definitely felt like we had gone to heaven after being treated to a taste of his famous Tsukemen style ramen! Truly the best dipping and slurping ramen we've ever tasted!
Chef Tomita is the focus subject in the documentary RAMEN HEADS.  This fascinating film premieres at HotDocs with the filmmaker and the Chef himself present for the first scheduled screening during the festival. Definitely a must see for anyone who loves food, food on film, and of course ramen! We seem to be pretty obsessed about the comfort bowl of noodles in Toronto– and it is an obsession for the Chef as well!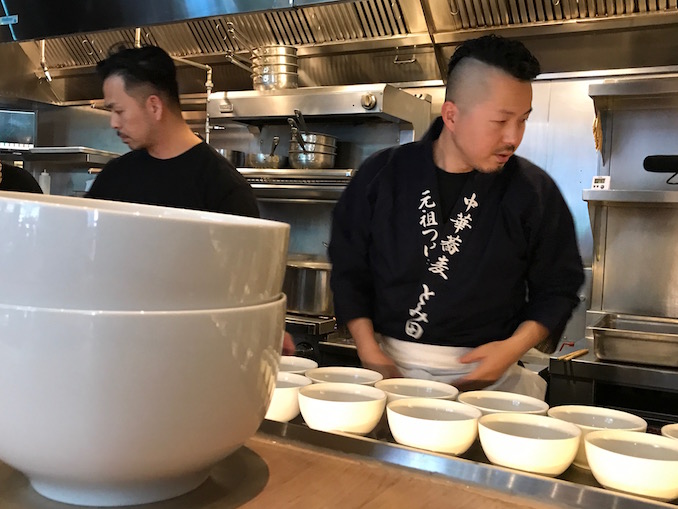 The film takes us behind the scenes with Chef Tomita and into his life's obsession on making the perfect ramen. Chef Tomita's small ramen shops see line ups for hours with devoted fans eager to slurp and savour one of his $8 bowls of goodness. The documentary gives us insight into his ingredients, method of preparation as well as the management of his team. It also gives us foodies a tour of his favourite shops with some even kept anonymous for fear of more people discovering.
Director Koki Shigeno tells us that most chefs are not interested in sharing their stories of behind the scenes. "Chef Tomita is so confident. Usually chefs are pretty stubborn and secretive. It's usually hard to talk to them. But he was very open. He actually wrote a book and he now has 10 restaurants. He's even been open about how much he makes in each restaurant. You have to be so confident to do such a thing."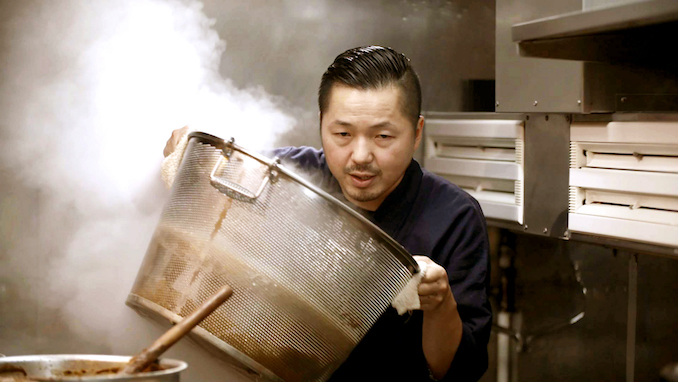 How did they decide to create a documentary so focused on ramen? "A couple of years ago, I and another producer watched Jiro Dreams of Sushi when we were in Tokyo," said Shigeno.  "It was a very good film but why not a Japanese making the film about sushi? So, we thought about making a film. We thought what was next? Ramen!"
What did Chef Tomita think when he was first approached by the filmmaker? He laughs and said his first reaction was "No kidding? Who me?"
We asked him what goes through his mind when he sees line ups in front of his restaurant every day. "Well, I think that my ramen is not 100 % yet. So the more people come and want to eat my stuff, I feel encourage to better my craft and to make even better ramen for them."
In his restaurants, Chef Tomita explains that he makes his own noodles (not all restaurants do that) as well as the broth. But what he's most particular about is the flour he uses in making his noodles. He has tested and tasted various flour from around Japan and has created a blend from different kinds for his noodles.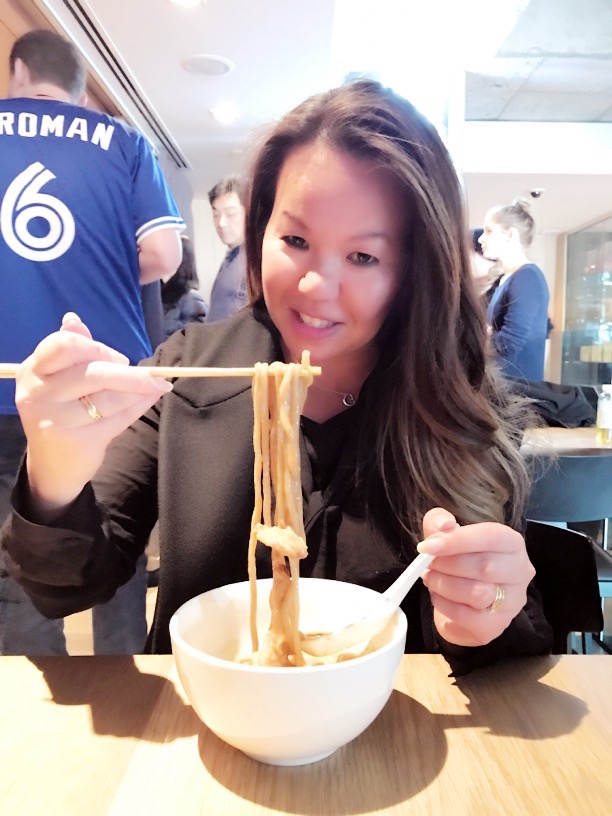 Would he entertaining coming to North America? Chef Tomita says he's open to the suggestion! We could only hope! In the meantime, we'll have the most delicious ramen dreams and enjoy this documentary.
Screening schedule for RAMEN HEADS:  Tickets available through www.hotdocs.ca 
Thursday, May 4, 5:45 PM, Scotiabank
Friday, May 5, 10:15 AM, TIFF Bell Lightbox
Saturday, May 6, 10:45 AM, TIFF Bell Lightbox
Sunday, May 7, 12:00 PM, Hart House