The Second City's current comedy revue, Everything is Great Again, delivers an on point performance and non-stop laughs. Everything is Great Again lampoons Canadian culture with jokes about the Sleep Country commercial jingle being our unofficial National anthem, the Canadian flag representing our respect for the environment because of the leaf emblem being protected by two red border walls, and how Tim Hortons coffee should set up drive-thru service at the CND/US border. Even Toronto establishments The Dance Cave and Jack Astor's get mocked and milked for laughs. Surprisingly, not much Trump dumping as expected.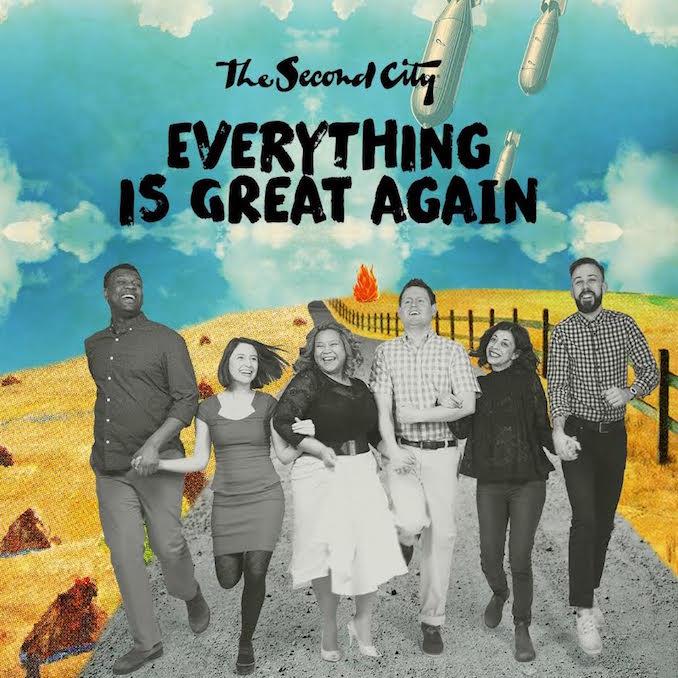 Everything is Great Again is fast-paced, smart, sarcastic – jokes dash conventional expectations about dating, marriage, friendship, and shine a hard light on hot button politics from free speech, climate change to immigration, and white privilege. The revue covers a lot of scared ground with clever humour that makes you question just how great things are going in the world. Show runs till August!
The whole cast is amazingly talented and funny. Have to shout-out extra accolade for Brandon Hackett and Ann Pornel's performance! Both comics have performed on Baroness von Sketch Show (CBC). Everything is Great Again is written and performed by Brandon Hackett, Devon Hyland, Lindsay Mullan, Colin Munch, Paloma Nuñez and Ann Pornel.
Did you know that The Second City offers a Diversity and Inclusion program?
The Diversity and Inclusion program is an ongoing commitment to expose the improv art form to new voices, under served communities and fresh talent seeking careers at Second City. The Second City goal is to open doors and make this work accessible and inclusive. The Second City believe everyone, regardless of race, gender or sexual orientation should experience the gift of improv.
Next DiverCity Show is May 20 (third Saturday of each month). This monthly show in the John Candy Box Theatre highlights Toronto's diverse stand up, improv and sketch performers. This is a safe nurturing platform to try out something new.
***
For Second City Toronto shows & tickets please visit their website.
Improv & sketch comedy theatre and bar with nightly shows, located at 51 Mercer St, Toronto.