Name: Bishop Brigante
Founded: Late 90's on the Power Move Show.
# of Albums: 4 Mixtapes, 1 Album
Latest Release: Legacy
Latest Video
Bio
Bishop Brigante is a Scarborough-born hip-hip artist, battle rap legend and actor. Before launching his music career, Bishop first became a household name within the hip-hop community for his involvement in battle rap, going mostly undefeated for a majority of his career. His appearance on BET's Freestyle Friday segment on 106 & Park put his name on the map, as he became the first Canadian rapper to appear on the segment where he won for three consecutive weeks. Bishop then spent years battle rapping in various tournaments and defeating various high-profile opponents, which only solidified him as one of the best battle rappers in North America. Bishop later switched gears to music which cemented him into Canada's hip-hop fabric. He went on to release hits like, "That's the way", "Shorty Grindin", and "It's fo Twenty" which all received major airplay on Canadian radio and even landed him a music video on MUCH Music. His music career has led to impressive collaborations with artists such as Drake, Nate Dogg,  MC Lyte and Sticky Fingaz and has even taken him on tour with artists such as Busta Rhymes and G-Unit. After years of releasing singles and various mixtapes, for the first time in his career Bishop is finally releasing his longly awaited debut album Legacy – a collection of all his best music produced throughout his career. A true celebration of Canadian hip-hop and an ode to his personal journey and growth as an artist – Legacy hopes to attract  fans both old and new with the raw, emotional,  lyrical infused rap that made Bishop a Canadian hip-hop legend.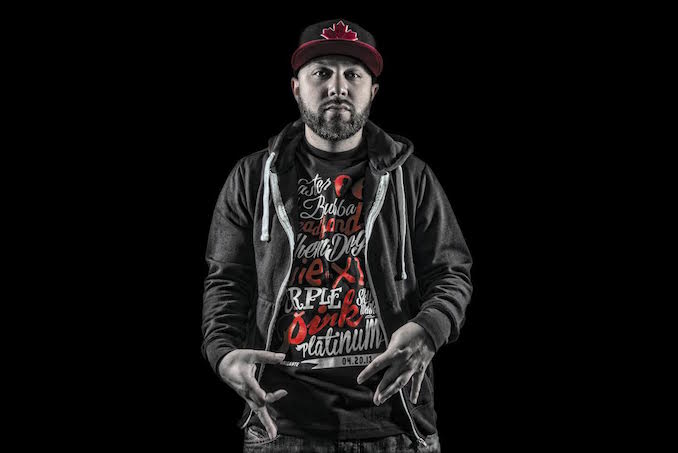 Latest Single
Favourite Restaurant
Grand Electric in Parkdale
Favourite band as teenager
N.W.A
Favourite band now
Kendrick Lamar
Guilty Pleasure Song
Mask Off by Future
Live Show Ritual
Forget a line then freestyle lol
Favourite local artist
Sneaky Dees nachos, Hey Meatball spaghetti or a superfood salad from Fresh?
Sneaky Dees by far.
Queen or College St?
Queen St. I started out in Parkdale.
Trinity Bellwoods or Highpark?
High Park.
EP or LP?
Depends on the artist but most times less is more. EP…
Early bird or night owl?
Don't wake me up in the morning whatsoever. You won't like me.
Road or studio?
Tough one but I love meeting people and performing so, the road.
Swiss Chalet or Roti?
Roti could beat almost anything you could name except ox tail.
***
Keep up to date with Bishop Brigante through his website and social channels.