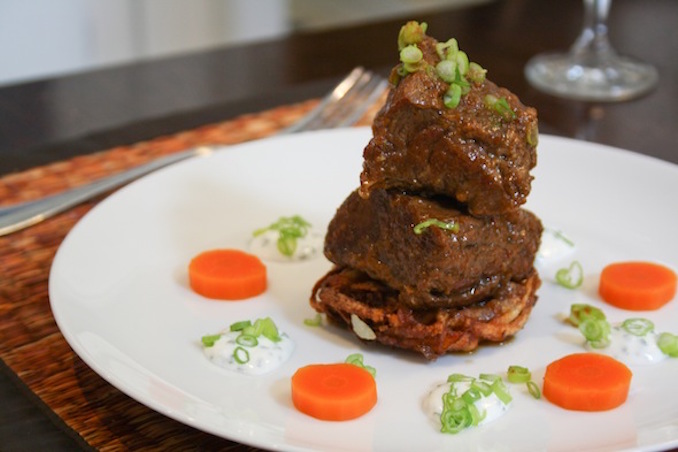 Soy Braised Beef
While working as the sous chef at Union Restaurant on the trendy Ossington strip, I was constantly challenged by Chef Teo Paul to create braised meat dishes, that were markedly different from the common red wine, and herb braised meats found at almost every other high end restaurant.  After numerous experiments deemed too ordinary, I finally hit the nail on the head with this rich unctuous dish.  In this particular variation on our classic dish, I serve braised chunks of prime beef, over crispy potato latkes, with a sour cream and chive sauce, and some carrot rounds for good riddance.  It succeeds in being exotic, and refined, as well as delicious.  The soy and ginger in the braise give this dish an Asian feel, however the latkes and sour cream bring the dish back to eastern European comfort food.
INGREDIENTS:
2 lb beef (shoulder, or other braising cut)
1 cup shallots (sliced)
4 garlic cloves (sliced)
1 Tbsp ginger
1 Tsp black pepper
1/2 cup soy sauce
1 lt reduced beef stock
4 carrots chopped
¼ cup maple syrup
1 tsp chili sauce
3 potatoes (Yukon gold, peeled)
1 Tbsp shallot (chopped fine)
Salt and Pepper to taste
½ cup sour cream
2 tbsp cream
1 Tbsp chive (chopped)
Salt to taste
1 carrot (sliced in rounds)
3 green onions (sliced)
INSTRUCTIONS:
Brown the meat well.  Put in casserole dish with ginger, onion, garlic, chopped carrots, soy sauce, black pepper, chili sauce, maple syrup and beef stock.  Put in oven for 3.5 hrs at 350 degrees Celsius.  Once completely cooked, strain braising liquid and reduce by half.  Before serving poach carrot slices in stock and reserve.
In a large pot of salted water, bring potatoes to a simmer.  Once at a boil remove from heat and let sit for 20 minutes in the hot water.  Strain and cool the potatoes.  Once cool, grate the potatoes, add the chopped shallots and seasoning.  Form into patties, and fry at 375 degrees until golden brown.  Make a sauce with the sour cream, fresh cream, chives, and salt.  Serve the braised beef over the latke, garnished with the carrots, and served with the reduced braising liquid and sour cream sauce.  Garnish with chopped green onions.