Toronto continues to draw the attention of global award-winning chefs and the latest exciting opening is with celebrity chef Akira Back. He's chosen our city as his first Canadian restaurant and has partnered none other than with Charles Khabouth and Hanif Hanji of ICONINK – already known for their establishments here (KOST, Byblos, Patria, Figo, Weslodge, Estia, La Société, Batch, and others) and abroad in Miami and Dubai. Akira Back Toronto is scheduled to open on December 7, 2017.
Akira Back's namesake restaurant is situated at the new BISHA Hotel & Residences in  Toronto's  entertainment district. With its own separate entrance, you get that feeling of being somewhere else. Vegas comes to mind with the modern blend of Japanese minimalism and luxury. It's opulence in an understated way with the exception of the gilded stairway entrance.
Born in Korea and raised in Aspen, Colorado, Chef Akira Back is known for his fun sense of adventure and focus on creativity. He became the youngest Executive Chef for Nobu Matsuhisa before opening his own restaurants. Today, Chef Back is well-known for his restaurants globally including Yellowtail Japanese Restaurant & Lounge at Bellagio (Las Vegas), Kumi Japanese Restaurant & Bar at Mandalay Bay (Las Vegas),  his namesake restaurants are in Singapore, New Delhi and Jakarta. He also has AB Steak in Jakarta and ABar in Singapore and Bangkok. DOSA is one of the top fine dining restaurants in Seoul, South Korea. Now he's adding Toronto to his roster as well as scheduled openings in Bangkok, Dubai, Vietnam, Dallas and San Diego in the next year.
"Akira is a real rising star in the culinary world," said Hanif Harji, CEO, ICONINK. "When Charles and I looked at the landscape of the market here in Toronto, we really felt there was a gap in that hip Japanese market. I've known Akira for years and I'm a big fan of his. I introduced Charles to the idea of bringing this chef who's just about to take that next step in his career so went to Vegas and ate his food and loved it. We get along very well as we speak the same language that's focused on quality, service and design."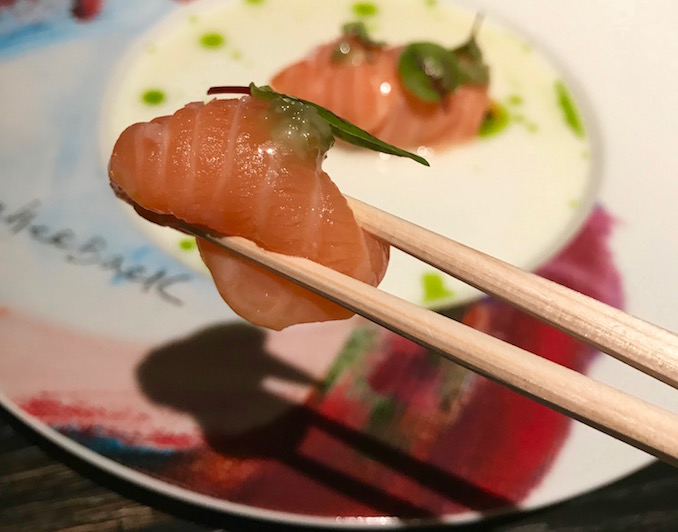 And timing is everything. On November 8 (2017), Chef Back was awarded one Michelin Star for his innovative restaurant DOSA in Seoul, South Korea.  That restaurant only opened in the spring of 2016 so you can just imagine the excitement on our city streets once the word gets around!  And that's not all! Throughout his career, he's been awarded the title of "Rising Star" by Restaurant Hospitality (2008) and has hosted several prestigious James Beard House dinners between 2008 to 2014. He's been named "Best Chef in Las Vegas" by Las Vegas Weekly and has participated in some of the world's most prominent culinary events.
But aside from his obvious culinary talents, Chef Back is warm (like a friend you can hang out at the bar) and hospitable and passionate about the details. With focus as sharp as any knife, he's wants everyone to have an all encompassing experience. Right down to the wooden chopsticks. His hope is that visitors to this restaurant, like his others, will discover something different in these little details. "I want people to experience everything for themselves and we aim to be not just the best Japanese restaurant, but the best restaurant.
As Akira Back was in town getting ready for the Toronto opening, we had a chance to chat to find out more and get a sneak peek at the menu!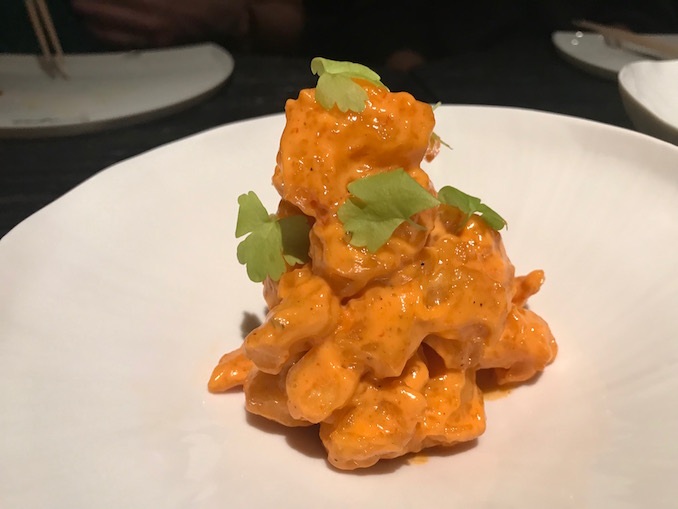 So, why Toronto?
AK: Why not? I love Toronto and it's a perfect fit. The food scene keeps going and it's big city, but not a really big city. I feel like people here enjoy the city lifestyle and I like that. It's a very exciting new restaurant opening for me.
You've been several times to our city, what do you do when you're here?
Yes, I've been several times and of course, I've eaten at many of the restaurants at all different levels here to see the landscape here. Just don't ask me to tell you where because I can't remember there's so many! People just take me and I go! I also wanted to see what the Toronto palate is like. Everything I tried here, I like. It's my taste, so that gave me confidence. Canada has always been a dream. I've always wanted to open a restaurant here. So, when I met the right partner — it was the right timing.
Why in a hotel instead of a freestanding restaurant?
When I met Charles and Hanif, I really like their style. We are a lifestyle brand, we like to have fun, we're still young, we like to party but we're also very serious when we start cooking and about the business side. A lot of my restaurants are located inside hotels but they still stand out on their own. But partnering locally makes sense. They know the market better than anyone else.
Pleeeease tell us your Tuna & Mushroom Pizza will be on the menu here in Toronto?
Absolutely! Our signature dishes will be here. What we're trying to do is – if you love the food here and you happen to travel to India or Korea or somewhere else we have a restaurant I want you to be able to experience the same thing- what you love. Signature dishes I won't change too much but I will add something special to the menu once in a while. I like to add stuff but I don't like taking things out. At the end of the day, like hamburger and fries, you can never take certain items off a menu. People love this Tuna Pizza!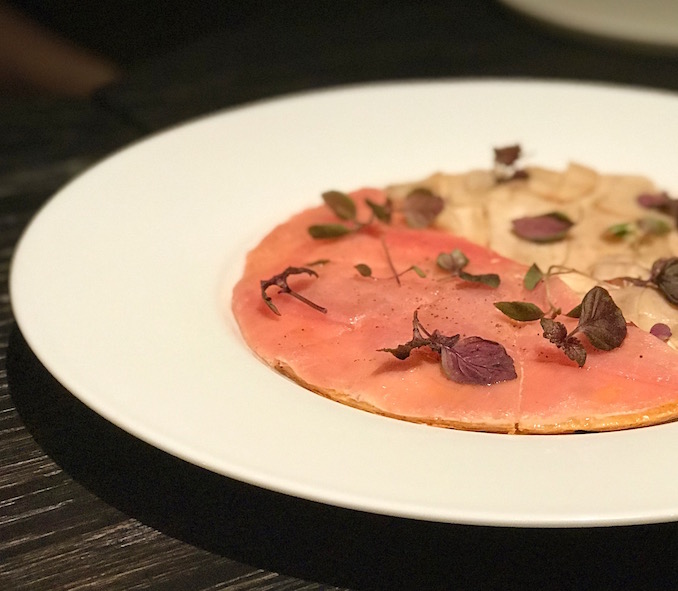 We heard you were a professional snowboarder?
Yes, I still snowboard!  The X Games came up and I did it really for fun. I wanted to be cool. But when I was young, I was actually suppose to go to Japan to play baseball but my father decided we would move to the US so we would have better education. We moved from Korea to Aspen when I was 14. I didn't speak any english and it was very tough at that age. But you'd see these cool kids and I wanted to be like them. I followed them around and saw them skateboard and snowboard. That's how I started snowboarding.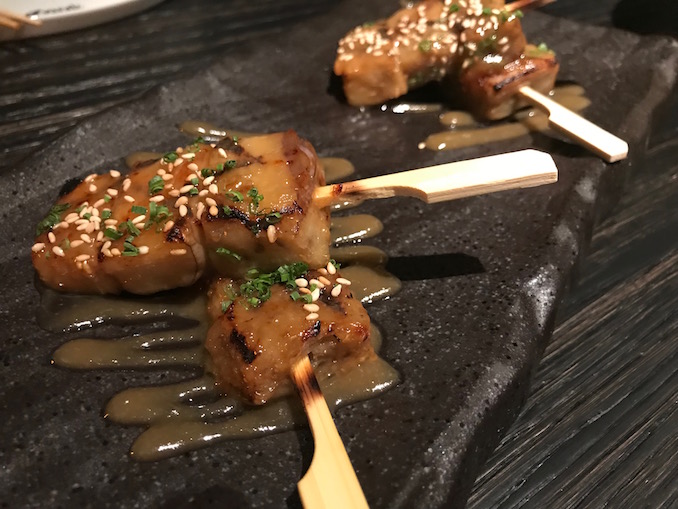 Your mom actually did the artwork for some of your serving dishes?
Oh yes, she doesn't say much about it. She's very quiet about it but I know she's happy to see we did this. My parents still live in Colorado but comes to Vegas too. They're very chill and fun. And they are my number one critics.
What's your comfort food?
Mom's food! Always. People always ask me 'if you die, what would be your last meal?' Of course, it has to be mom's food, come on man! But my mom, once in a while she throws in a surprise, it's still good.
How would you describe your food?
Sexy good!
AKIRA BACK TORONTO is located at the newly opened Bisha Hotel & Residences at 80 Blue Jays Way. Opening December 7, 2017. Dinner only.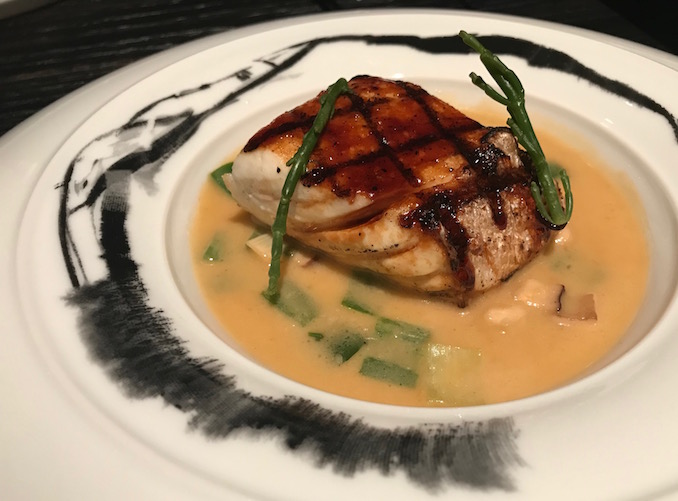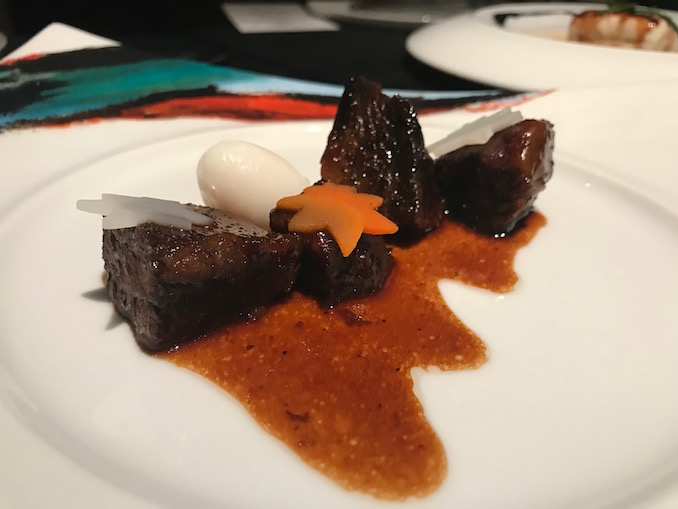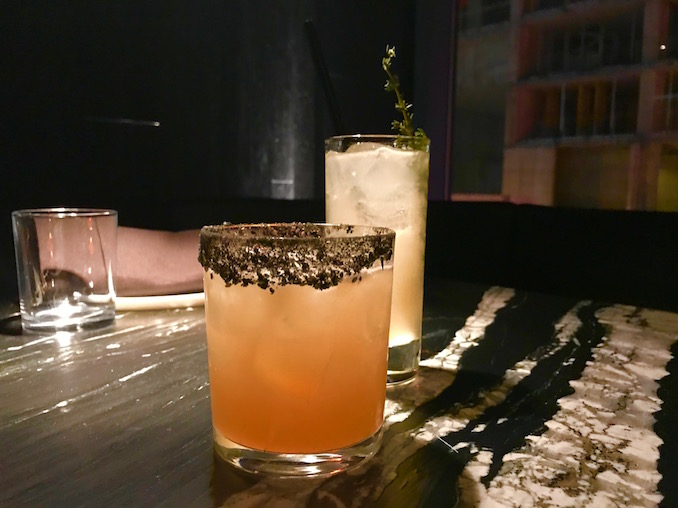 Visit their website for more info.