It's a cause to be celebrated when Cirque du Soleil are in town; the company literally bring all the fun of the fair and more. Following last year's Luzia, this year's Cirque is back with Volta, a futuristic meets retro fusion performance.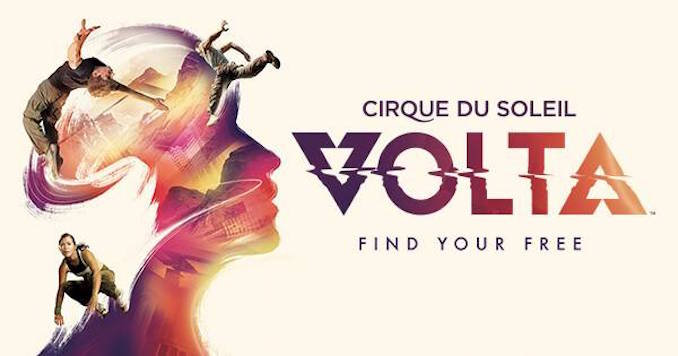 Volta starts off very high octane, as an MC character riles up audience participation, asking us to have a vested interest in performers who are about to compete in some kind of game show dance-off.  I very much enjoyed this section of the piece, which was kind of The Hunger Games meets social media frenzy. Costumes and staging during this section were at a peak; I absolutely loved the aesthetic and the sound design. Then, all of a sudden the entire aesthetic was shattered, as your classic Cirque du Soleil style colour explosion happened, which created a nice moment of juxtaposition to the previous world, but sadly we never really returned to it, so it was pretty difficult to grasp a coherent story thread, other than BMX bikes are better for your soul than selfies, which I think I guess most of us can agree on.
After the show dispensed with its initial style, we were then treated to a glorious barrage of physical achievement and the expert performance standard that one has come to associate with Cirque du Soleil. Particularly impressive was the Mirage hair suspension scene and the Urban Jungle shape diving sequence, and of course the finale, which turned the audience stage into one big bike rally. There were the usual "hold your breath" moments as you thought something was about to go horribly wrong, but of course stunts were delivered with skilful precision.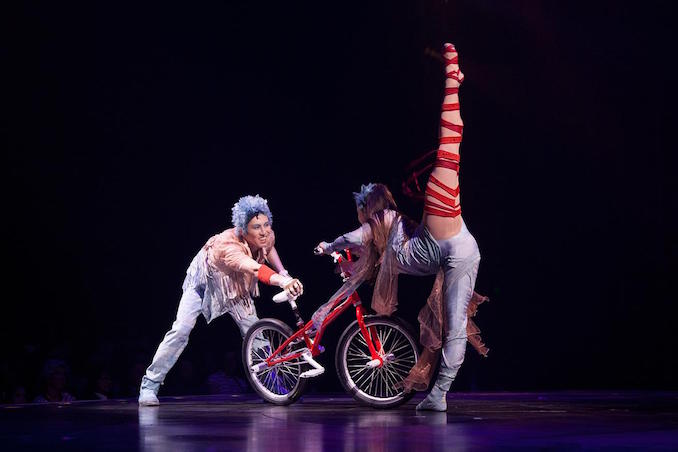 I enjoyed moments of clowning from the character of Shood Kood Wood, which was a welcome comedic break from all the gasping I was doing at various performers suspended, dangled, flipping or skipping. Cirque also know how to bring the humour in at times, which makes for a well rounded piece.
The music score was nothing short of epic. As I mentioned, I loved the glitch disharmony of the dystopian sequences, but composer Anthony Gonzalez of M83, also created a great complexity of moods to suit other occasions in the show. At times the music rose with the staging, which at time teased at becoming all encompassing, allowing for a few glorious moments of total theatre.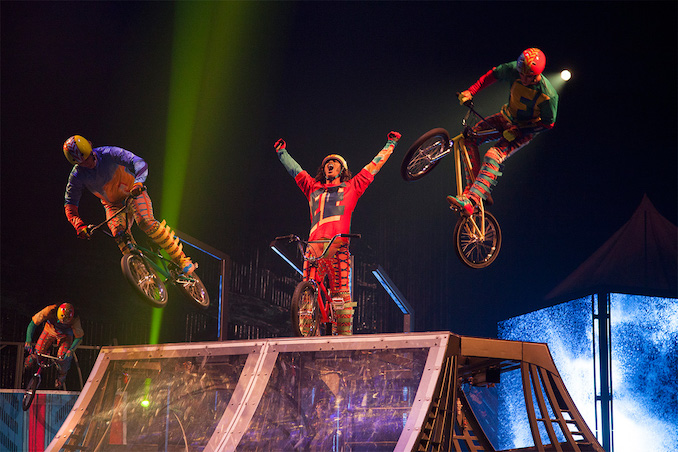 All in all, despite my own personal yearning for a little more cohesive narrative, Volta is another classic offering from Cirque du Soleil that I have no doubt will wow Canadian audiences with its palpable adrenaline and gravity defying stunts.
Running in Toronto until November 26 2017, Under the Big Top, The Port Lands.