The Lower Don River Valley has been transforming quietly right under our feet. This slice of nature that runs through the city is becoming the urban park we need. In the Lower Don Valley area the area has already seen the Evergreen Brick Works flourish with families and tourists visiting the destination that for the nature, art and food festivals. Riverdale Zoo is also a favourite. On the other side is the epic deep and hilly Riverdale park that is local  favourite for sunsets, picnics and tobogganing. Now we're adding the Lower Don Trail to our must see and do list in the area starting with the commissioned public art installation by Cree artist Duane Linklater unveiled this past weekend as part of the Don River Valley Park Art Program.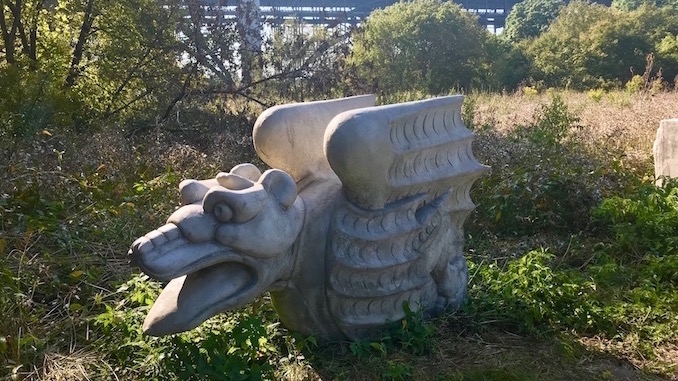 Monsters for Beauty, Permanence and Individuality is a series of 14 cast concrete gargoyle sculptures by the artist that are scattered in a field along the trail like forgotten ruins. Each sculpture is a replica of a gargoyle that can be found on prominent buildings in the downtown core.
We've learned that Linklater's installation was inspired by his interest in the structural changes made to the natural environment in the area as it became the hub of the city's industrialization. While sparking a larger conversation regarding ongoing Indigenous and colonial occupation of the city.
The art installation will be situated here for a while. You can find out more here donrivervalleypark.ca
By the way, finding the gargoyle is a bit of a treasure hunt but worth it! The Don River Valley Park area spans from Pottery Road south to Corktown Common at the mouth of Lake Ontario. There are two entry points into the Lower Don Trail.  We parked at Evergreen Brick Works and walked along the bike trail north towards Pottery Road. Follow the trail where it winds into the park entrance and continue walking south. The sculptures are north of the massive  Bloor Viaduct bridge on the east side of the river.  The other entry point is located close to Riverdale Park. Wear comfortable shoes and bring a water bottle.  There are signs that mark the trail (but not the gargoyles). See Map here. 
Here's a look at a few of the sculptures…