There is a new luxurious spa located in the heart of the historical old town area in Toronto. Just steps away from St. Lawrence Market and nestled amongst a row of quaint offices and restaurants is where we happily discovered the beautiful AMAN Spa on Colborne Street.
The word AMAN can be found in many cultures…
In Arabic, it means tranquillity and peacefulness.
In Hebrew it means support, nourish.
In Biblical terms, Aman means Mother.
In Hindi it means peace.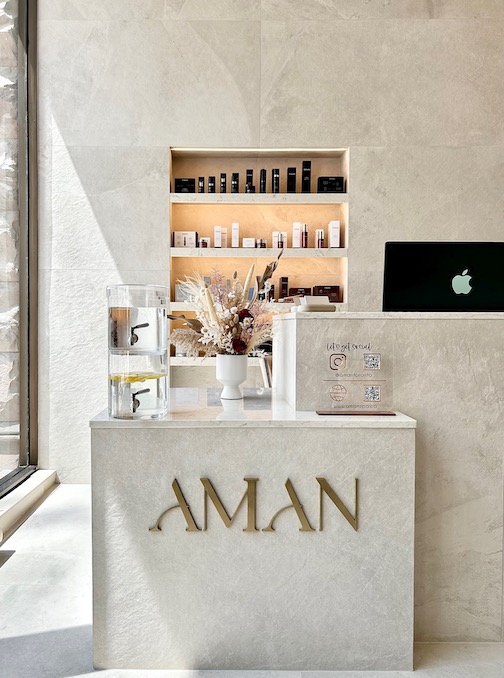 Founder Thom Tullo tells us the name AMAN to him means tranquillity, peace, and harmony. It came to him when he was travelling in the Middle East and heard this song titled "Aman" by Myriam Fares. "While I was in the desert with my partner I heard this song and asked what it was about. He told me about the popular artist and what Aman meant. I knew that was the name, and the vibe was what I wanted," said Tullo. "Very much of the Middle Eastern culture has influenced this spa concept. Also, that feeling of tranquillity and the sand is so very comforting to me. I wanted to bring that experience here."
Even the colour palate at AMAN reflects that soothing vision. The earthy beige and stone as well. How the light hits the stone and the contrasting tones appear to be swooping up like a sand dune. The archways you see incorporated in the design of the space also reflect the Middle Eastern culture blended with Tullo's Mediterranean background.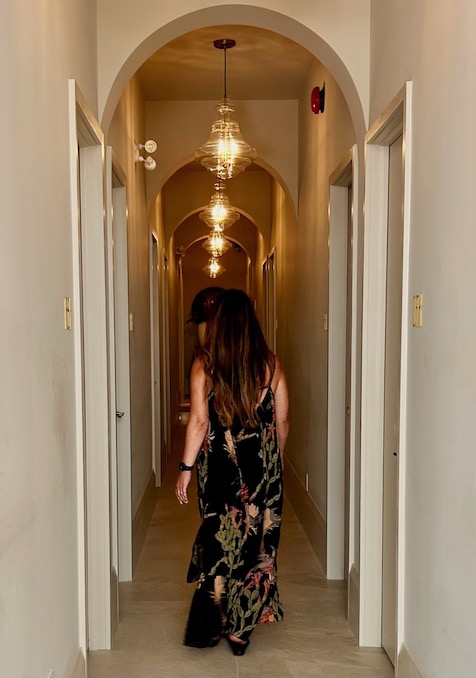 Tullo wanted AMAN Spa to be more than just a beautiful place. He truly believes in a more purposeful approach. "I always knew I wanted to treat people with a wellness approach. Since we've experienced the pandemic it's crazy what has touched us and what has been stripped away from us. We've lost even simple contacts in daily life — that connection of a simple handshake or a pat on the back can be very powerful. I know touch is a significant way to help heal people."
His experience in the luxury spa industry gave him a clear vision of what would make AMAN Spa a stand out. Bringing the beautiful spa experience to more people was what he wanted.  Often luxury spa destinations are situated in high end hotels and can feel intimidating at times.  "I wanted to bring that experience of being at a hotel Spa outside of the hotel and bring it to the streets of Toronto.
He wanted to be downtown but he also wanted a space where it wasn't distracted the sounds of the busy streets. He was working at a studio nearby when stumbled upon this space during a break in his workday and fell in love instantly. He learned that it had been on the market for a while so he swooped in. "The architecture was beautiful and the street was quiet. It reminded me of the streets in Old Montreal and had that brownstone in New York vibe," said Tullo.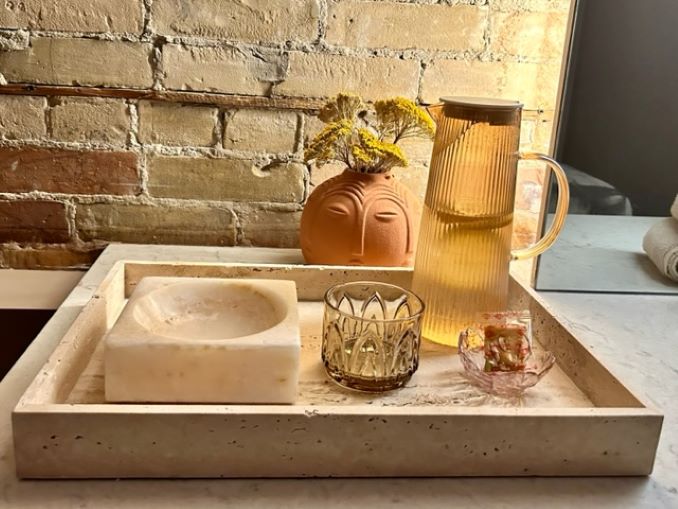 So, what treatments are available here? I mentioned that I am usually drawn to signature treatments that offer something different and unique to experience.
"Our AMAN Facial Massage is very unique," said Tullo.  "You might have seen it elsewhere and even now on social media but it's not something many are doing quite like this in our city. It touches on lymphatic drainage, facial stretch therapy, and actual relaxation of the facial tissue." He also explains that us our faces do so many things — we have expressions, clench our jaws, chew, and we talk. Muscles in our face are always working and we don't necessarily realize just how tense we really are in this region. So, this treatment focuses from the upper chest and goes upwards and leaves you feeling relaxed and sculpted.
The unique technique that originated from Russia has already piqued interest with his clientele. "Our faces are so important from a wellness standpoint and getting massages is a great way to help with many things including headaches. Our neck muscles are strained too from driving or being hunched over a computer. I truly think these desk jobs are really not great for us. We're not designed to be in this position for long durations of time."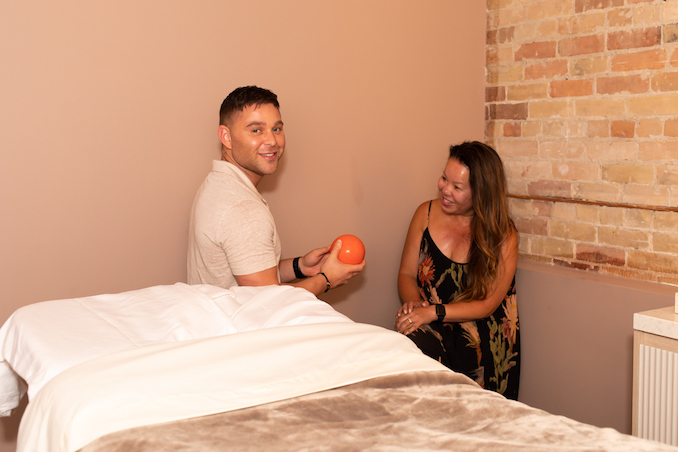 So, what happens in the Facial Massage ($185)  treatment? First, Thom walks through what to expect. With this 60-minute treatment, you'll start with a gentle cleansing using the luxurious 111SKIN line. This is a medical grade luxurious line of skin care found in higher end spas. The massage itself is done by hand applying a gentle stretching and movement. The pressure begins light and progresses to a medium pressure. The most unique part of the experience is the massage that happens inside the mouth but just for a few minutes. Then a micro-current treatment finishes off the massage. To finish off, he applies a thin layer of 111Skin eye gel and facial cream.
Results? You'll see some slight sculpting and contouring immediately which is why people are already loving it. "It's like doing a face workout," said Tullo.
In case you're wondering if you can do this treatment after other facial treatments, he tells us, yes. However, the facial massage it's best to wait a minimum of 2 weeks after Botox. It also is best to wait 4 to 6 weeks after any fillers. As with any spa be sure to inform the staff about recent work done before booking.
The facial massage is just one of the unique treatments here but his team also offers Forma and Morpheus8 (microneedling with radio frequency) treatments. They target different concerns like fine lines, wrinkles, minimizing pores, tightening skin, and decreasing fat pockets in the face.
Other great services offered here are the AMAN Signature Rose Gold Facial, Black Diamond, and more.
AMAN Spa is located at 47 Colbourne Street. See their site here for what is offered.