The SickKids All-Star Gala, a highly anticipated fundraising event dedicated to supporting infant congenital heart disease research and care at the Hospital for Sick Children, is returning this year to the Toronto Event Centre on Friday, September 29.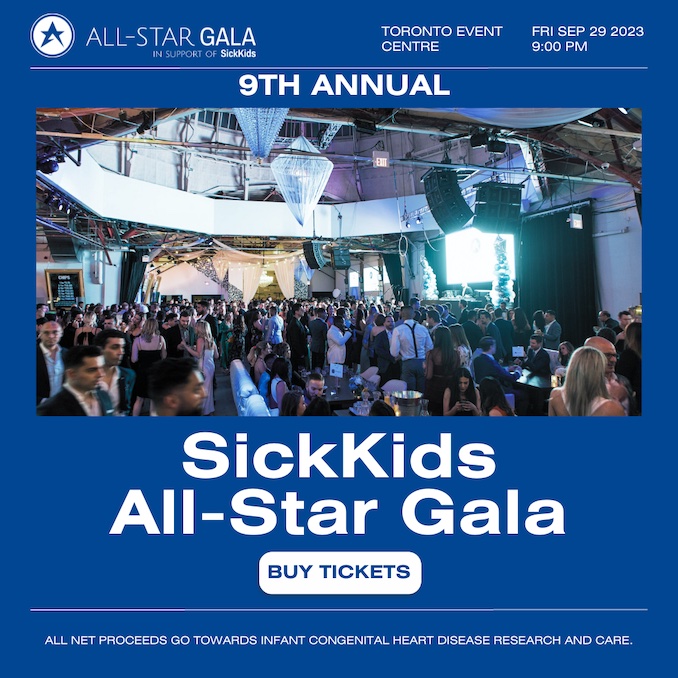 With the theme of football at its core, the event promises to bring together a diverse group of participants, including sports media, celebrities, acclaimed athletes, and young professionals, for an evening of excitement and entertainment.
This year's event aims to raise $100,000, which will bring the total funds raised to over $700,000. With the unabashed support of generous donors and dedicated organizers, the SickKids All-Star Gala continues to make a meaningful impact on the lives of young patients and their families.
CTV's Etalk anchor, Tyrone Edwards, will be hosting the gala, and guests will have access to live music and performances, as well as a luxury silent auction. The open bar will be serving drinks throughout the night, making it an experience that attendees will never forget.
One of the highlights of the SickKids All-Star Gala will be the attendance of Maxen, a SickKids patient and ambassador. At only five years of age, Maxen was born with esophageal atresia, a congenital heart defect, and underwent life-saving surgery at SickKids Hospital shortly after birth. Today, Maxen is thriving, and he will be present at the event, where he will be gifted a surprise item that recognizes his journey.
Tickets for the event range from $125 to $148 and are available on the official website sickkidsallstargala.com. However, please be aware that this is a 19+ event.
The SickKids All-Star Gala is an annual event that has become a symbol of hope and compassion. By promoting awareness and funding for infant congenital heart disease research, we can improve the lives of countless children and their families. Join the SickKids All-Star Gala on September 29 and be part of this incredible event.
For more information, as well as updates, please check sickkidsallstargala.com or follow @sickkidsallstargala on Instagram.