The O'Pears are a Toronto-based contemporary folk trio made up of Lydia Persaud, Jill Harris and Meg Contini, three songwriters who weave stories that stir the spirit and capture the timeless character of folk music. With beautifully blended harmonies, insightful songwriting, and a playful love of performing, they make perfectly balanced vocal performances look effortless.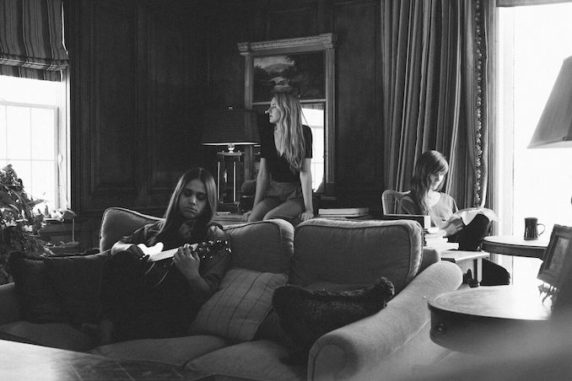 Their sophomore album Stay Warm illuminates the comfort, darkness, and complexity of the winter holiday season. This isn't a commercial Christmas album with charming cover songs, blinding tinsel, or any assumption about "the most wonderful time of the year". Instead, Stay Warm flickers with the glow of family reunions and new love while taking in the chill of blowing snow, drifting hearts, and seasonal solitude. A cappella covers of winter classics are sprinkled between original songs that examine the many ways that the holidays can bring rest, joy, and cheer while also inspiring feelings of loss, grief, and nostalgia. Taken as a whole, Stay Warm is a balanced offering – musically and emotionally – from a trio that mixes tight a cappella and rootsy instrumentation.
Each member of The O'Pears is a distinctly talented musician with a stand-alone voice, style, and stage presence and together they are breathtaking. Their latest release proves that The O'Pears continue to bring a strong, honest voice to the modern female perspective.
Name: The O'Pears
Genre: Folk
Founded: 2012
# of Albums: 2 
Latest Release: Stay Warm, our 2018 Winter album is out December 7th 
Latest Video: "One Day" from our album Like Those Nights was released this past spring.
New video for "Lady Winter" coming out in January 2019.
Latest Single: "Find the Sun"
https://open.spotify.com/album/7BeQX0nxzWVVAgdNF60brd?si=a2oFtSxcRjWlOh-6HAGq4w
Favourite Restaurant:
Jill Harris: Sushi on Bloor
Lydia Persaud: Baddies
Meg Contini: Hole in the Wall
Favourite band/artist as a teenager:
Jill: Sufjan Stevens
Lydia: Taking Back Sunday
Meg: Queen
Favourite band/artist now:
Jill: Brian Eno
Lydia: The Internet
Meg: Nick Lowe
Guilty Pleasure Song:
Jill: Don't Stop Believin
Lydia: I'm Every Woman
Meg: Teenage Dirtbag
Live Show Ritual:
Meg: Grab a tea
Lydia: Soundcheck
Jill: Play the show
Favourite local artist:
Jill: Harebrain, Kaia Kater, Katie McBride
Lydia: Yuka
Meg: The Weather Station
Sneaky Dees nachos, pasta from Terroni or a superfood salad from Fresh?
Jill: Nachos
Lydia: Pasta
Meg: Salad
Queen or College St?
Jill: Queen
Lydia: Queen
Meg: Both
Trinity Bellwoods or High Park, Riverdale or Kew Gardens?
Jill: Trinity Bellwoods
Lydia: High Park
Meg:  High Park
EP or LP?
Jill: LP
Lydia: EP
Meg:  LP
Early bird or night owl?
Jill: Night owl
Lydia: Night owl
Meg: Night owl
Road or studio
Jill: Road
Lydia: Studio
Meg: Studio
Swiss Chalet or Roti
Jill: Roti
Lydia:Roti
Meg: Roti
Where can we follow you
Instagram | Facebook | Website
Any shows or albums coming up?
Our sophomore winter album Stay Warm comes out on December 7th. Our Toronto album release show is on December 11th at The Drake Underground. Tickets are available at https://www.thedrake.ca/events/the-opears/?date=2018-12-11.
Upcoming dates
*For more info visit http://www.theopears.com/tour-2/
Dec 6th – Mill's Hardware (Hamilton, ON)
Dec 7th – Old Church Theatre (Trenton, ON)
Dec 11th – Drake Underground (Toronto, ON)
Dec 12th – Live to Air on JazzFM (Toronto, ON)
Dec 13th – Canmore Artsplace (Calgary AB)
Dec 15th – Cookhouse on Main (Sangudo, AB)
Dec 17th – Fernie Arts Station (Fernie, BC)
Dec 20th – Ironwood (Calgary, AB)
Jan 12th – Registry Theatre (Kitchener, ON)
Jan 19th – Utopia Hall (Barrie, ON)
Jan 25th – Aeolian Hall (London, ON)