The liner notes to Gordon, the debut album of the Barenaked Ladies, contain a list of "Our Favourite Gordons". Smack dab in the middle, after Gordon Downie but before Gordon Pinsent, sits Gordon Lightfoot. (Other names on the list? Gordon Martineau, Gordon Korman, and, yes, Gordon Howe.)
There have been a lot of Gordons; a lot of Canadian Gordons – but there has only ever been one Gordon Lightfoot.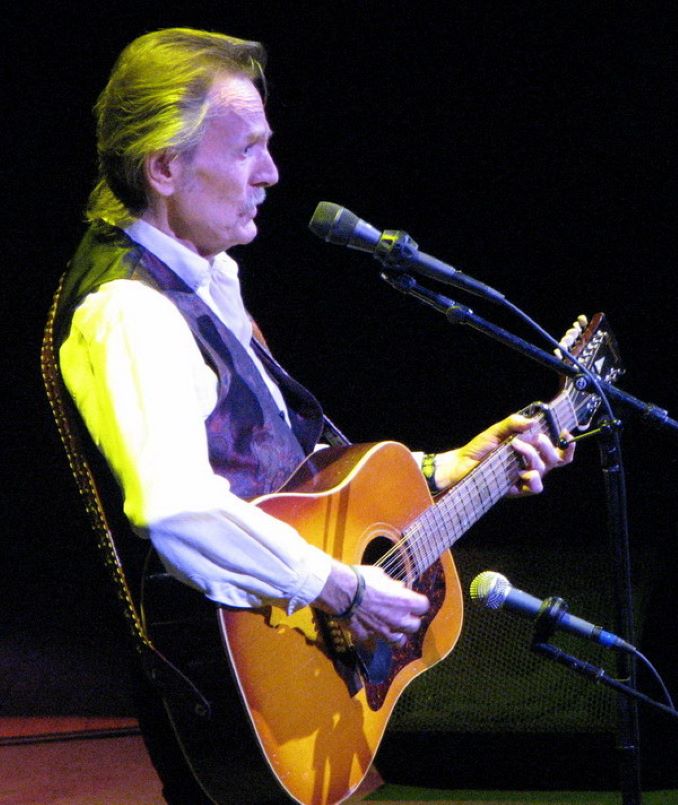 If Leonard Cohen was our poet emeritus, then Lightfoot was our folk bard, our balladeer of the Canadian experience.
Everyone has their favourite Gordon Lightfoot song. And I do mean everyone, even those, in particular those to the south of us, who might not know his name.
"Early Morning Rain", "Sundown", "Carefree Highway" – these are folk classics of the highest order, covered by the likes of Johnny Cash, Elvis Presley, Barbra Streisand, the Grateful Dead(!), Eric Clapton, Peter, Paul and Mary, and, of course, Bob Dylan, who considered Lightfoot a mentor and once said of him, "I can't think of any Gordon Lightfoot song I don't like. Every time I hear a song of his, it's like I wish it would last forever."
It's no surprise to learn that Dylan is a Lightfoot fan. For a brief, brilliant moment in the late 1960s / early 1970s, Canada was revered for its seemingly endless output of musical talent of a particularly rarefied quality. Lightfoot, Cohen, Neil Young, Joni Mitchell, Ian & Sylvia, The Band (which, of course, started out as Dylan's backing band) – these are just some of the musical geniuses who served as our musical ambassadors of the post-war generation. (Add too to that list Oscar Peterson and Glenn Gould, legendary jazz and classical musicians of a similar vintage.) Heck, Lightfoot was a first season guest on Saturday Night Live!
I'D BEST BE ON MY WAY
Lightfoot's honeyed, familiar voice, the soundtrack to countless Canadian summers, is likely how most of us will remember him. As the soundtrack to more than a few breakups, too: what's sometimes lost in the road trip or campfire sing-along is just how mournful, how heartbreaking so much of Lightfoot's output was. Indeed, listening to his back catalogue over the past few days, as so many of us have been doing, I've been repeatedly struck by the tragedy of even the most upbeat-seeming of his songs.
Hence, the initial romantic promise of, "If You Could Read My Mind" (1970) giving way to the plaintive lament, "I don't know where we went wrong / But the feeling's gone and I just can't get it back". Elsewhere, in the "Early Morning Rain" (1964), we find Lightfoot "a long way from home, Lord, I miss my loved ones so". Even on Canada's unofficial centennial anthem, the CBC-commissioned "Canadian Railway Trilogy" (1967), he concludes on a sombre note, reflecting on that past "when the green dark forest was too silent to be real / And many are the dead men too silent to be real." Lightfoot was also the bard of one of our greatest national tragedies, in his deeply moving testament to "The Wreck of the Edmund Fitzgerald" (1976), which sunk off the coast of Sault Ste. Marie in 1975, killing all 29 aboard.
A songwriter second to none, Lightfoot's legacy beyond these shores will likely be more as the writer of hits than the beloved singer of back home. "Early Morning Rain" was covered by Peter, Paul and Mary (who took it to #91 on the Billboard Top 100), Elvis Presley, Bob Dylan, and fellow Canadians Ian & Sylvia. "If You Could Read My Mind" got the Barbra Streisand treatment, alongside a Johnny Cash cover and a dance-pop version recorded for (now long-forgotten) 1998 disco film 54. (I am ashamed to admit, this was the first version of "Mind" I ever heard.) Presley, Cash, and Peter, Paul and Mary all had minor hits with their versions of the bitter breakup ballad "For Lovin' Me". There are dozens if not hundreds more examples.
In the end, Lightfoot probably had no bigger fan, certainly no more famous fan, than Bob Dylan. Though Dylan may have famously declared Leonard Cohen the "Number One" songwriter (to Dylan's self-declared "Number Zero", whatever that means), it was Lightfoot who shared a manager (Al Grossman) with Dylan, and who Dylan would occasionally call on for friendly musical advice. Dylan has acknowledged that his 1967 album John Wesley Harding, featuring the seminal "All Along the Watchtower", was a conscious attempt to emulate Lightfoot's sound.
BUT STORIES ALWAYS END
Gordon Meredith Lightfoot Jr. was born November 17, 1938 in Orillia, Ontario. Across a seven-decade career – his last concert was just this past October, in Winnipeg – he won sixteen Juno Awards, was nominated for five Grammys, and was inducted into both the Canadian Music Hall of Fame and the Songwriters Hall of Fame. He received the Governor General's Performing Arts Award in 1997, and was made a Companion of the Order of Canada in 2003.
I met Gordon once. I was just a kid, out with my mom for lunch, walking along a downtown street when we noticed a small group beginning to form around a skinny, long-haired, older man. As we got closer, one young man, probably in his early twenties, came dashing by us, running in the opposite direction, only to return minutes later with guitar in hand. He wanted the instrument signed. Lightfoot obliged, and
I'd like to think that somewhere in this city sits a well-loved guitar, the autograph fading and yet discernible, still picked up and occasionally played by that man or, all these years later, his children. As cool as it would be to own a signed guitar, Lightfoot surely would have wanted to know that it was still producing music.
Perhaps that's how we can think of Lightfoot's legacy as well. Whether as a songwriter for others, or in his own recordings (as of publication, "Sundown" is creeping towards ninety-nine million streams on Spotify), Lightfoot leaves behind a wealth of beautiful, affecting music to be enjoyed for generations to come. In a sense, Bob Dylan got his wish. Gord's music will last forever.