For the past 16 years, Steve Patterson has helmed the hit radio show and podcast "The Debaters" as well as a special live touring edition called "The Debaters Live" which has played to sold-out theatres across Canada.
In addition to his stand-up, Patterson has authored two books including The Book of Letters I Didn't Know Where To Send, and last year's Dad Up!, both of which highlight Patterson's unique comedic perspective and gained praise from his contemporaries.
In his live shows, Steve packs a well-travelled, well-honed delivery with up-to-the-moment references revealing a point-of-view that fans of The Debaters only get a glimpse of in his role as host of that show. In short, Patterson always delivers and always surprises comedy fans whether they are seeing him for the first or the twenty-fifth time.
This year, he is celebrating 25 years as a touring stand-up comic.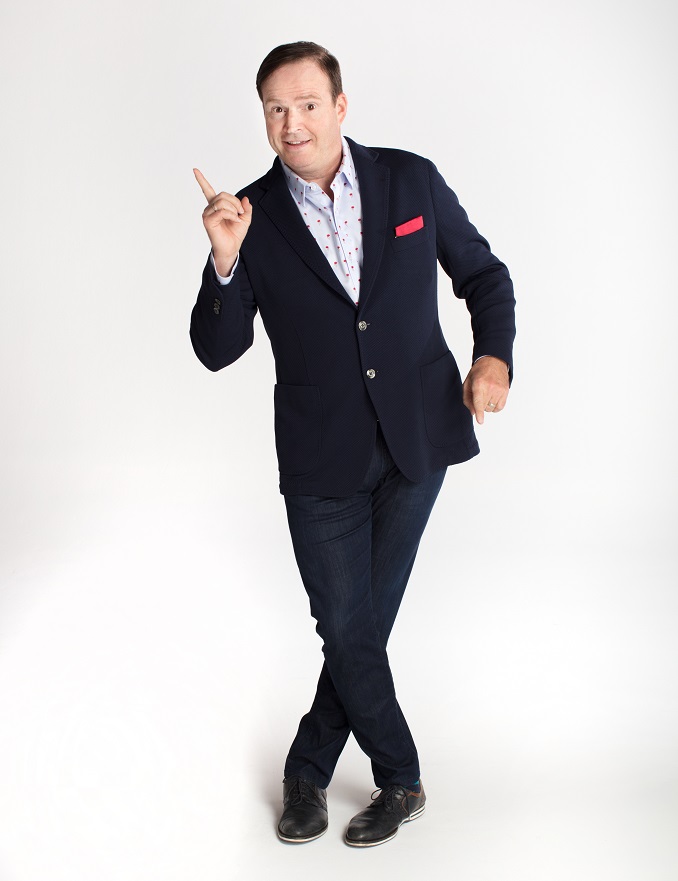 How would you describe your comedy style?
I would say my comedy appeals to a wide range of ages. From fetus to fossil. This comes from having to entertain young children daily at home and more "vintage" adults on CBC Radio twice per week. Recently one of my daughter's grade 3 classmates said "my grandpa likes your show" and then I made her laugh right after that. Which made me think I can still work with a wide demographic.
Who are some of your influences?
Honestly, a lot of my influences are Canadians I've watched for many years in standup and hosting Debaters. DeeAnne Smith, I've watched kill (in a good way) in a lot of different rooms across the country. Erica Sigurdson and I have performed together everywhere from Vancouver Island to Iceland. And then Debaters regulars like Dave Hemstad, Jon Steinberg, Katie-Ellen Humphries, Charlie Demers, Lara Rae, and the list goes on. Pound for pound I think Canada has the funniest crop of comics anywhere. We just don't have the marketing to go along with it.
Who was your favourite comedian growing up?
This is not a great answer for a comedian, but I didn't watch a lot of standup growing up. I watched the Eddie Murphy specials as every kid did in the '80s and I remember laughing but I don't remember thinking "I could do that one day". Possibly it was because of the leather outfit he wore. I think that would have chafed my sensitive skin.
Who is your favourite comedian now?
The best reaction I've ever seen to a live comedian is Dana Carvey whose impressions are still the best. The fact that Arnold Schwarzenegger brought him on tour with him to do impressions of him before the show is a pretty good sign you're doing things right. And remains the kindest high-profile comedian I've ever met, which helps to like his comedy even more.
What is your pre-show ritual?
I like to "re-start" my day about 4 hours before showtime. So the ideal is, when I am on the road and I have a 7:30 show, I will nap mid-afternoon, wake up at 3:00, go to gym to get blood flowing, have a morning-like beverage (like coffee or tea) and then drink a copious amount of water and pace enough fulfil most of the average person's days step
goals. Either in a green room or preferably backstage, directly behind the backdrop, sneaking some peaks out at the audience.
What is your favourite place you have performed? Why?
I'm fortunate to have performed the last several summers out in Woody Point Newfoundland in the middle of Gros Morne National Park at festival that I help to curate called "Comedy at Woody Point". The only thing better than a room full of friendly Newfoundlanders laughing is a room in the midst of an other-worldly landscape, laughing. With musical accompaniment of course. There are great comedy audiences all across Canada, but none quite as great as in Newfoundland.
What is your favourite bit you have written and why were you proud of it?
That's changed over time of course. At one point it was a parody version of Celine Dion's "My Heart Will Go On", from the perspective of Celine actually being ON the Titanic. The one that resonated most with people for a long time was a verse from Enrique Iglesia's "Escape" where he goes full Latino stalked. Most recently though, I'd say it's an
original diddy I came up with about loss called "You Were My…" It takes people on a bit of a tense journey with a nice release at the end. Which I know doesn't say enough. So people will have to come to a show to see it.
What is your favourite medium for listening or finding new comics/comedians?
There is no better way to take in live comedy than live. All the comics posting "crowd work" online these days, I'm not sure who told them that's a good idea but it's not. I actually think it makes people want to come to live comedy less.
Tell us a joke about your city.
I did a long, extended set about Toronto during an "Accent On Toronto" set a while back with help from Arthur Simeon at the end. It's too tough to write out, but it's easy to find online if you're a half-decent sleuth.
Where can we follow you?
Visit my website or follow me on Twitter. If Twitter still exists by the time this sentence is out there.
PAY IT FORWARD: Who is another local comic/comedian we should know about?
The comic that I have shared a stage and been most impressed with so far this year is Zabrina Douglas. She was part of the New Year's Eve show I hosted at Massey Hall and just recorded her first episode of Debaters with us. She is also a registered nurse and mom of something like 5 children, so I honestly have no idea how she has time for comedy. But she makes the most use of the time she's got!