Surrounded by music since birth, Victoria Staff took a weird route in becoming a singer-songwriter. After getting her degree in Behavioural Neuroscience from UBC, she decided her passion for helping people with anxiety, depression and sexual trauma (like herself), was maybe not her true calling. Playing shows in Vancouver for "beer money" soon became an obsessive side project – or maybe her true calling?
With years of songwriting experience, "Records & Honesty" is a true labour of love and a catharsis for her demons. Victoria hopes people will find therapy in her music just as much as she did creating it. This multi-talented instrumentalist (guitar, piano, banjo, and ukulele) found inspiration from the likes of Taylor Swift, Hozier, and Gregory Alan Isakov. "The song is basically about 'shooting your shot'. I was in a 'will they/won't they' with a friend, until he decided to move for a year to a different country. This song was everything I wanted to say if I ever had the guts to tell him," explains Staff. "It's funny when you get to keep a song and leave the boy behind. This song used to make me cry because I was so infatuated with this person, and this reminded me of him, but now it makes me so happy because I'm so proud of it. To be honest, I'm not even sure where he ended up – but I got a great song out of it."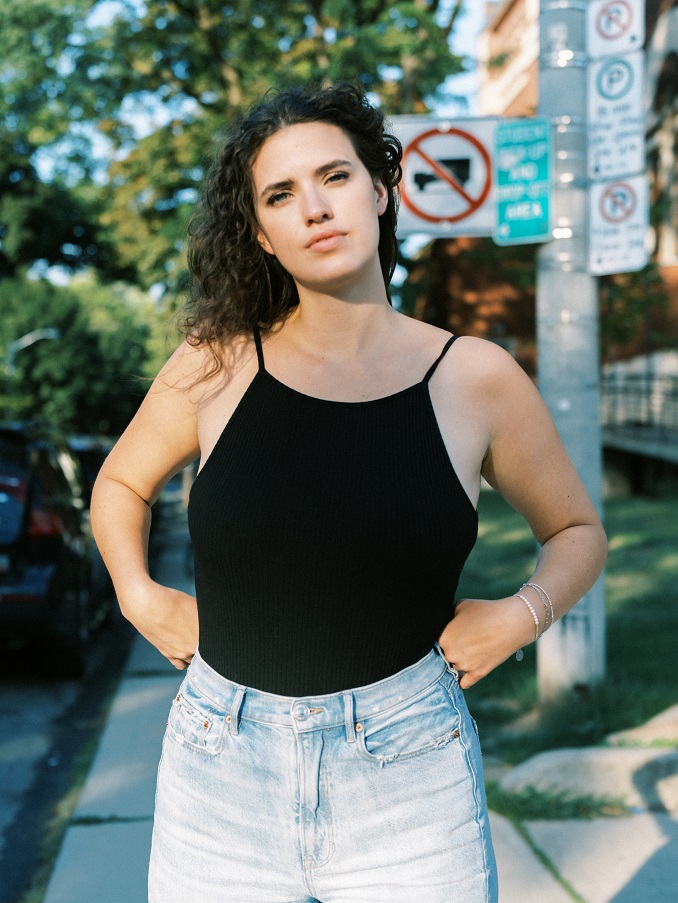 Name:
Victoria Staff
Genre:
Folk
Founded:
This is the first album
Latest album:
Records & Honesty
Latest single:
Records & Honesty
Latest video:
Favourite musician growing up:
I guess it depends how far you want to go back? I would say Elton John's music was truly the first love of my life. I remember singing (screaming) "Levon" in the car with my sisters. But as I got older, Taylor Swift really had a hold on my heart – she still does.
Favourite musician now:
Can I still say Taylor Swift? It's funny because when I was 13 and Red came out I thought I knew what heartbreak was. Now at 24, everything hits harder. I'm sure if she re-re-releases it when I'm 35 I'll have a whole new meaning to the word. But aside from that I can't get over Jensen McRae's voice. I think "Adam's Ribs" may be one of the most beautiful songs ever written.
Guilty pleasure song:
"Me Too" by Meghan Trainor. I heard her interview about taking the song after Jason Derulo recorded a demo and since then it's been on the brain. If I'm being completely honest, it has become a bit engrained in my morning routine.
Live show ritual:
I have a gin and tonic before I go on stage. It started in university when I was still really nervous to perform, but now it's become a bit of a superstitious thing. Plus, as I've gotten older I've upgraded my gin choices. You could say I'm a bit of a Toronto girl, because Spirit of York is my favourite right now.
Favourite local musician:
He's a bit bigger than local, but there are some JP Saxe songs I am unable to get out of my head. "Soft Landing" has gotten me through much of 2023. I actually slid into his DM's to tell him how much I love the song…still waiting to hear back. Lol.
EP or LP?
For new artists, EP. It gives you a really curated sense of what that artist is all about. However, for established artists I like LPs. Even if not every song is the best, it gives you more room to experiment and try new things.
Early bird or night owl?
Night Owl. I'm pretty sure oxygen doesn't exist before 9 am.
Road or studio?
Studio but only because I'm a homebody. I like shows over being in a studio but I would get tired of not having my bed or my kitchen. When I eventually hit the road I'm going to need to find a way to bring all that stuff with me. It's starting to feel like that would be an expensive tour.
Any shows or albums coming up?
Records & Honesty is available on all streaming platforms right now! You'll love it if you love wonderful songs about terrible boys.
Where can we follow you? 
TikTok | Instagram | Youtube | Facebook
***
Rapid Fire Toronto Qs
What is your favourite local restaurant?
Greece on Mt Pleasant. Try the lamb shank.
What is your favourite street in your city and why?
West Queen West, I'm slowly working my way through all the bakeries and haven't been disappointed yet.
What is your favourite park in your city and why?
The Brick Works – if you can count that as a park. It's the best escape from the city without actually having to leave.
What is your favourite music venue in your city?
Horseshoe Tavern. It's a classic.
What is your favourite music store in your city?
Dead Dog Records on Church St.