Canadians are known for our politeness and maple syrup. We're the friendly neighbour who you can find comfort in any time of the year. We're not ones to chest-thump and yell "hey, look at me!" but the types that say "come see us for yourselves." That's the vibe we got when we had a sneak peek of the new Roots Cabin Store at Yorkdale Shopping Centre on the eve of it's global launch.
The open 5,100 square foot "enhanced experience" store brings the heritage of Roots, one of Canada's most iconic and successful brands, to the forefront with a treasure trove of photographs, artifacts and inspired by Canada's great outdoors in this modern cabin environment. From the moment you approach the store you'll notice a stunning floor to ceiling wall created with over 3000 pieces of Canadian Hemlock wood.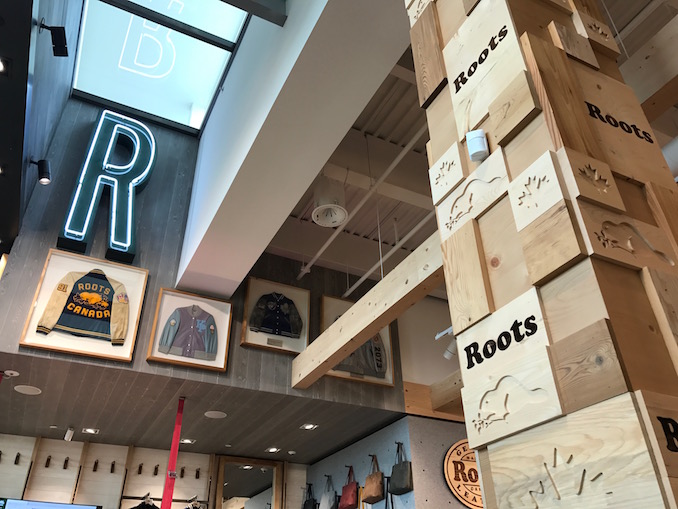 Look up and notice custom Roots leather jackets created for the Jamaican Bob Sled Team and for the cast and crew of Days of Thunder. These and many other items have been pulled out of their vaults and now on display. Inside the store you'll also find a Roots jacket created by artist and visionary Douglas Coupland. There is the original Roots Shoe sign (circa 1973) tucked in the front corner of the store. Remember the negative heel? It was one of the most intriguing and highly coveted shoe designs ever created in shoe history. The machine that was used on the manufacturing floor can be found here too. Yes, this heel is still being made to this day.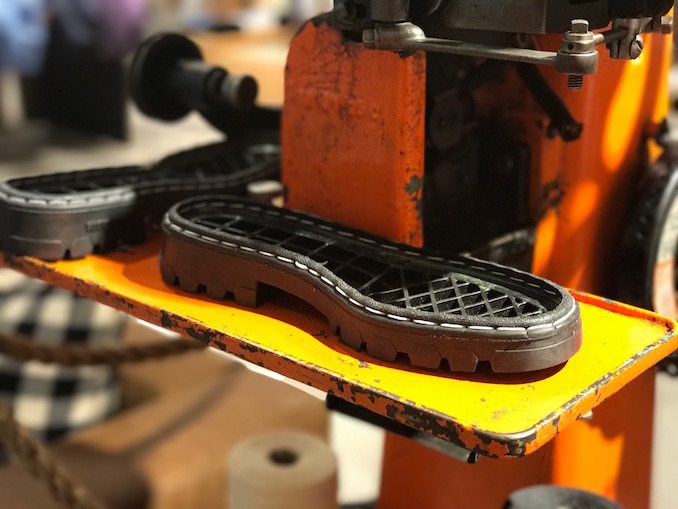 While you're looking up, you'll notice two canoes both carve by artisans in Quebec. The backlist windows and wood paneling on the upper deck replicate the one from their production facility that still exists 5 km away from Yorkdale. Every element in this store is made in Canada. The reclaimed hemlock and cedar woods furniture, beams, and flooring are created by Ontario craftspeople.
A visit to the change room is a fun walk through Canada's four seasons with visions of Algonquin Park. Each one is distinctly designed and yes, Instagram worthy. Hey, you don't have to sit in traffic here! Other changerooms are worth spending time in so grab LOTS of items to try and ask for the back room in particular.
While Roots has always offered a customization service, this store brings more attention and options to the leather goods. From adding initials to their most loved handbags and duffles to total customization of their iconic leather/melton jackets this hands on workshop area is fun to explore.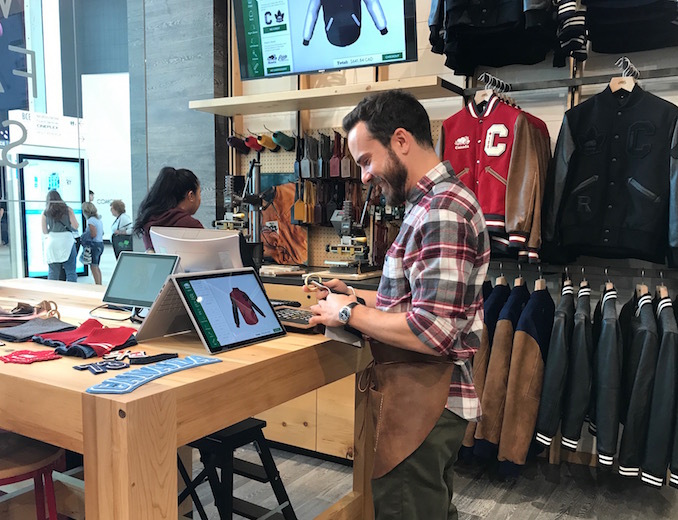 The Roots Cabin store is comfortable and inviting like a visit to cottage country that's designed with a few modern touches. It's technology meets craftsmanship here. The back corner has a cushy area perfect for recharging …literally. Nice way to take a break (have you walked this mall lately?) and lots of charging stations. This space will also be home to pop up performances and events.