Toronto is a big draw for celebrities all year round. Our city is filled with events and festivals that draw many to our city. And who often is called upon to photograph them? One name immediately comes to mind – George Pimentel.
This Toronto-based and highly acclaimed photographer is well known in the entertainment and event industries. A familiar face on red carpets everywhere Pimentel is trusted to deliver the best candid as well as set photography. Always capturing the best side, his lens always captures the best moments.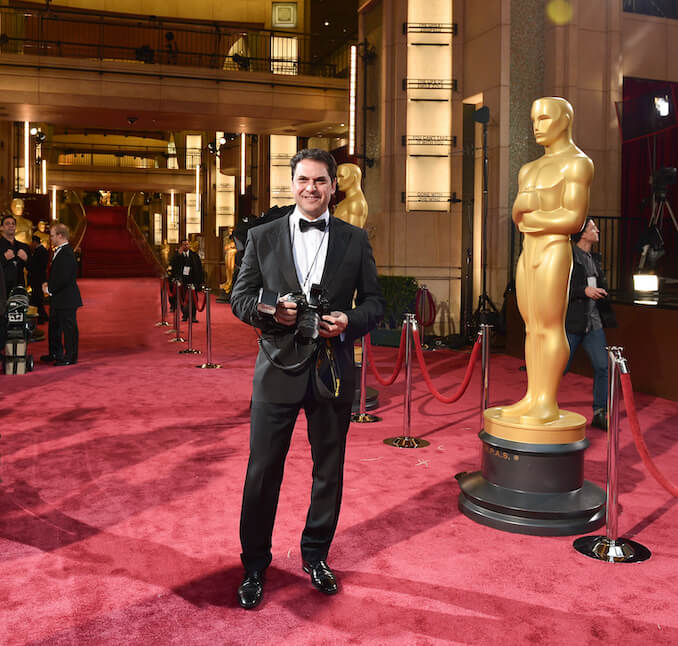 But he's not just known in the city, Pimentel has been sought after globally to cover major events including the Cannes Film Festival, the Academy Awards (Oscars), Sundance Film Festival, the Met Gala, and many more.
His library is a treasure trove of unforgettable moments in history. Many have become iconic worldwide. We wouldn't be surprised if his library becomes a permanent legacy collection in a museum.
There is a new captivating exhibition celebrating George Pimentel's illustrious career set to unveil at Yorkdale Shopping Centre. Titled 30 Years of Red Carpet Style, this month-long exhibition will features curated images capturing the essence of glamour and allure exuded by the stars over the past three decades. From his breathtaking shots of Hollywood A-listers like George Clooney, Jennifer Lopez, and Angelina Jolie, to capturing the enigmatic essence of artists such as Madonna and Lady Gaga this installation promises an extraordinary journey through the world of red carpet elegance.
At his home in Toronto, Pimentel has documented the evolving fashion and social celebrity scene. From his humble beginnings in a family run studio in Little Portugal, his work now appears regularly in publications such as, People, Vanity Fair, Vogue, Hello Canada, Toronto Star and more.
We had the opportunity to ask George more about where he started and how he got where he is now!
How did you land on the most important red carpets photographing celebrities?
Pimentel: I got started in the industry actually around this time of year, Robert De Niro was going to be in town for the Toronto International Film Festival. He was directing A Bronx Tale and was going to be at the Elgin Theatre. I was so excited because I was/am the biggest Mob-Movie fan there is – I love The Godfather, Goodfellas, and Casino. And Robert De Niro was my favourite actor. This was back when TIFF was much smaller. Transparently, I was very nervous. I had my Hasselblad camera and the security guard in front of the red carpet saw me. I didn't have a press badge, but I had my camera. Back then most assumed that you must be a professional if you have a camera like that. The security guard said, "Media over here. Stand here." Now I'm on the carpet with the press. I'm lucky and, sure enough, I was waiting and the crowd started gathering. Then, I'll never forget this moment in my life, the publicist from the film asked, "Ok, people with a press badge… If you want to shoot the intro?" I didn't have a badge and I remember seeing them all walk in and saying that those photographers are so lucky. I never knew what it meant to have access. Subconsciously I was thinking this is what I want to do. This is what I want to be. I want to be one of those guys who get access. As I was about to take off…they brought De Niro out to pose for a photo and the photographers had already left! I was the only one there and I focused and—bang! 5.6 at 60th of a second, on Vivitar flash, and the Vivitar was on red. I got that photo. I got that photo right there. I went back to the darkroom and processed it. There were literally two frames on the negative and I thought it was sharp and I printed it. The print was so beautiful. That was the exact moment I thought "This is it. This is what I want to do."
Do you recall the first big celebrity you photographed that you felt catapulted you on the international stage as a highly regarded and reputable photographer?
Pimentel: I do. The Robert De Niro shot, 1993. I didn't know what I was doing. It was just fun meeting the celebrities that I grew up watching on TV over the years. I kept tracking movie stars around asking to shoot a frame with my professional camera until it snowballed and I finally got a press badge.
You've photographed many celebrities and notables in your career. Who has been the most interesting to photograph?
Pimentel: I've photographed many celebrities on the red carpet, but the most memorable and craziest red carpet for me was the 2022 Oscars. I had photographed Will and Jada Pickett Smith on the red carpet and 30 minutes later, he slapped Chris Rock. It was crazy to be there and watch it happen in real time and to capture everyone's reactions.
What is the most common thing celebrities mention/ask you when you're doing a shoot?
Pimentel: I usually get these questions the most: "Can you touch me up," "When can I see the photos," "When will they be online?" An interesting story, Lady Gaga actually asked me for my direction on the carpet once – and she took the direction! There was no publicist in the way. Her team told the security to stay out of her way and let her do her thing with the photographer. It was a dream experience. I cleared the carpet from security and the publicist to get the shot and she loved the direction. She then whispered in my ear, "I want to take my veil off." I said, "No, no, no. Not yet." I eventually prompted her to take the veil off and the crowd went crazy. She was always looking over her shoulder for me and she was working with me on the red carpet to get the shot. People sent me videos of this and they were like, "It was about you and Gaga."It was a really special moment and career highlight for me.
What is the most asked question you get from the general public about your work?
Pimentel: A lot of people including aspiring photographers ask me about my experience and ultimately how I got to where I am today. The public is usually more interested in the process of "getting the shot" and the reactions from the celebrities.
You're on the film festival and red carpet circuit year-round, not just TIFF. Where are some of your favourites?
Pimentel: My Favourite is actually the Toronto International Film Festival. 80 parties in one week and there's a lot of talent in town. I also grew up in Toronto which makes it extra special. I enjoy shooting at the Cannes Film Festival as well, there's a lot of glamour and French-inspired style. The Sundance Film Festival is great as well. I kind of love that you don't need to worry as much about what to wear, it's really casual.
Obviously you use a real camera but do you ever just use a phone?
Pimentel: I actually use a phone all the time, sometimes it's better than a camera because it's not as intrusive.
There's a big difference between what you do and the "so-called" paparazzi. What do you wish people would know?
Pimentel: I'm accredited on the red carpet and invited to the event to support and promote the talent and movie. I don't hide in the bushes and always make sure celebrities feel comfortable. I ask for their permission, I don't break their trust, and always respect their privacy. People need to know that celebrities are real people, they have real lives and you shouldn't judge a celebrity because they may be having a bad day.
What advice you would give to a budding photographer that admires your work?
Pimentel: Practice. I always had a camera in hand and was always taking pictures. Never stop, never listen to anyone, and if you have a dream go after it! When times are tough, keep pushing forward and have fun.
How did you select the images for this upcoming photo exhibition at Yorkdale?
Pimentel: Yorkdale Shopping Centre is Canada's leading retail destination and is known for an exceptional selection of the world's best fashion and luxury brands. As part of the selection process, I only wanted to include A-list celebrities, to really showcase the history of my most iconic shots across the last 30 years. I also wanted to showcase a mix of old and new Hollywood shots.
Will you be doing any talks or events alongside your exhibition at Yorkdale?
Pimentel: Yes, I'm so thrilled and truly honoured to have Yorkdale Shopping Centre host this exhibit to celebrate my 30th anniversary as a celebrity photographer. It's been so exciting to look back at my career and past over the last 30 years. On Tuesday, September 5th we'll be hosting a private event for friends and family to see the gallery first-hand. Programming will include a fireside chat with myself and Suzanne Boyd, the Editor-in-Chief and Publisher of Zoomer Magazine, to discuss my career, growth, and the evolution of red carpet fashion over the years.
The exhibit will be open to the public from September 5th – 30th, during Yorkdale Shopping Centre's mall hours. More info available here.