Escape the hustle and bustle of city life and embark on a serene retreat at Rawley Resort. Nestled on the waterfront of beautiful Port Severn, just a short drive from Toronto, north along the 400, Rawley Resort offers the perfect getaway for those seeking relaxation, luxury, and natural beauty. Whether you're planning a romantic weekend, a family vacation, or a corporate retreat, Rawley Resort has everything you need for an unforgettable experience.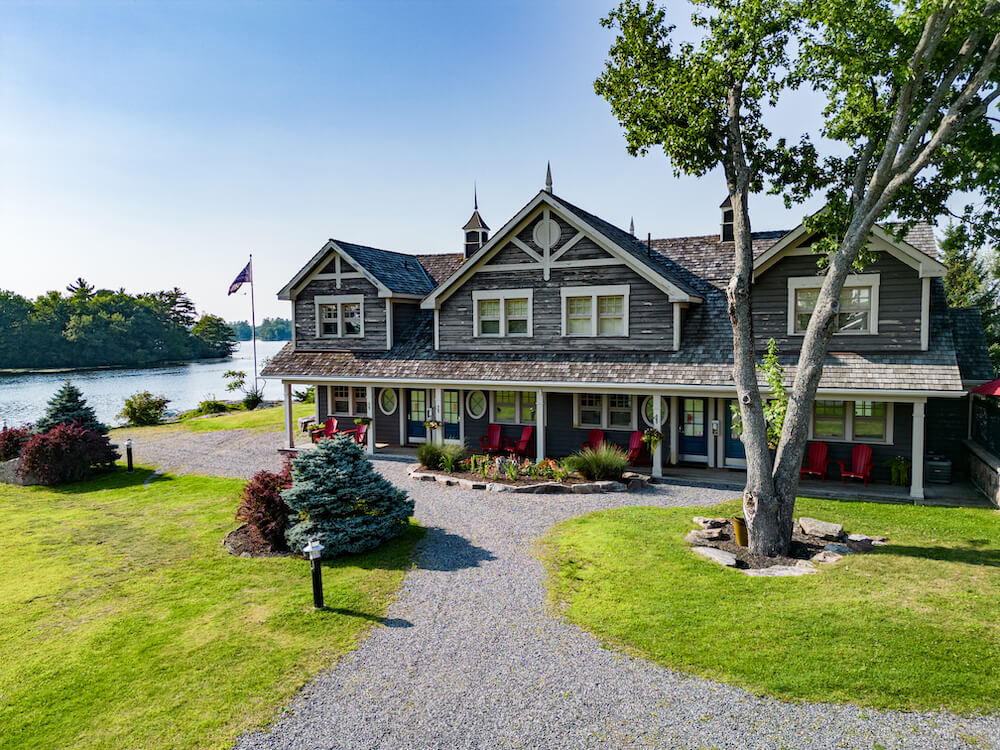 This was my first trip where I got to try the car sharing service Turo. Like AirBnB, the service lets you rent directly from an owner. There are an abundance of cars, makes and models to choose from whether you are looking for a good deal on the price or are wanting to try something more luxurious. Cars can be dropped off to you for a fee or picked up from the owner. Cars can range in price from as low as $40 a day to over $1000. We chose the drop-off service and had a great experience with the car owner. It made arranging transportation up to Rawley Resort simple.
The History of Rawley Resort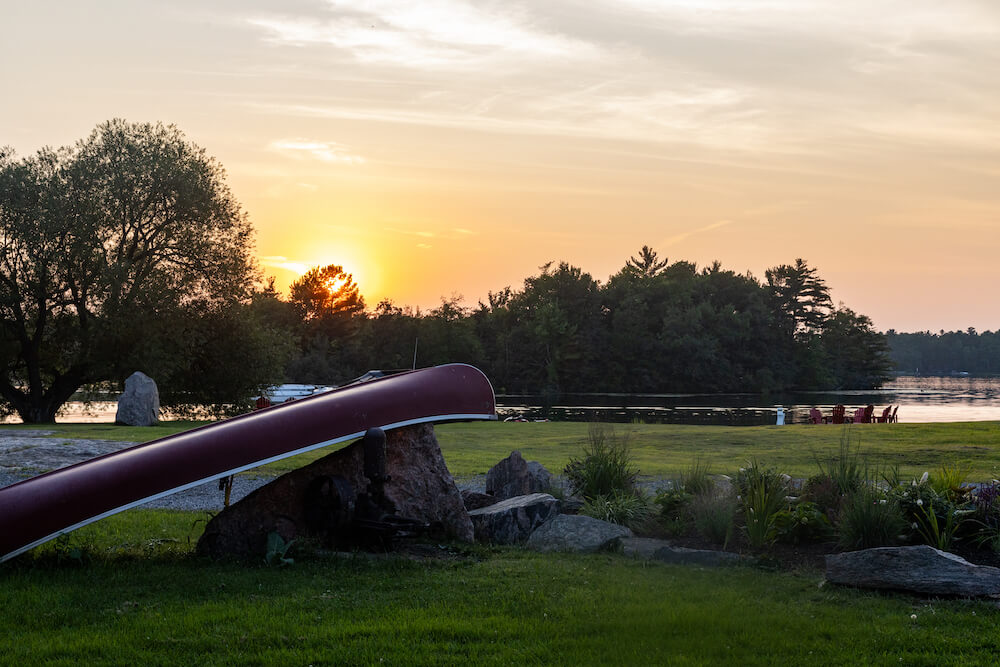 Rawley Resort has a rich history that dates back to the 19th century when it was known as Christie's Lumber Mill. Operating as a local hub during this era, the mill specialized in creating white pine lumber from the vast forests alongside the riverside.
In 1922, Edgar Otto Rawson, a civil engineer, and his wife Mabel, along with Mabel's brother James Gawley, transformed the property into a three-story fishing lodge. This lodge served as the foundation for what would eventually become Rawley Resort, Spa, and Marina.
Over the years, Rawley Resort has undergone significant transformations, evolving into an exquisite destination that offers luxury accommodations, a spa, and a marina for guests to enjoy. Today, Rawley Resort continues to honour its history while providing modern amenities and exceptional hospitality to visitors from near and far. The current owner also recently bought the neighbouring property to expand its offerings to the public.
Accommodations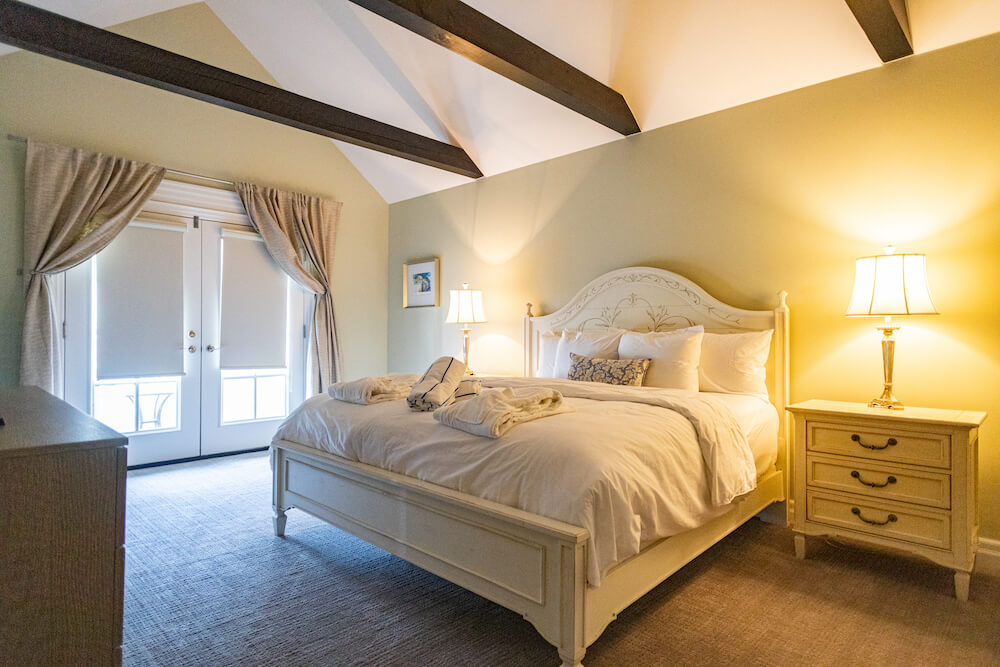 Rawley Resort offers a range of accommodations that cater to every guest's needs. From cozy guestrooms to spacious suites, each room is beautifully appointed with modern amenities and elegant decor. The resort's commitment to excellence is evident in every detail, ensuring that your stay is as comfortable and enjoyable as possible. Wake up to stunning views of the water, unwind in a private balcony or patio, and sink into sumptuous bedding for a restful night's sleep.
We stayed in their Executive Waterside Loft which is a 2-storey accommodation that has a kitchen and living room on the ground floor and a bathroom and bedroom on the 2nd floor. The ground floor opens onto a backyard area and the upstairs bedroom opens onto a balcony that overlooks the backyard and the waterfront. The space was very comfortable and was a stone's throw away from the pool, spa and restaurant.
Exciting Activities and Experiences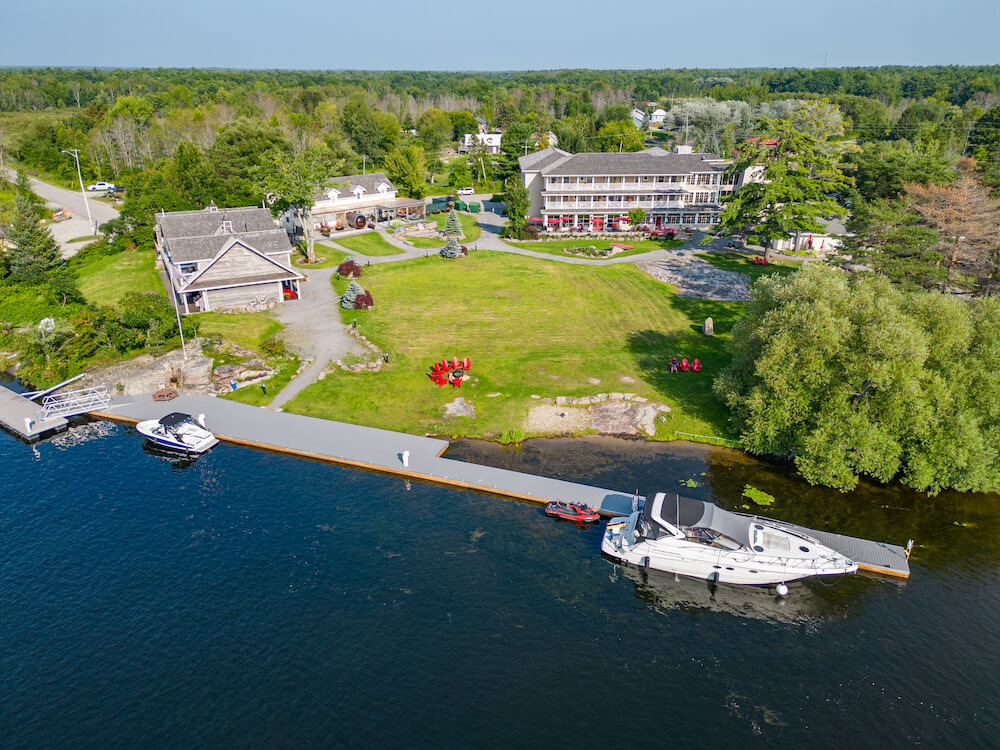 The region around Rawley Resort offers a variety of activities and experiences to enhance your stay. If you are boating in the area, take advantage of the resort's marina facilities by docking your boat and using their pool, spa and restaurant facilities. For golf enthusiasts, there are several world-class golf courses in the area. In the summer months, be sure to visit the nearby Port Severn Park and their beautiful beach. On the main strip of Port Severn be sure to visit The Cabin, a cute local shop that sells kitchy cottage merchandise as well as café food and drinks.
On the Rawley Resort property, there are several things to check out.
A visit to Rawley Resort is incomplete without indulging in the spa and wellness offerings. The resort's spa is a sanctuary of relaxation and rejuvenation, designed to pamper your mind, body, and spirit.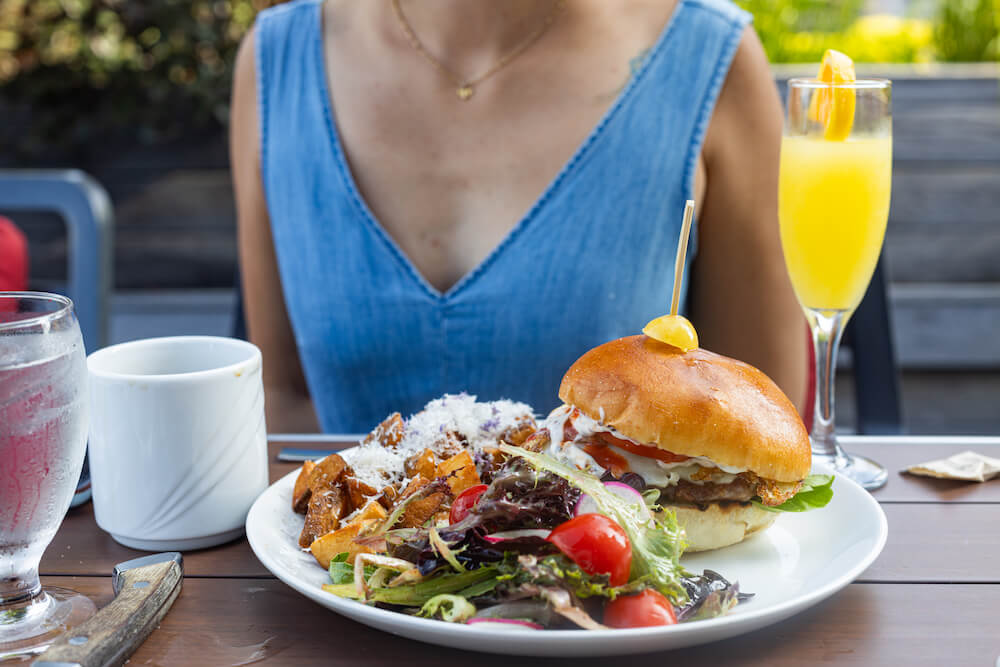 The Lighthouse 45 Restaurant at Rawley Resort offers an exquisite dining experience. In April of 2023, Chef Chris Locke, who was the executive chef at Marben restaurant in Toronto for 13 years, came to help Rawley Resort to completely revamp their menu to the farm to table approach. His menu remains under the management of Executive Chef Scott who we got to meet during our stay. The restaurant also hosts live music nights so be sure to check their schedule if you are interested in that.
For a more casual option, the Lakeside Terrace is perfect for a weekend lunch, offering the relaxing sound of the lake as the backdrop.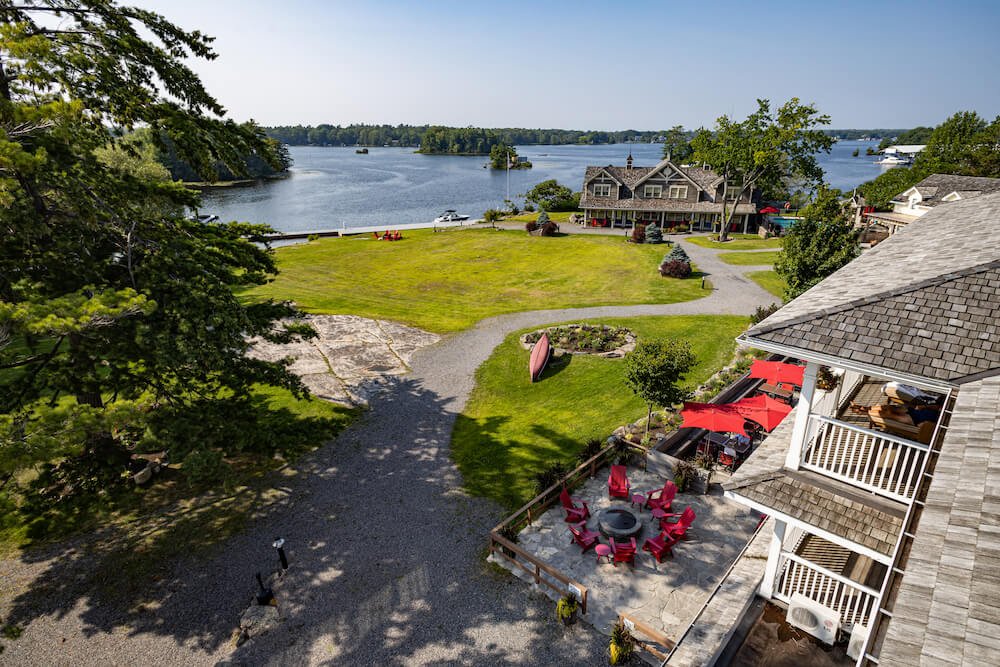 The lighthouse tower in the main building offers views of the resort and the waterfront as well as housing their gift shop and games room. This space is often used for children to play while parents take in the views, enjoy a drink or get some work done in the common rooms.
Looking for something sweet? On the new property, there is a floating ice cream shop called The Icebreaker that sells Kawartha Dairy products. We loved the Bordeaux Cherry flavour!
The new property is also home to a regional staple, The Grill. This waterfront restaurant lets you arrive by car or by boat and has a great patio that sits on the water. The fair is pub food such as burgers, wings, salads, chicken fingers and a variety of poutines.
Indulge in Spa Treatments and Wellness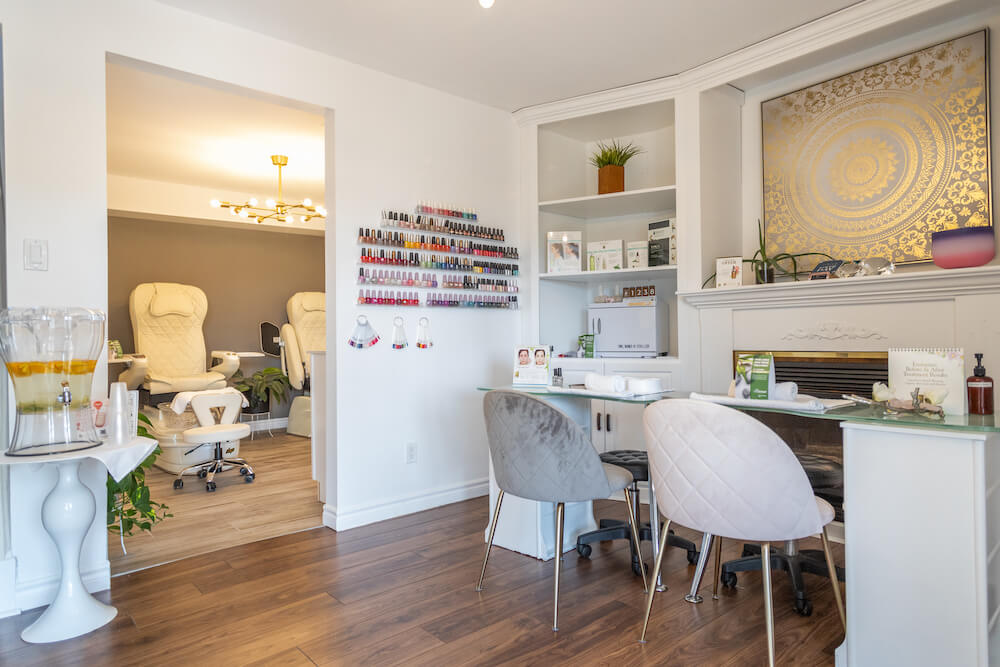 The menu of spa treatments ranges from classic massages, facials, and body treatments to custom therapies that address your specific needs. One of the highlights is the Couples Massage which offers an intimate experience for two to unwind and relax side by side. For those who prefer solo treatments, the Signature Facial is a standout, using organic ingredients and customized to fit your skin's unique needs.
The Spa also has a barrel sauna and hot tub that is available to all the guests of the resort. The barrel sauna has a domed window that allows you to take in the lakeside scenery while you sweat out your toxins. Steps away from the Hot Tub and Sauna is the pool where you can cool down or swim some laps.
Savour Delectable Dining Experiences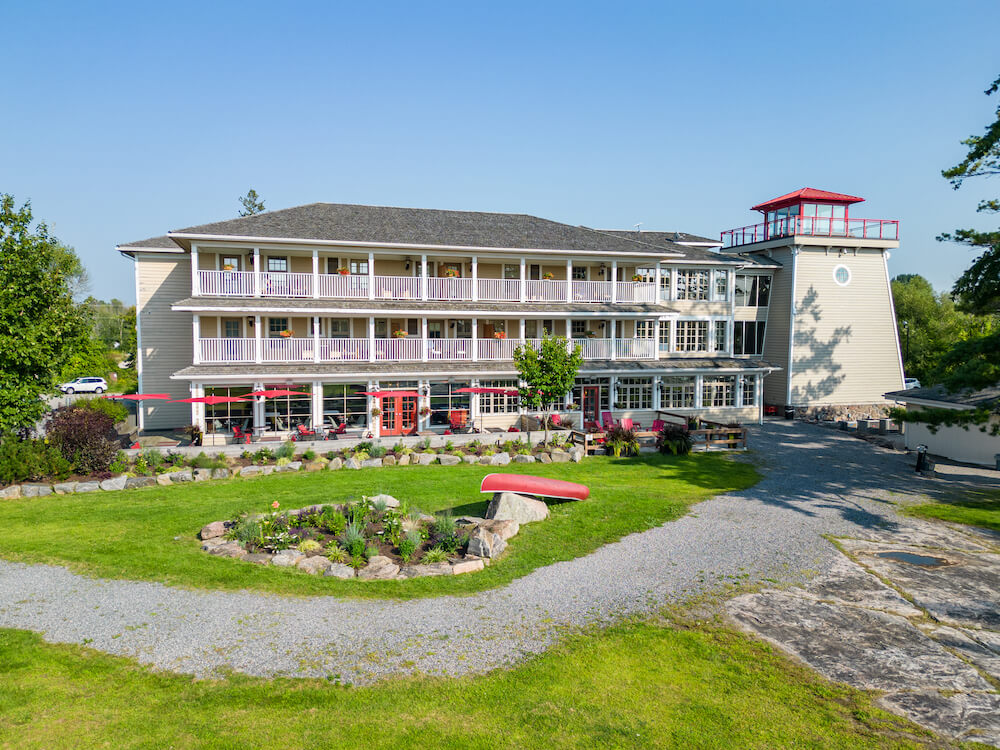 Lighthouse 45 is a sustainable restaurant with a no waste prerogative that prioritizes environmental responsibility and aims to minimize waste throughout its operations. The recently renovated restaurant embraces a holistic approach to sustainability by actively implementing strategies to reduce, reuse, and recycle. They focus on sourcing local and organic ingredients to support local farmers and reduce the carbon footprint associated with food transportation. In addition, they prioritize using all parts of the ingredients, minimizing food waste. They implement practices such as composting, using food scraps for stock or sauces, or partnering with local organizations to donate excess food to reduce food waste. Lighthouse 45 even uses some of their scraps to make biofuel alongside a local company. By adopting these practices, the restaurant aims to create a positive impact on the environment while offering delicious and conscientious dining experiences for their customers.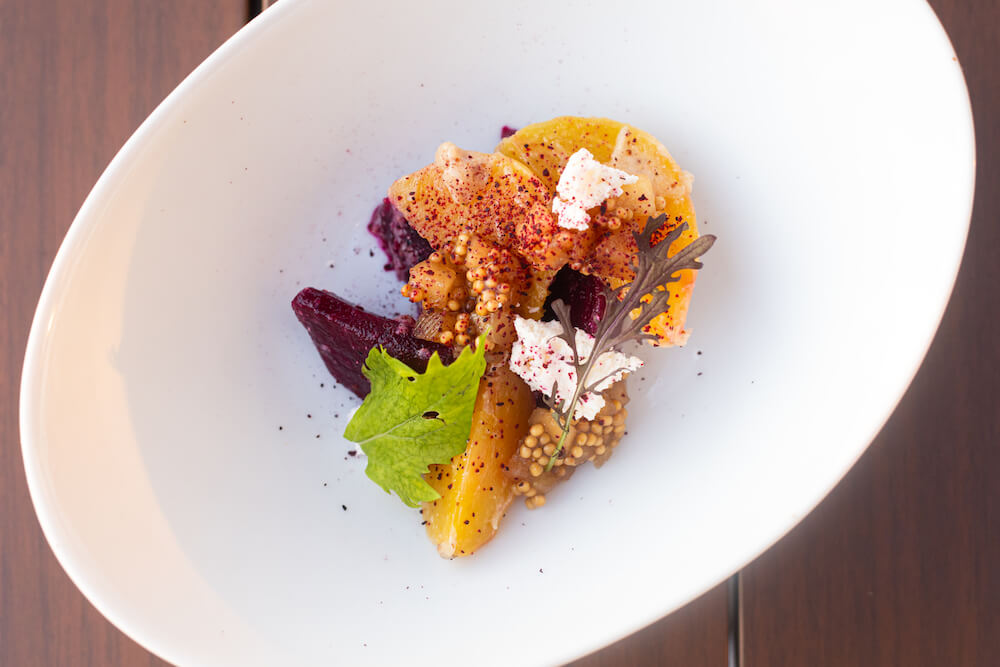 The Executive Chef, Scott Coryell, took very good care of us explaining the sourcing of the ingredients, their commitment to sustainable dining and the preparation involved in the dishes they serve.
When we arrived at Rawley Resort, it was after noon and we were looking to grab something to eat. After browsing the lunch menu, we decided on the Cookstown Beet Salad ($14), which uses a dressing made with bacon fat left over from breakfast as well as sherry vinegar, mustard, honey and cold pressed sunflower oil. The beets are dressed in the vinaigrette and plated with ricotta, apple mostarda and beet soil. Next we had the Clearwater Farm Green Salad ($13/$23), which features Greens, radish, Pearl Red Onions, Beets, Mint and Blackberry Apple Vinegar, all of which are locally sourced. We ended our meal with the Cheese & Charcuterie platter ($32) which featured some Golden Blyth cheese, a Truffled Gouda, three salamis including Genoa, Spicy and Truffled as well as two types of Chutney, Beet and Swiss Chard.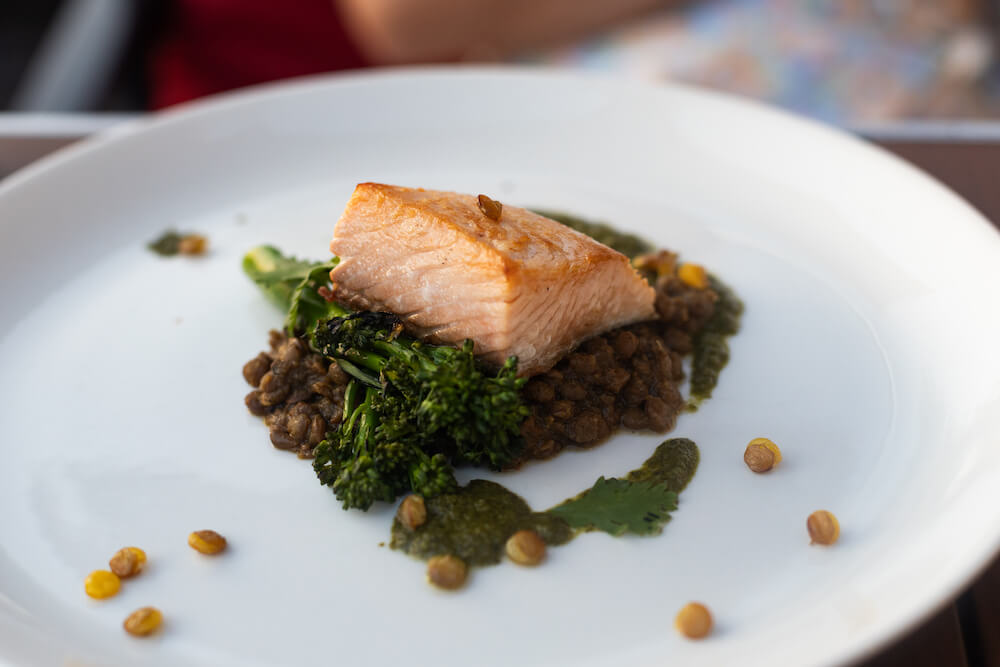 For our dinner, we had a tasting menu so that we could try various items that they had to offer. They had some great oysters in just before we arrived that were not on the menu so we got to try those as well as the Tomatoes & Stracciatella salad ($18) and the Pan-Fried Arctic Char ($32), which came with Arctic Char from Fish First, grilled buk choy, herb chutney, green lentil daal and cilantro. Next up we had their Heritage Pork Chop ($42) which is pan-seared and is accompanied by anchovy, dandelion caper, and prosciutto jus. We also tried their Organic Spelt & Beet "Risotto" ($25) which came with delicious oyster mushrooms, cherry tomato and a herb sauce. For dessert we tried the Rhubarb and Custard ($12) and the White Pine Creme Caramel ($11).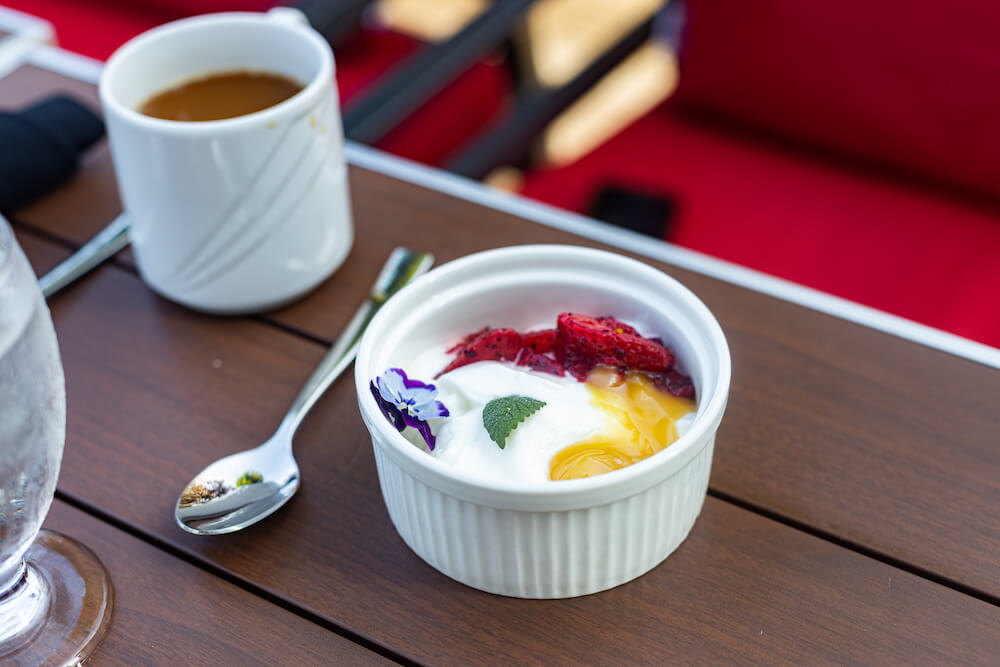 For our breakfast the next day, we got to try The Lighthouse Breakfast ($32) which features Sausages, Smoked Bacon, Plum Tomatoes, Free-Run Eggs, Mushrooms, and a mushroom ketchup made by roasting mushrooms and cooking with onion, vinegar, sugar and spices and blended into a thick sauce. The Wholewheat Pancakes ($18) features Pinegrove Wholewheat flour from K2 Milling, Apples, Blackberry Apple Vinegar, Free Run Eggs, Whole Milk and Maple Syrup. We also got to try the Breakfast Sandwich ($22) which comes with a pork and bacon patty, aged cheddar, tomato, lettuce, mustard mayo, and over-easy egg, breakfast potatoes, clearwater greens and a brioche bun. Finally we tried the Millet and Oat Granola ($14) which comes with Red Millet, Rolled Oats, Maple Syrup, Dried Cherries, Yogurt, Creamed Honey and Berries from various Ontario farms.
An Easy Getaway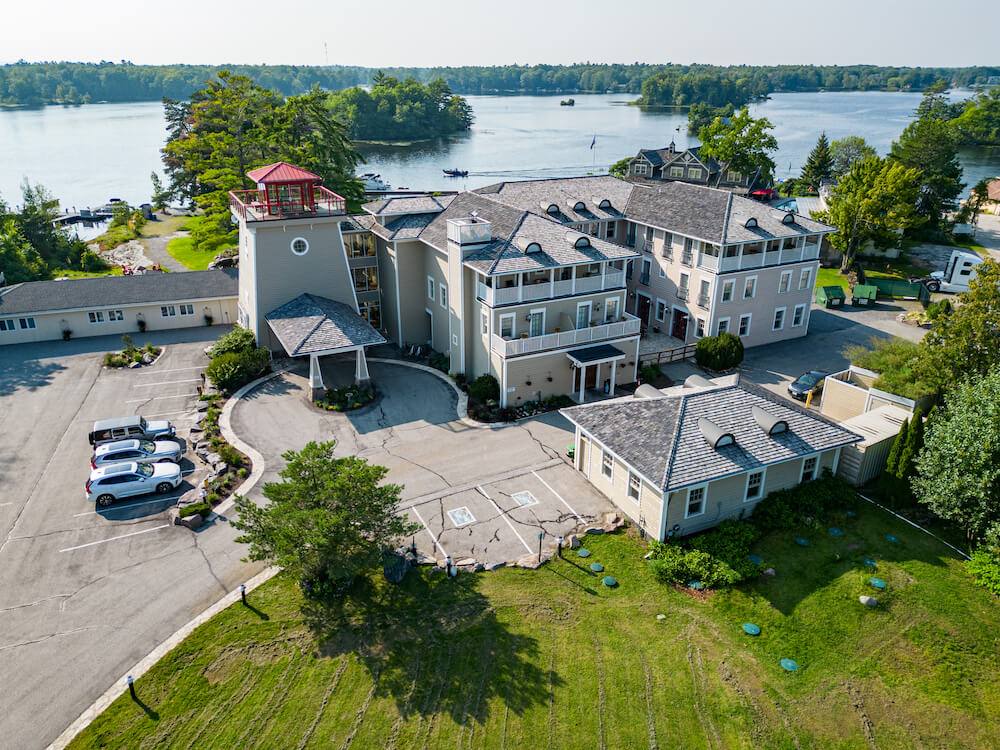 When the pace of city life becomes overwhelming, Rawley Resort provides the perfect escape. Just a short drive from Toronto, this waterfront oasis offers a haven of tranquility and luxury. Immerse yourself in the beauty of nature, indulge in spa treatments, savour delectable dining experiences with a menu by Chef Chris Locke at Lighthouse 45 and partake in exciting activities – your getaway to Rawley Resort promises to be an unforgettable retreat. Book your stay today and allow yourself to be captivated by the serenity and charm of this exceptional Ontario resort.