There are so many Farmer's Markets in Toronto to buy local produce. Fresh fruit, vegetables, cheeses, breads and meats can be bought at many locations throughout the week and come straight from the local farmers.
In order to help you find a market near you, and on the day you want, we have made a list of some of these markets listed under the day they are open with times, locations and links for more information.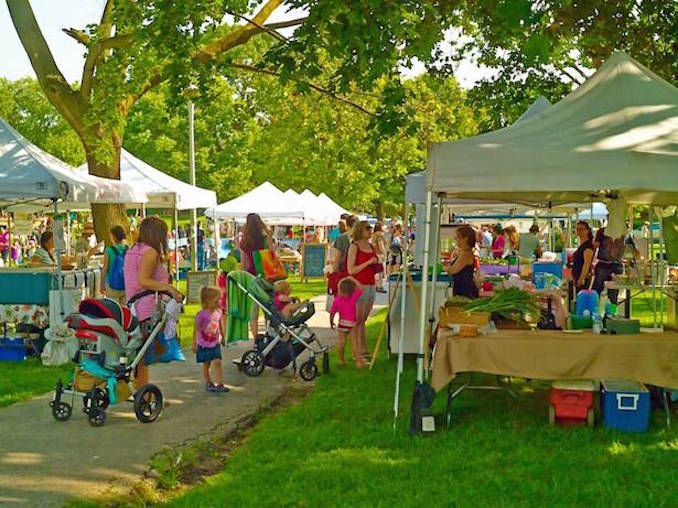 Here are some of Toronto's Farmers Markets.
MONDAY
Sorauren Market – 3-7 pm in Sorauren Park at 50 Wabash Ave
TUESDAY
Trinity Bellwoods – 3-7 pm in Trinity Bellwoods Park at Dundas West & Shaw St.
Cabbagetown Farmer's Market – 3-7 pm at Riverdale Farm at Sumach St. & Winchester St.
Davisville Village Farmer's Market – 3-7 pm in June Rowlands Park at Davisville and Mt. Pleasant
East York Farmer's Market – 8 am-2 pm in Memorial Gsardens Park at Coxwell and Mortimer
WEDNESDAY
Nathan Phillips Square Farmers Market – 10 am-2 pm in Nathan Phillips Square at 100 Queen Street West
Fairmount Farmers' Market – 3-7 pm in Fairmount Park at Gerrard East of Coxwell
John Street Farmers' Market – 330-7 pm by Grange Park at McCaul and Stephanie Streets
My Market – Bloor near Bathurst – 3-7 pm at Bloor and Borden
Regent Park Farmers' Market – 330-730 pm at Dundas Street East and Regent Park Blvd
Ryerson Market – 11 am-3 pm on Gould Street
The Good Neighbours Food Market – 4-8 pm at 250 Davenport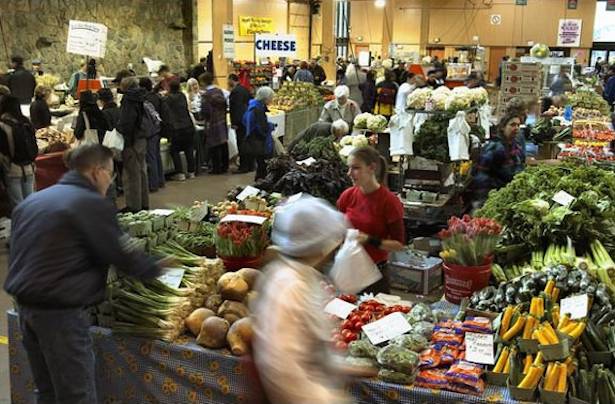 THURSDAY
Dufferin Grove Market – 3-7 pm in Dufferin Grove Park rink house at 875 Dufferin
My Market – East Lynn Park – 3-7 pm at Danforth and Woodbine
Indulge at David Pecaut Square – 8 am-230 pm at David Pecaut Square at 55 John Street
North York Farmers' Market – 8 am-2 pm at Mel Lastman Square at 5100 Yonge Street
Uptown Market – 11 am-7 pm at Yonge and Montgomery (N. of Eglinton)
Metro Hall – 8 am-2 pm at King and John
Toronto Botanical Garden Farmers' Market – 2-7 pm at 777 Lawrence Ave. East
FRIDAY
Sherway Farmers' Market – 8 am-2 pm at Sherway Gardens Shopping Centre, 25 The West Mall
SATURDAY
Evergreen Farmers Market – 8 am-1 pm at Evergreen Brick Works at 550 Bayview Ave
St Lawrence Market – 5 am-3 pm at Front and Jarvis
The Stop Wychwood Barns – 8 am-12 pm at Wychwood Barns, 601 Christie St.
Junction Farmer Market – 9 am-1 pm at Junction Train Platform, 2960 Dundas St W
Withrow Park Market – 9 am-1 pm at Withrow Park in Toronto, between Logan and Carlaw South of McConnell
The Village Organic Market – 8 am-130 pm at Toronto Waldorf School at 9100 Bathurst St.
SUNDAY
Leslieville Farmer Market – 9 am-2 pm in Jonathan Ashbridge Park at Queen St E. between Greenwood & Coxwell
My Market – Liberty Village – 9 am -2 pm at East Liberty St. & Hanna Ave
The Distillery District Market – 10 am-3 pm at 28 Gristmill Lane, the Distillery Historic District
For an extensive list of Ontario Farmers' Markets, visit this website.