Buzz-worthy comics Miguel Rivas (The Beaverton on CTV/Comedy) and brother Freddie Rivas (Confederacy of Dunks podcast), co-creators and co-hosts of Rapp Battlez, are taking their long-running, wildly popular live show — a high-energy, off-the-wall mashup of rap, comedy and spectacle, think 8 Mile parody meets the WWE — from Toronto's Comedy Bar to Just For Laughs on July 24, 25 and 27. The wildly popular sketch comedy smackdown gives some of Canada's most talented sketch comedians a platform to square off against each other for comedic, tête-à-tête rap battle supremacy.
The latenight show launched in Toronto at Comedy Bar's first annual Festival of New Formats in 2010 and has become one of the venue's most popular monthly shows. It recently celebrated its 100th live show in March. Rapp Battlez has featured at festivals such as TOSketchfest, Montreal Sketchfest, NXNE and Field Trip, with spinoff Rapp Battlez Wezt Coazt in Vancouver.
Past comedians have included: Scott Thompson (The Kids in the Hall); Tom Green (Tom Green Show); Bob Kerr, Jeremy Woodcock and John Blair (This Hour Has 22 Minutes); Craig Lauzon (Air Farce); Mark Little, Dave Merheje and Kurt Smeaton (Mr. D); Daniel Beirne (Fargo); Dan Jeannotte (Reign); Nelu Handa (Working Moms); Pat Thornton and Alice Moran (Sunnyside); D.J. Demers (Conan); and special guest Bret 'the Hitman' Hart.
We had a chance to catch up with the comedians recently…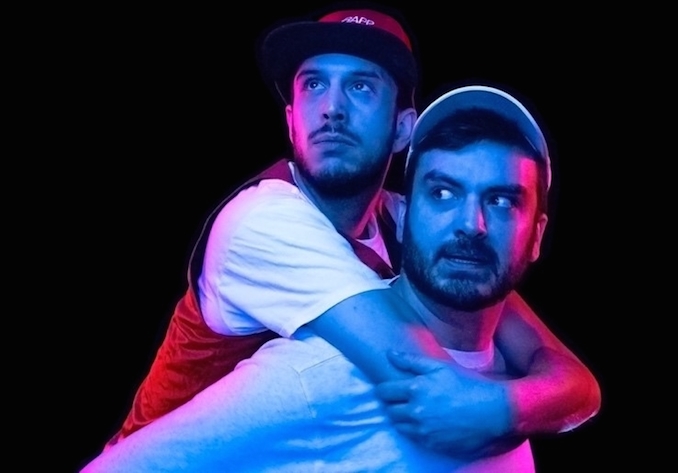 Since this is about Rapp Battlez, we want to know who are your favourite rappers?
We're loving news rappers like Brockhampton and Young M.A, but we love it all. Kendrick Lamar is the king but we also love Drake and Pusha T, beef aside!
I wish I could rap like ….
Busta Rhymes. That speed! Or else Slick Rick.
What was the last thing that made you laugh?
There's a .gif going around of an old woman pouring water on her unsuspecting husband's back. Freddie and I have watched it several thousand times. I wish I could explain why it's so funny but when it works, it works. Link here.
Which Rapp Battlez "killed it" for you?
A few months ago, we had our 100th show and had a massive event to celebrate. It was probably the best show we've ever done. In terms of specific battles over the years, there have been so many amazing ones… Some that come to mind are:
-Iron Chef Manchester versus A Robot Specfically Designed to Defeat Iron Chef Manchester
-Man Bun versus Pony Tail
-Skee Lo versus A Rabbit In A Hat with a Bat
Do you have a favourite topic/subject for material?
Honestly everything is on the table but it's nice to be inspired by what everyone's talking about at that exact moment. It's a great show for addressing what everyone's talking about.
Who is the funniest person you've ever met?
I (Miguel) met Zach Woods once after seeing him do a show and he was really, really funny. But our Aunt Colleen is probably the truer answer…a very funny woman.
What's the funniest interview question you've ever been asked?
One time we were asked if the performers rap to a beat. Well… they don't. Rapping to a beat is hard. And, they're comedians!
What's the trick in keeping a rap, and a funny one, going?
Not focusing too much on building narrative. Keep the punchlines coming!
Anyone you'd love to see join the Rapp Battlez roster at JFL?
So many of our comedy heroes are at Just For Laughs, like Will Forte, Dave Chappelle, and Maria Bamford. Anyone of them would be incredible.
If you find yourself in Montreal this coming week…Tickets for the July 24 performance at the Katacombes may be purchased at hahaha.com. The July 25 and 27 performances on the outdoor Loto-Québec Stage are free.